Anyone familiar with drag racing would recognize wheelie bars and their use primarily on high-powered muscle and drag cars.
They helped to keep the torquey V8-powered, wheelie-prone, rear-wheel drive machines from losing traction, control and sight of the track. In the 1990s, no one thought it would be an effective traction and safety device for a front-wheel drive drag car, until the Bergenholtz Racing team did.
---
Started on the Street
Ed Bergenholtz and his brother Ron got into cars in the late 1980s during the infancy of import performance. At the time, their friend Ryuji Hora took them to the street races in his 1988 Acura Integra upgraded with cams, an exhaust and lowering springs. Ed was taken by the Integra and was hooked on import performance. Ed and Ron soon started Bergenholtz Racing, campaigning a Honda CRX.
FWD Wheelie Bars
It was their competitive drive that led to experimentation with chassis and tire setups beyond making more power. At a Battle of the Imports event in 1998, the team rolled its CRX out of an enclosed trailer debuting the first FWD drag car with a wheelie bar. Although met with a lot of ridicule, the Bergenholtz Racing CRX ran 0.3-seconds faster than everyone else. Soon after, the competition joined in and wheelie bars became the craze.
All About Quickness
Bergenholtz Racing made its mark because it was constantly in the running to be the quickest. Competing with the likes of Stephan Papadakis, Lisa Kubo and other FWD competitors, the chase to set records proved a tremendous motivator. In May of 1999, Bergenholtz Racing became the first to run a 9-second pass in a unibody FWD chassis. Their CRX continues to hold the record for quickest (8.72-seconds, driver Charles Madrid) and fastest (172 MPH, driver Ed Bergenholtz) CRX. They were also the first import to break the 7-second barrier and also currently hold the FWD Import ET record of 7.25 seconds, set in 2007. Of course, there are a few NHRA Wallys sprinkled in with these accolades.
Professionalized
During this time, import/sport compact drag racers and teams struggled to create partnerships with auto manufacturers and other big name companies. Ed and Ron were among the first to successfully forge relationships that elevated their team to a professional level and subsequently made chasing and setting records deep into the single digits a possibility. These relationships eventually led to corporate support of Bergenholtz Racing's professional drift team efforts. Some of the companies that Bergenholtz Racing worked with include American Honda Motor Co., Mazda North America Operations, Nitto Tires, Turbo by Garrett, Arias Pistons, Sparco, Golden Eagle, Burns Stainless, MoTeC USA and Web Cams.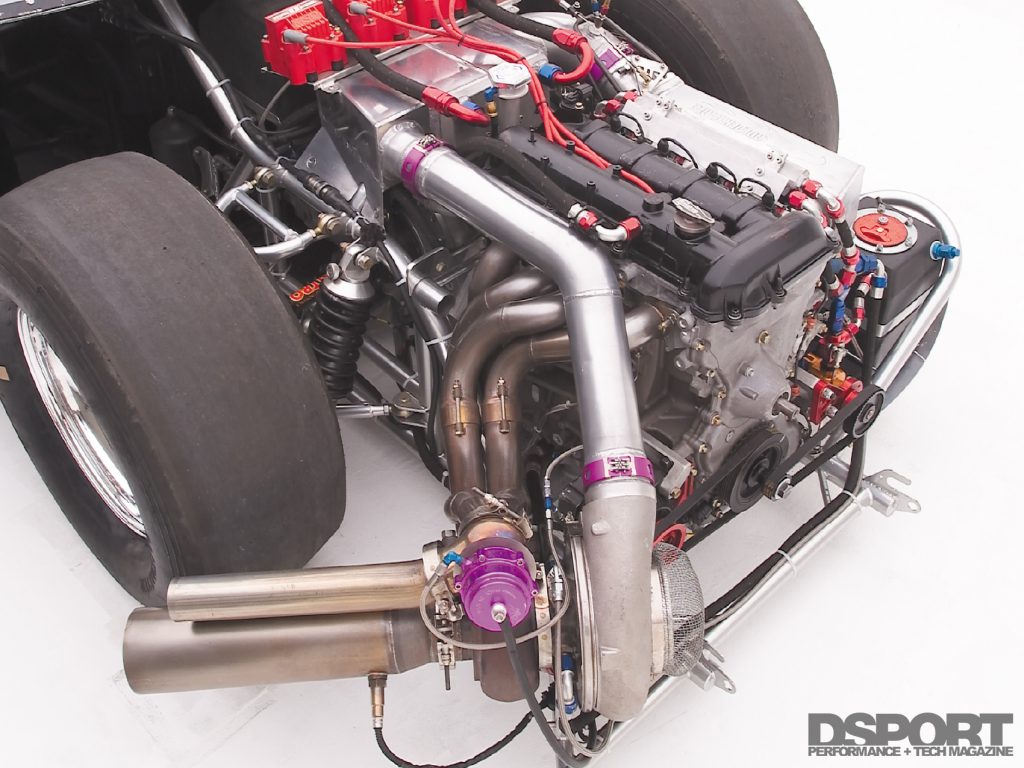 Beyond the Finish Line
Ed has been an IT professional since the mid 90s, which helped to fund Bergenholtz Racing, especially in the early years. Currently he functions as an IT Operations Manager at Blizzard Entertainment. He and his wife of ten years, Jenny, are raising their family consisting of two boys, Jensen and Brandon. Ed hopes that they'll get the itch to race someday, just as he did.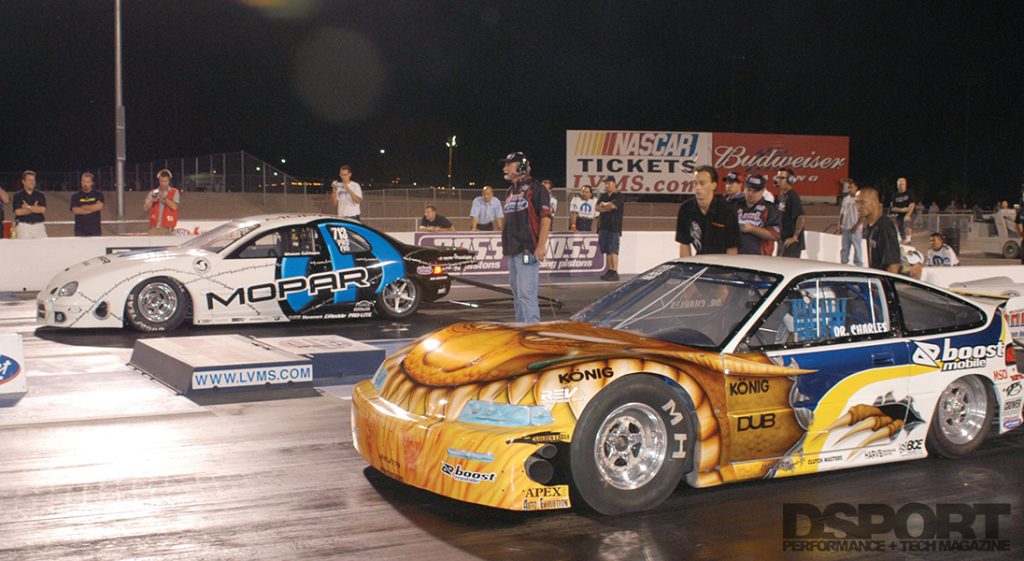 Bergenholtz was among the first to prove the performance potential of FWD import cars in drag racing, most notably in his Honda CRX, the first unibody FWD car to run a 9-second pass. The CRX was also the first FWD to employ wheelie bars for improved traction and control.
---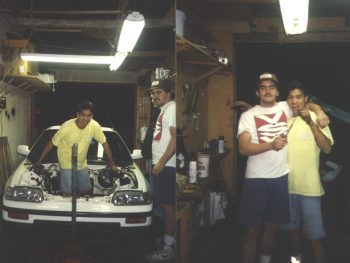 DSPORT:
As an innovator in the import drag racing arena, what made you think to put wheelie bars on a front-wheel drive?
Ed Bergenholtz:
It was early in the 1998 racing season that we started making more power and subsequently needed to improve traction. We switched to larger tires and noticed that the front end kept lifting higher as the tires expanded. The team got together to brainstorm a solution. Sitting in our garage with a case of Heineken, ideas were tossed around. One member, Tom Jung, suggested we cut the CRX in half and stretch the chassis. That idea was beyond what we intended for this build. Then wheelie bars were suggested as a possible solution to not only keep the front down but to also help with stability and tracking. After weighing in on the benefits and drawbacks, it seemed a viable solution to our problem.
DSPORT:
With a concept in place, how was it executed?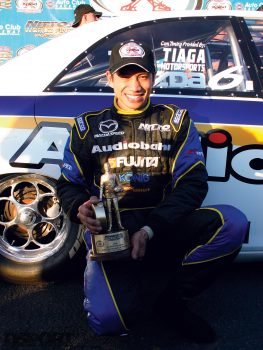 Ed Bergenholtz:
I searched through the JEGS catalog and ordered the longest wheelie bars I could find. After going to another race and struggling with traction, we were fed up. We went to our local fabricator who helped us mount up the wheelie bars to the CRX. We kept our idea a secret, and went out to a private track day to test it out. Without any other modifications, the CRX was 0.3-seconds quicker. We were amazed. We kept the car under covers for a few months until the next Battle of the Imports event. We brought the car in an enclosed trailer and were met with a mixed bag of responses when we opened the door and rolled it onto the asphalt. We continued to run 0.3-seconds quicker than the rest of the field and changed the minds and opinions of quite a few people. By the next event, there were a lot of FWD cars running wheelie bars.
DSPORT:
Bergenholtz Racing is not only one of the earliest to set records and innovate ideas, it's also among the first to secure corporate support. How did that come about?
Ed Bergenholtz:
In order to step up our game, Bergenholtz Racing, like other headliners such as Abel Ibarra, Stephan Papadakis and Adam Saruwatari each sought corporate support. However, unlike some of the short-sighted racers who were just looking for free product in exchange for sponsorship decals on the car, Ron and I decided to take a slightly different approach. Not every sponsor is endemic and few of them really care about records or winning. Sponsors want exposure and to sell product. So we took the approach of being brand ambassadors instead. At the time, it was still a relatively new concept. We would not only conduct our racing program to provide exposure, we would also represent at charity functions and other non-racing events on behalf of our sponsors. This led to many more opportunities down the line as our deck became thicker.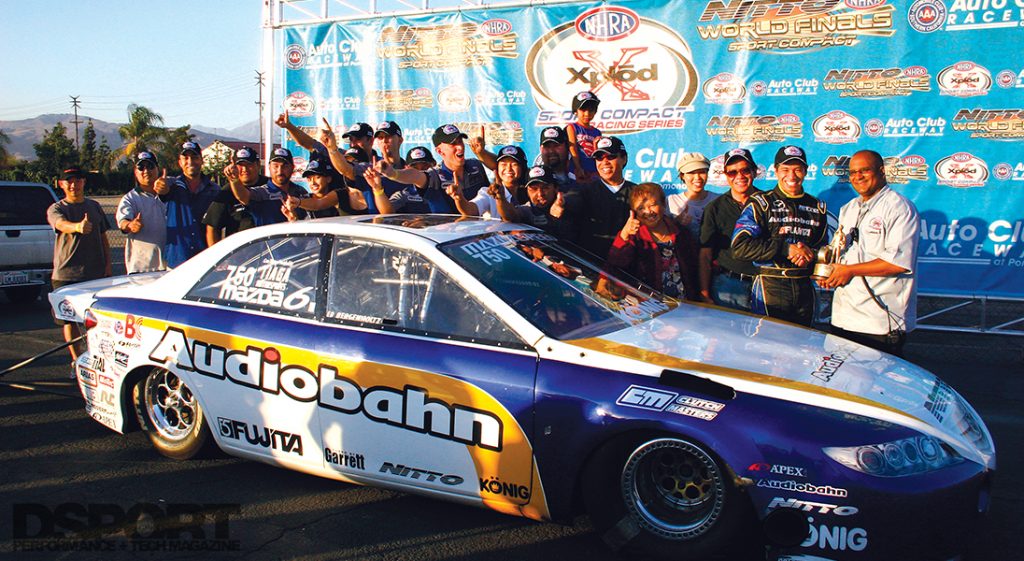 Ed's expertise earned him a factory-supported effort with Mazda in the 1,000+ horsepower Mazda 6 Pro drag car.
DSPORT:
Who was your first major sponsor, and how did you get involved with them?
Ed Bergenholtz:
Early on, our first major sponsor was Nitto Tires. At the time, a gentleman by the name of Tomo Mizutani approached us with a simple offer, to run Nitto Tires stickers on the car and he would provide us with a set of tires. Since we were largely self-funded at this point, any support was gratefully welcomed. Now, 18 years later, we're still close to the Nitto Tires group.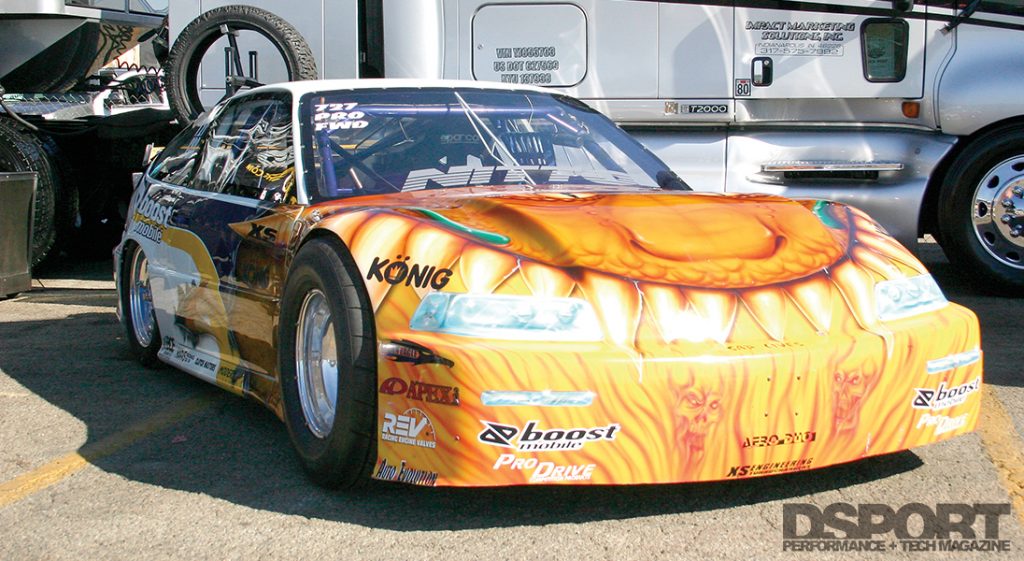 DSPORT:
Once you stopped racing, what became of your crew?
Ed Bergenholtz:
All of the Bergenholtz Racing team members were very talented and unique individuals. Many have done or moved on to some pretty exciting things. For example, Derek Ige served as crew chief for a winning Indy 500 team, Vince Tiaga and Saverio Leone went to work for General Motors in Powertrain Development, and Nathan Tasukon serves as a Motorsports Electronics Consultant.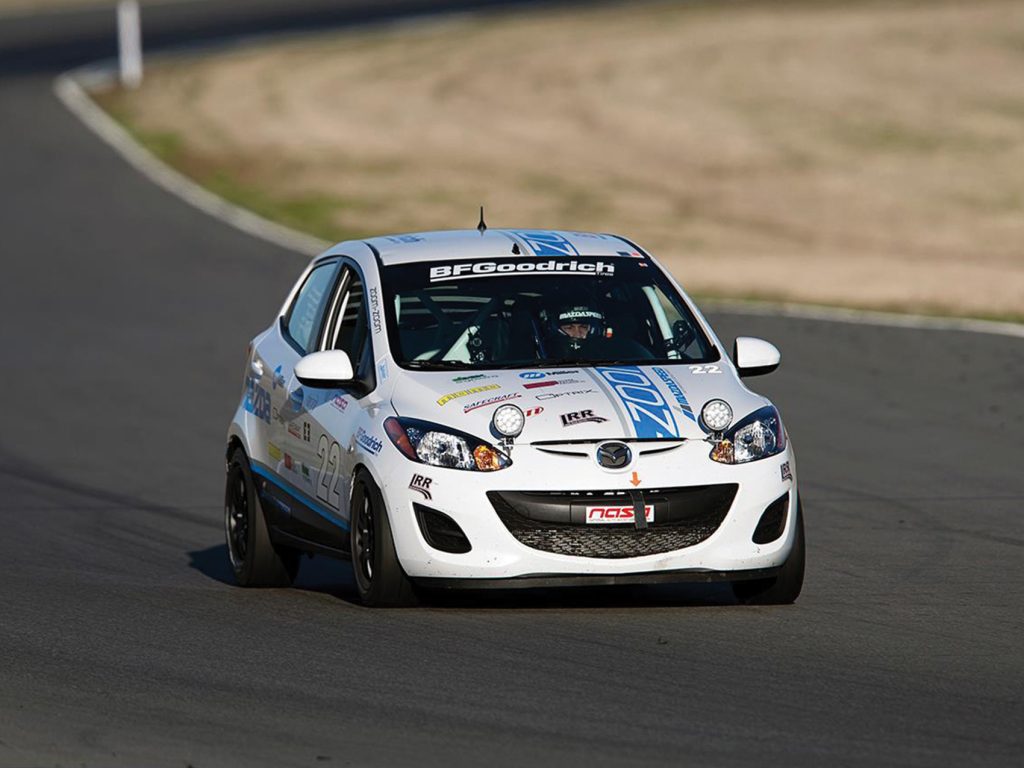 Due to his strong relationship with Mazda, Ed was invited to pilot the B-Spec Mazda2 racecar in the NASA 25 Hours of Thunderhill, splitting the driver's seat with other highly regarded factory racers.
DSPORT:
Do you miss the thrill of racing?
Ed:
I still have my NHRA license and can jump in a car and run 6s legally at any time.  Last I hit the dragstrip, I was helping Tom Jung with his Pro-FWD car.  As these cars can be a pain in the ass, I was only able to run 9s.
DSPORT:
What feelings surface when you look at where you've been in the motorsports world?
Ed:
It was a blast to be a part of the birth of import performance. I loved and have many fond memories of what we had in what many called "The Golden Age of Import Drag Racing." I hope that one day, the very special time that many of us older sport compact racers and fans lived can somehow be experienced by today's and tomorrow's enthusiasts.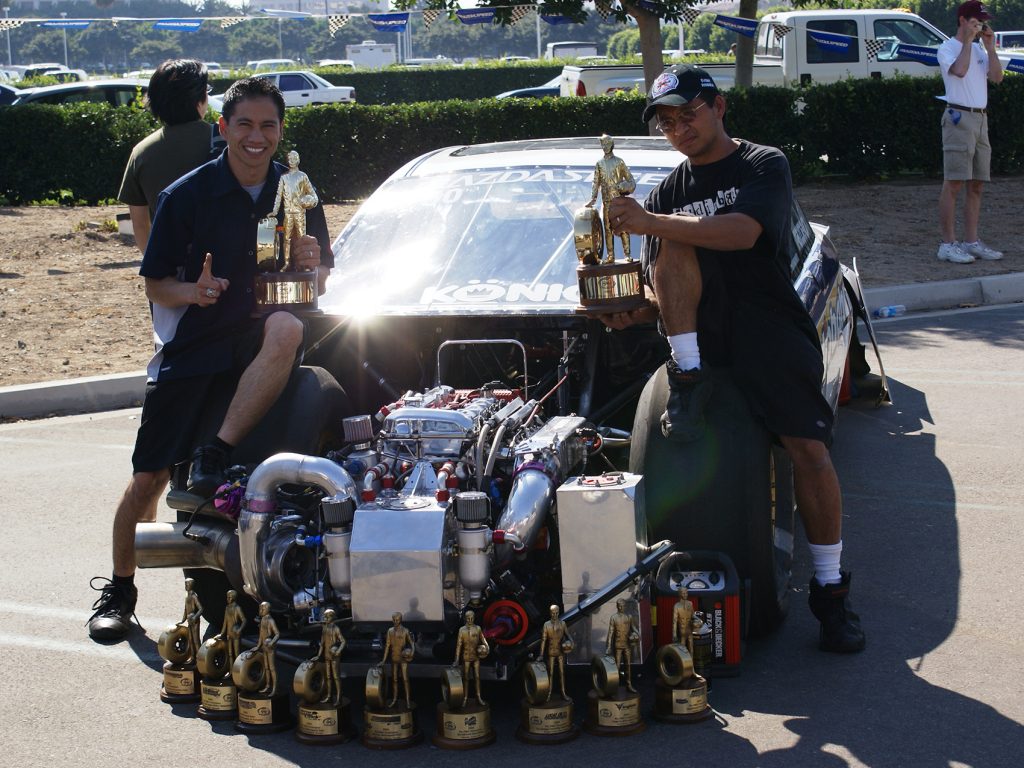 ---