In 1985, the Titanic was found, Back to the future was number one in the box office and Bill Cosby had the number one show on television. During that same year, Publisher Kipp Kington launched Turbo & High-Tech Performance magazine. During an age when "no replacement for displacement" ignorance reigned supreme, Kipp's fascination with the magic of boost and nitrous oxide convinced him to launch a new magazine into an automotive segment that simply didn't exist yet. Kipp's combination of insight, courage and perseverance allowed him to successfully explore and define a new area of automotive performance on an unexplored frontier.
Staff Report
---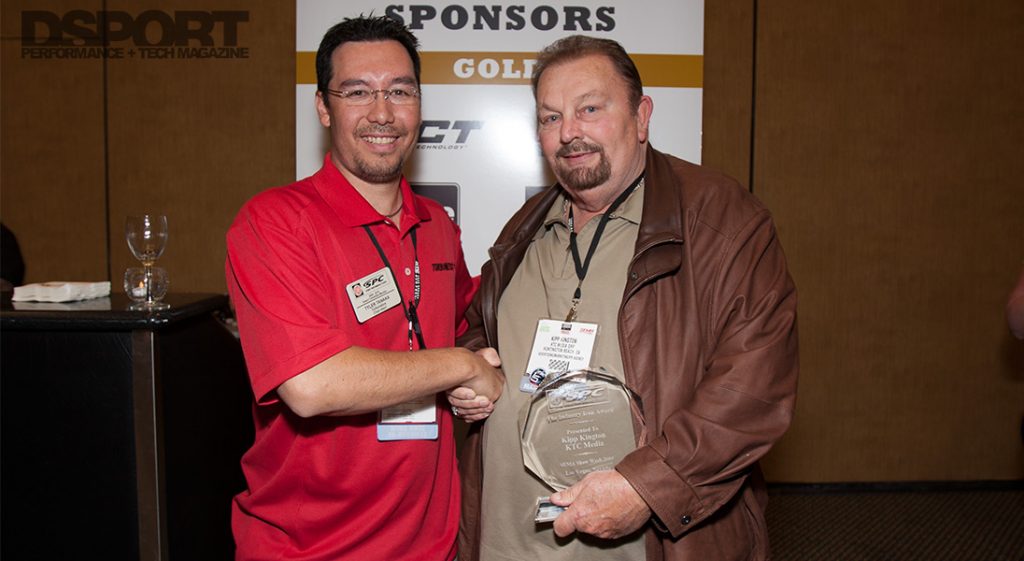 DSPORT: What was the trigger for starting Turbo & High-Tech Performance magazine?
Kipp Kington: Most of the turbo cars in that era were economy models, using a turbo to make up for reduced engine size. Having recently traded my turbocharged '78 Corvette (aftermarket turbo system) for an '85 300ZX turbo, I was a little underwhelmed with the performance. At that time, we had a small publishing company that specialized in firearms publications. My partner Larry Moore and I were headed to Arizona across a long stretch of the desolate Wickenberg highway. I had just hit 136 when the engine stopped. As soon as we dropped below 120, presto we had an engine again. It did not take a genius to figure out there was a speed limiter. For the remainder of our trip, Larry (who had just purchased a Turbo Thunderbird)and I wondered if this new market would support a magazine. We decided to take the shot.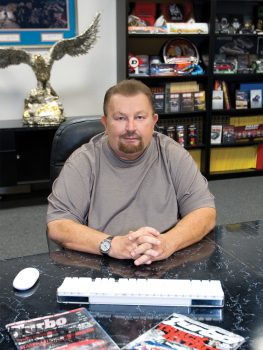 DSPORT: In 1985 both American and Japanese manufacturers were beginning to offer factory turbocharged vehicles: Ford Mustang SVO, Buick Grand National, Pontiac Turbo Trans Am, Chrysler K cars, Nissan 300ZX turbo, Toyota turbo pickup, Mitsubishi Starion. The lineup of OEM vehicles featuring turbocharging was extremely diverse. What was your initial strategy for creating an audience for the magazine?
Kipp Kington: When the first turbo T-Types came out featuring a rear-mounted turbocharger and no intercooling, it performed well and primed the market for the 1986 Grand National with an easy-access turbo and factory intercooling. These cars created excitement, with mid-to-high 13s o  the showroom floor, and a few hand tools would get them into the 12s. This car, I feel did more to awaken the general public up to the possibilities of turbo power than anything. A cottage industry of performance product manufacturers sprang up overnight, some of which are around today as large performance product manufacturers.
DSPORT:  In 1994, Turbo & High-Tech Performance magazine had a content mix of roughly 70-percent domestic and 30-percent Japanese vehicles. What caused the shift to a nearly 100-percent Japanese vehicle format?
Kipp Kington: As more import performance cars started to arrive, we made the transition. Probably one of the bigger events that woke me up was a race in Compton when my late friend Sy Akimoto pointed out that the group we were in with the Supras, 3000GTs and RX7s had about 20 people, but the group across the parking lot full of Hondas and other less expensive imports had over 100. The next week we started looking around for Honda performance manufacturers leading us to Jackson Racing.
The early 90s were a great time for personalities to make appearances on magazine covers. Here are two timeless examples featuring Jay Leno and Kipp Kington himself.
DSPORT. What impact did import drag racing have on the import performance scene? How did Turbo & High-Tech Performance magazine support it?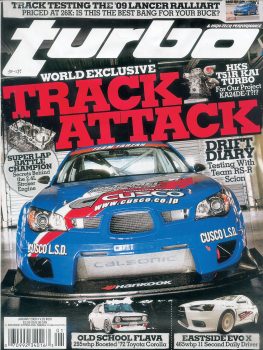 Kipp Kington: Import drag racing fueled the passion for upgrades. Battle of the Imports got it started on the West Coast. Hundreds of imports would bracket race at these early events. My friend Mike Thermos of NOS suggested a Quick-8 with cash prizes for heads-up racing. With the aid of NOS, Turbonetics, GReddy, Garrett and Turbo magazine, we were able to hand out $2,500 in cash for each event. Later, the IDRC expanded heads-up import drag racing across the country.
DSPORT: Sport Compact Car magazine launched in 1988 and initially focused on some pretty wacked vehicles. Later it seemed to find its way. What do you remember about SCC in terms of being a competitive title?
Kipp Kington: While they were headed to a little different segment of the market, in one sense they were a competitor, but in another they helped to reinforce the import marketplace in general
DSPORT: Super Street magazine launched in 1996. What was your initial reaction?
Kipp: I had met the publisher, John Cobb, prior to them launching the title and he was a good guy. Of course we looked at each other as competitors, but we made it fun. We used to put Turbo stickers on his booth cars at the drag races and he replied in kind. He would chase after our advertisers and we would do the same to him. The bottom line was that friendly competition not only helped us both, but it again increased the market in general.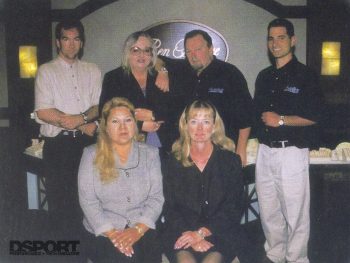 DSPORT: In 1998, you blessed a proposal to launch a new import-only performance title called Import Tuner. Overnight, it was outselling Turbo & High-Tech Performance magazine. What caused such an overwhelming initial success?
Kipp: Hot Chicks! Actually Tuner was a closer competitor to Super Street than Turbo. At the time, that photo of me and the Quick-16 winners was taken at Palmdale I had just turned 50. Tuner with a younger editorial and art staff was better able to connect with the youth market while Turbo focused on the seasoned hardcore enthusiasts.
DSPORT: After selling the publishing company in 1999, you've remained active in the industry by creating an advertising agency. How has that compared to being a publisher?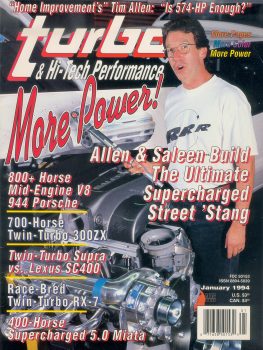 Kipp: In some ways, actually tougher. Back then right or wrong, I could approve something and it was done. Today, especially with some of the larger companies it takes several levels of approval to get a lot of projects completed. We fortunately have some great clients, many are customers from the publishing days.
DSPORT: What are the top five aftermarket performance innovations that impacted the import and modern performance industry?
Kipp: Without a doubt electronic fuel injection was one of the biggest things to change the game. Major advancements in turbocharger design diminished the old turbo-lag and today it is virtually ancient history. Nitrous-oxide systems offered a great way to bolt-on 50-to- 200 horsepower for about $500, and its super cold vapor actually became an additional intercooler. Modern ECU modifications and stand-alone engine management systems gave the enthusiasts unprecedented control over various engine functions. The chassis dyno offered tuners the ability to precisely measure gain or loss from modifications. More efficient superchargers give a viable forced induction alternative at a slightly lower cost.
DSPORT: Who are your top five players that impacted the import and modern performance industry?
Kipp: Abel Ibarra made rotaries great again, Shaun Carlson built some amazing cars, Ed Bergenhotz was the first Honda into the 9's as featured in the last issue of Turbo under my command. Adam Saruwatari took professionalism and sponsorship to a new level with the help of Nitto Tires. Lisa Kubo was the first lady of import drag racing and proved that women could drive just as well as men.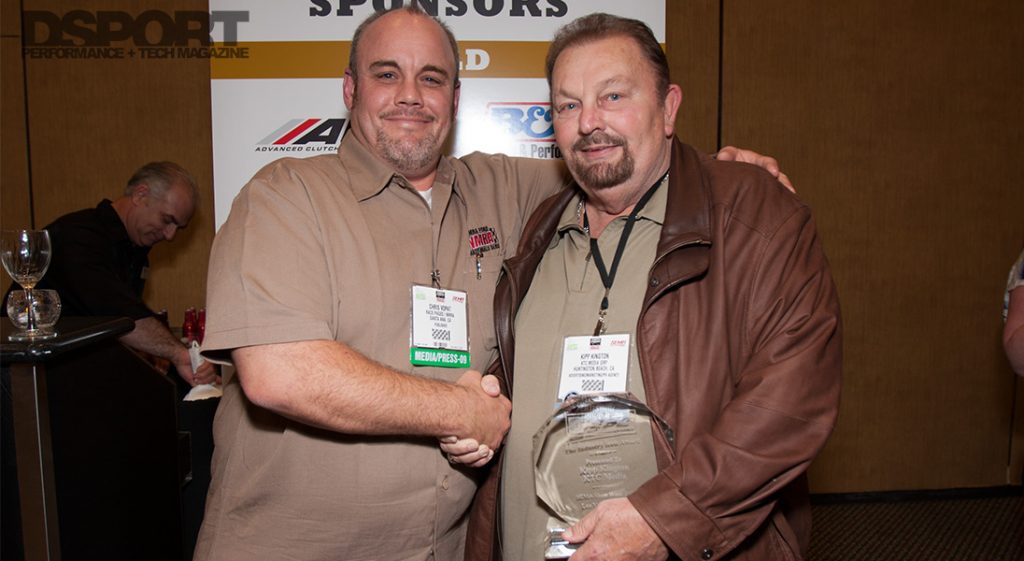 ---