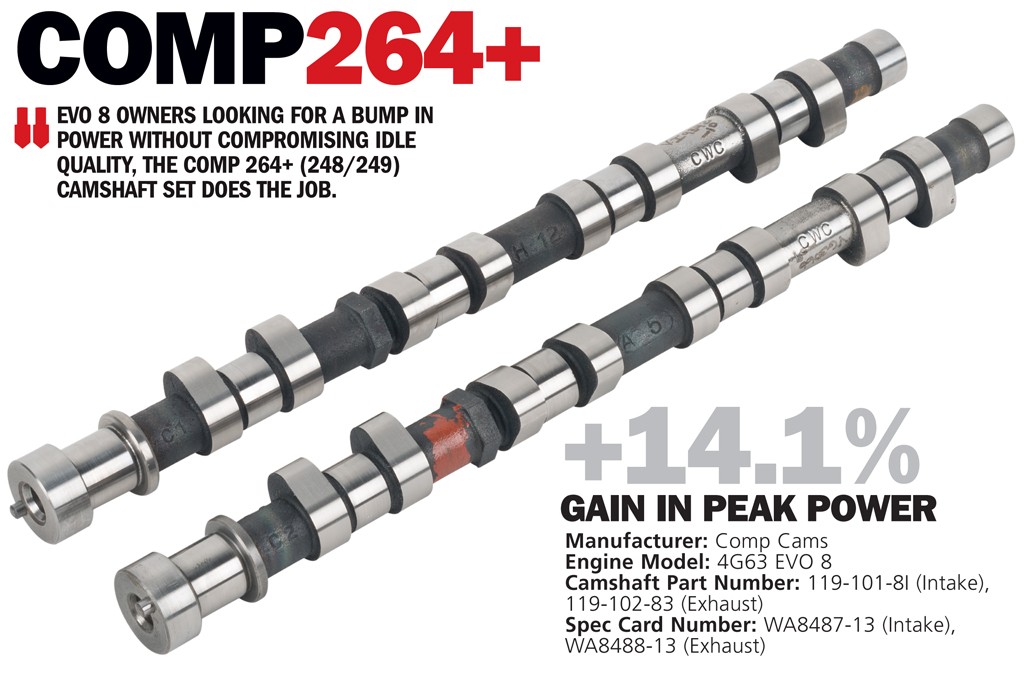 MANUFACTURER: Comp Cams
ENGINE MODEL: 4G63 EVO 8
CAMSHAFT PN# (INTAKE): 119-101-8I
CAMSHAFT PN# (EXHAUST): 119-102-83
SPEC CARD# (INTAKE): WA8487-13
SPEC CARD# (EXHAUST): WA8488-13
INTAKE
EXHAUST
CAM TIMING EVENTS
Centerline
104°
112°
Valve Opening @ 1.0mm
5.6° ATDC
37.9° BBDC
Valve Opening @ 0.050″
9.0° ATDC
34.6° BBDC
Valve Closing @ 1.0mm
30.3° ABDC
14.0° BTDC
Valve Closing @ 0.050″
26.8° ABDC
17.4° BTDC
DURATION
Actual Duration @ 1.0mm
204.7°
203.9°
Actual Duration @ 0.050″
197.9°
197.2°
Claimed Duration @ 1.0mm
202.0°
202.0°
PEAK LIFT
Peak Valve Lift
11.2mm (0.441″)
10.5mm (0.42″)
Peak Cam Lift
6.5mm (0.255″)
6.1mm (0.238″)

Manufacturer's Pitch

264+, Works best with stock engine and stock turbo. Responds well to bolt-ons and pulls strong throughout entire engine rpm range. Upgraded valve springs required.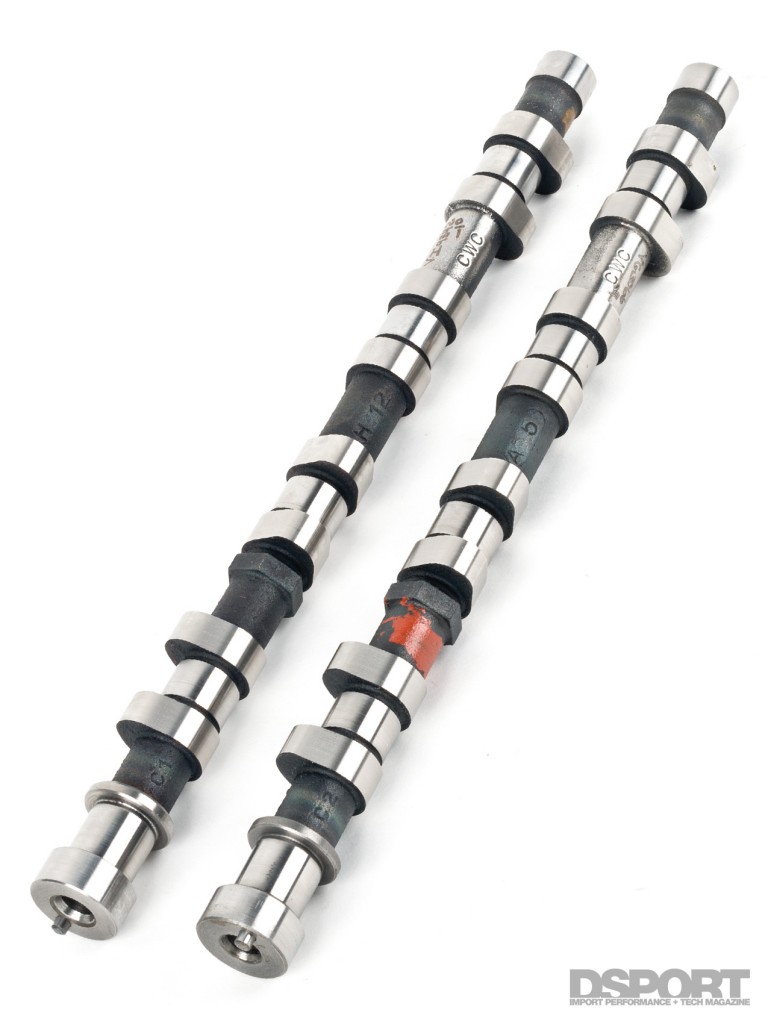 INFO
For EVO 8 owners looking for a bump in power without compromising idle quality, the Comp 264+ (248/249) camshaft set does the job. Compared to the factory sticks, the Comp 264+ cams delivered over 60 more peak horsepower to the wheels. In addition, peak power rose from noticeably from 7,000 to 7,800 RPM. While there was a dip in power from 3,000 to 4,500 RPM, that loss was likely the result of the aftermarket intake manifold. With the increase in redline from 7,000 to 8,500 RPM, a valve spring upgrade is in order.
---
RUNDOWN
515.14 WHP @ 7,800 RPM
400.11 LB-FT @ 6,000 RPM
Peak power checked in at 7,800 RPM, with the power curve slowly dropping off past this point. Peak boost was reached at about 4,500 RPM, while a flat torque band from 4,500 to 7,000 RPM delivers a peak torque figure of just over 400 lb-ft of torque. Peak torque came in at 6,000 RPM. The highest VE values were recorded at 6,500 RPM. VE figures superior to the factory sticks spanned from 4,000 RPM and beyond.
HORSEPOWER

RPM/WHP
FACTORY
COMP 264+
GAIN/(LOSS)
2500
49.66
56.57
6.91
3000
82.45
70.44
(12.01)
3500
112.31
108.19
(4.12)
4000
166.27
162.50
(3.77)
4500
281.42
299.97
18.55
5000
323.28
349.51
26.23
5500
371.95
401.79
29.84
6000
399.03
454.37
55.34
6500
415.72
483.92
68.20
7000
451.50
496.30
44.80
7500
N/A
498.75
N/A
8000
N/A
503.02
N/A
8500
N/A
487.31
N/A
VOLUMETRIC EFFICIENCY

RPM/%
FACTORY VE
COMP 264+
2500
80.5
89.2
3000
88.2
95.3
3500
98.6
96.3
4000
85.9
97.0
4500
85.0
97.3
5000
89.1
96.8
5500
92.1
97.7
6000
88.7
99.0
6500
88.8
99.9
7000
84.9
96.8
7500
N/A
92.1
8000
N/A
90.0
8500
N/A
94.0