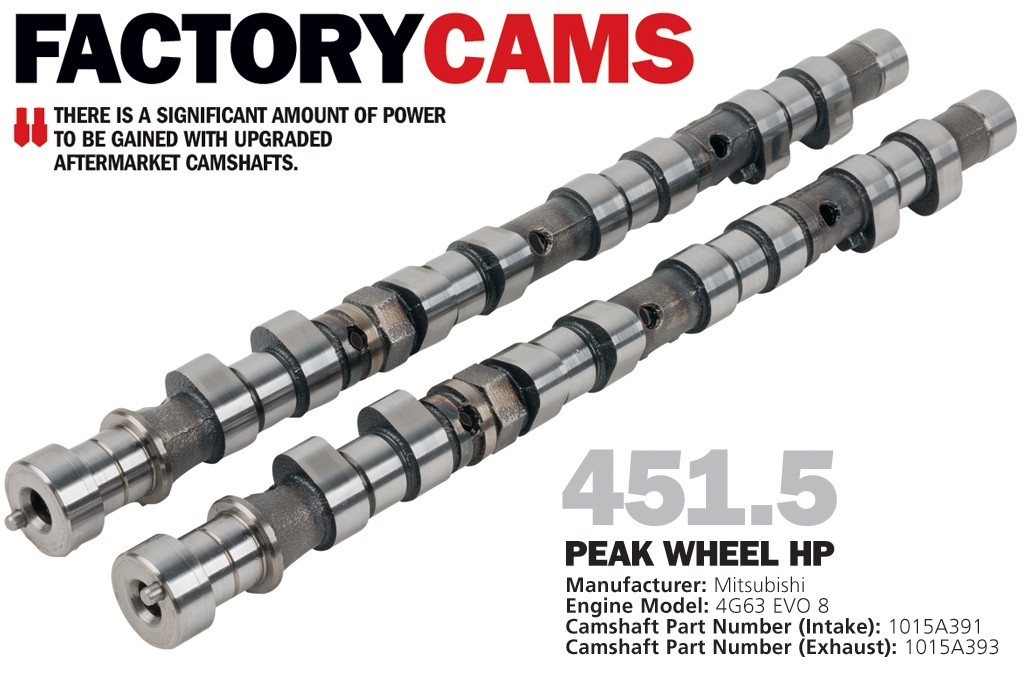 INTAKE
EXHAUST
CAM TIMING EVENTS
Centerline
109°
111°
Valve Opening @ 1.0mm
12.5 ATDC
31.25 BBDC
Valve Opening @ 0.050″
15.0 ATDC
27.75 BBDC
Valve Closing @ 1.0mm
32.5 ABDC
17.25 BTDC
Valve Closing @ 0.050″
21.0 ABDC
20.75 BTDC
DURATION
Actual Duration @ 1.0mm
199.9
194.0
Actual Duration @ 0.050″
193.0
187.0
Claimed Duration @ 1.0mm
N/A
N/A
PEAK LIFT
Peak Valve Lift
10.0mm (0.393″)
9.5mm (0.373″)
Peak Cam Lift
5.8mm (0.228″)
5.5mm (0.215″)

Manufacturer's Pitch

The factory cams do a sub-par job of extracting maximum performance from the engine. Any 4G63 build with even a factory turbo can benefit from cam upgrades.
INFO
The factory Mitsubishi EVO 8 camshafts provide a smooth idle, clean emissions and decent performance at factory boost and power levels. However, there is a significant amount of power to be gained with upgraded aftermarket camshafts. Running E85, the factory camshafts allowed our engine/turbo combination to produce just under 445 wheel horsepower at 21.5psi of boost pressure. This was running a lambda of 0.85 (gasoline equivalent of 12.5:1 A/F ratio). Comparing the stock cam to the offerings from Kelford show the massive performance gains to be realized with a performance set of cams.
---
RUNDOWN
451.5 WHP @ 7,000 RPM
359.3 LB-FT @ 5,500 RPM
Peak power checked in at 7,000 RPM with a drop in power as engine RPM moved past this point. Peak boost was reached at about 4,500 RPM. A flat torque band from 4,500 to 7,000 RPM delivered over 320 lb-ft of torque. Peak torque came in at 5,500 RPM. Highest VE values were recorded at 3,500 RPM. The 4,000 and 4,500 RPM VE figures were lower than anticipated due to the use of a large-runner aftermarket intake manifold.
| | | |
| --- | --- | --- |
| | POWER | VOLUMETRIC EFFICIENCY |
| RPM | WHP | % |
| 2500 | 49.66 | 80.5 |
| 3000 | 82.45 | 88.2 |
| 3500 | 112.31 | 98.6 |
| 4000 | 166.27 | 85.9 |
| 4500 | 281.42 | 85.0 |
| 5000 | 323.28 | 89.1 |
| 5500 | 371.95 | 92.1 |
| 6000 | 399.03 | 88.7 |
| 6500 | 415.72 | 88.8 |
| 7000 | 451.50 | 84.9 |
| 7500 | N/A | N/A |
| 8000 | N/A | N/A |
| 8500 | N/A | N/A |