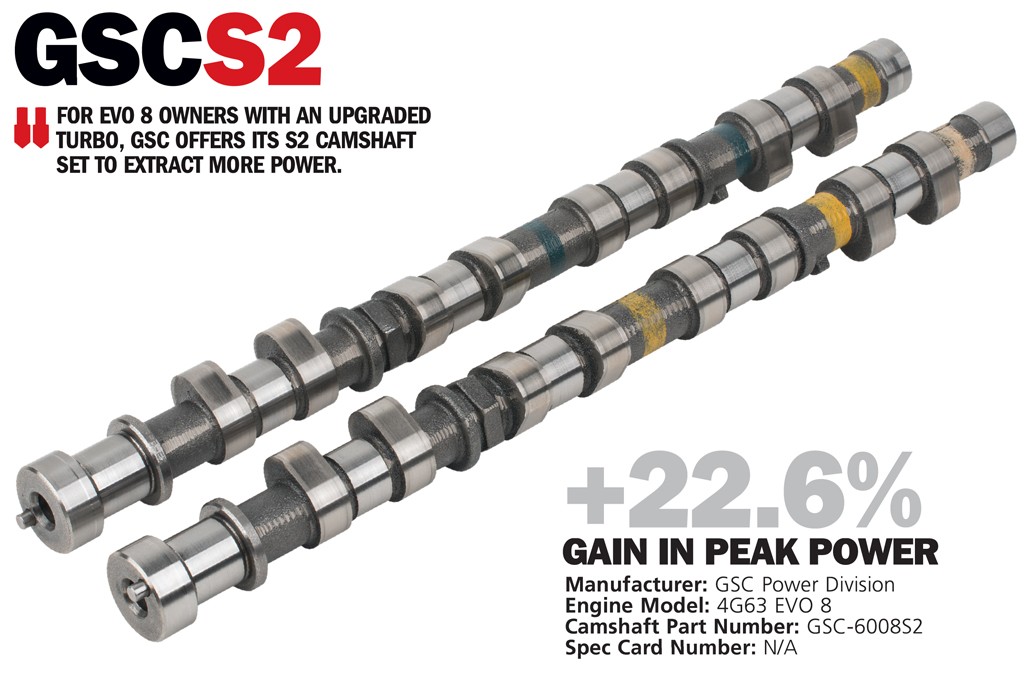 MANUFACTURER: GSC Power Division
ENGINE MODEL: 4G63 EVO 8
CAMSHAFT PN#: GSC-6008S2
SPEC CARD#: N/A
INTAKE
EXHAUST
CAM TIMING EVENTS
Centerline
107°
113°
Valve Opening @ 1.0mm
3.1° ATDC
45.7° BBDC
Valve Opening @ 0.050″
0.6° ATDC
42.3° BBDC
Valve Closing @ 1.0mm
39.3° ABDC
3.8° BTDC
Valve Closing @ 0.050″
35.7° ABDC
7.6° BTDC
DURATION
Actual Duration @ 1.0mm
222.4°
222.0°
Actual Duration @ 0.050″
215.1°
214.7°
Claimed Duration @ 1.0mm
230.0°
230.0°
PEAK LIFT
Peak Valve Lift
11.1mm (0.435″)
11.0mm (0.435″)
Peak Cam Lift
6.4mm (0.252″)
6.4mm (0.251″)

Manufacturer's Pitch

The S2 cams are designed for those with more power in mind or a larger turbo. No low-end power is lost vs. the stock cams when used with the larger turbos. The S2 cams will show gains of 50-70whp over the stock cams and in some cases more in the higher RPM. Great for 2.0L engines revving to 9000 RPM or for stroker motors revving to 8000 RPM. The S2 Cams are suggest to run on our upgraded Beehive valve spring replacement or can be run at the stock revlimit and factory boost on the stock spring. Designed for a rev range of 4000- 9000 RPM (2.0L or 3000-8000 2.2L+), 400-700whp applications. S2 cams can run on Factory ECU with custom flashing.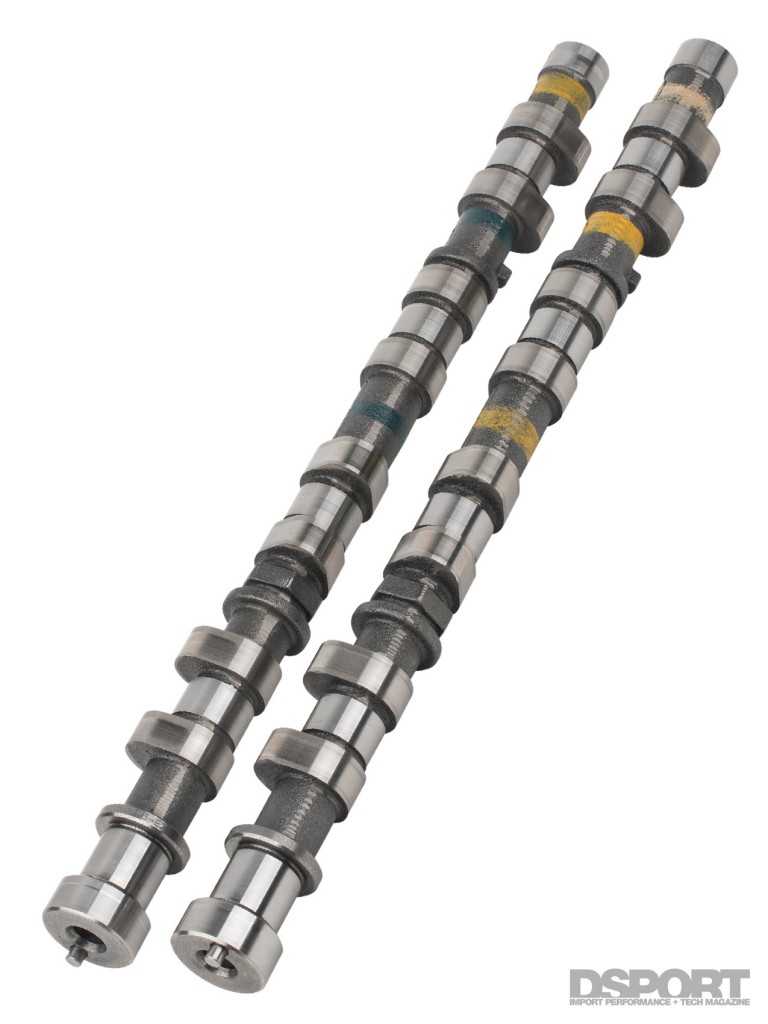 INFO
For EVO 8 owners with an upgraded turbo, GSC offers its S2 camshaft set to extract more power. Maximum power peaked right above 550 wheel horsepower. The S2 camshafts definitely deliver a considerable increase in power but require a valve spring upgrade. However, the bump in power comes with the accompanying lopey idle. The loss in power from 3,000 to 4,000 RPM is likely due to the large runners in the aftermarket intake manifold installed on our dyno mule. We expect that with a factory manifold, the increase in power would span across the entire RPM range.
---
RUNDOWN
553.94 WHP @ 8,100 RPM
416.07 LB-FT @ 6,400 RPM
Peak power checked in at 8,100 RPM with the power curve remaining flat all the way to redline. Peak boost was reached at about 5,100 RPM. A flat torque band from 5,000 to 7,500 RPM delivered a peak torque figure of just over 415 lb-ft. Peak torque kicked in at 6,400 RPM. Highest VE values were recorded at 6,500 RPM, and VE figures registered higher than the factory units from 4,000 to 8,500 RPM.
HORSEPOWER

RPM/WHP
FACTORY
GSC S2
GAIN/(LOSS)
2500
49.66
52.01
2.35
3000
82.45
66.90
(15.55)
3500
112.31
103.59
(8.72)
4000
166.27
148.38
(17.89)
4500
281.42
287.48
6.06
5000
323.28
364.34
41.06
5500
371.95
427.50
55.55
6000
399.03
467.13
68.10
6500
415.72
494.69
78.97
7000
451.50
534.22
82.72
7500
N/A
532.56
N/A
8000
N/A
540.97
N/A
8500
N/A
534.50
N/A
VOLUMETRIC EFFICIENCY

RPM/%
FACTORY VE
GSC S2
2500
80.5
87.9
3000
88.2
93.5
3500
98.6
97.0
4000
85.9
96.5
4500
85.0
97.5
5000
89.1
97.0
5500
92.1
97.8
6000
88.7
99.0
6500
88.8
99.9
7000
84.9
97.0
7500
N/A
92.0
8000
N/A
89.8
8500
N/A
84.6