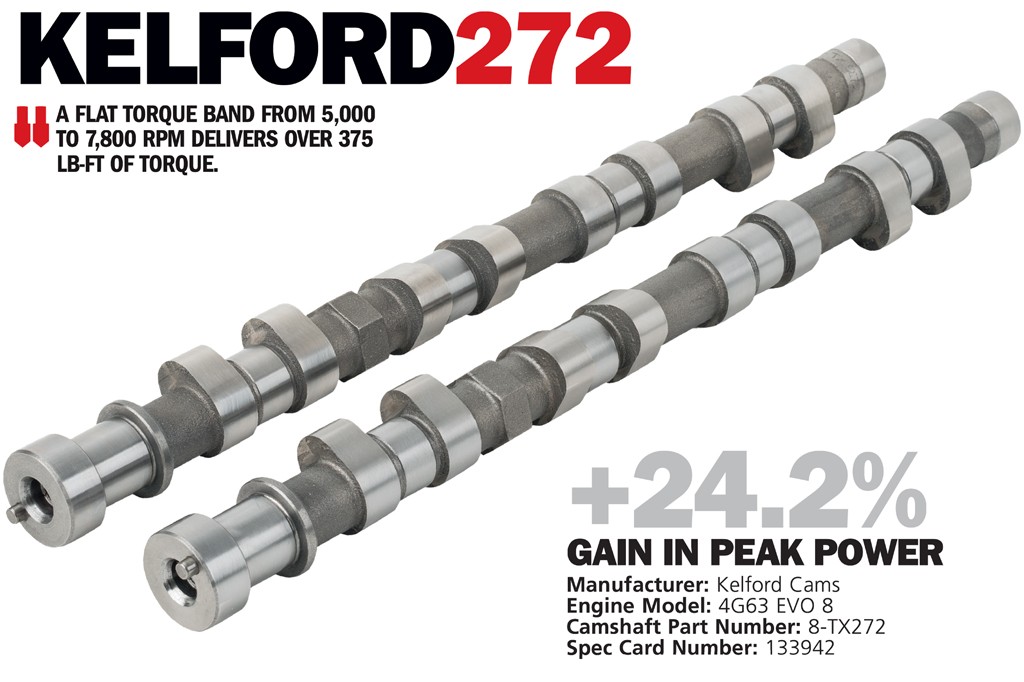 MANUFACTURER: Kelford Cams
ENGINE MODEL: 4G63 EVO 8
CAMSHAFT PN#: 8-TX272
SPEC CARD#: 133942
INTAKE
EXHAUST
CAM TIMING EVENTS
Centerline
107°
113°
Valve Opening @ 1.0mm
1.8° BTDC
47.6° BBDC
Valve Opening @ 0.050″
1.7° ATDC
43.9° BBDC
Valve Closing @ 1.0mm
41.4° ABDC
4.4° BTDC
Valve Closing @ 0.050″
37.6° ABDC
7.9° BTDC
DURATION
Actual Duration @ 1.0mm
222.9°
223.2°
Actual Duration @ 0.050″
215.8°
216.0°
Claimed Duration @ 1.0mm
226.0°
226.0°
PEAK LIFT
Peak Valve Lift
11.1mm (0.436″)
11.1mm (0.436″)
Peak Cam Lift
6.4mm (0.252″)
6.4mm (0.252″)

Manufacturer's Pitch

272 Duration 11.00mm Lift. The best all round performance cam to suit 400-600hp racing engines running up to 35psi of boost. Recommended redline of 8,500 RPM with KVS63-BTK springs.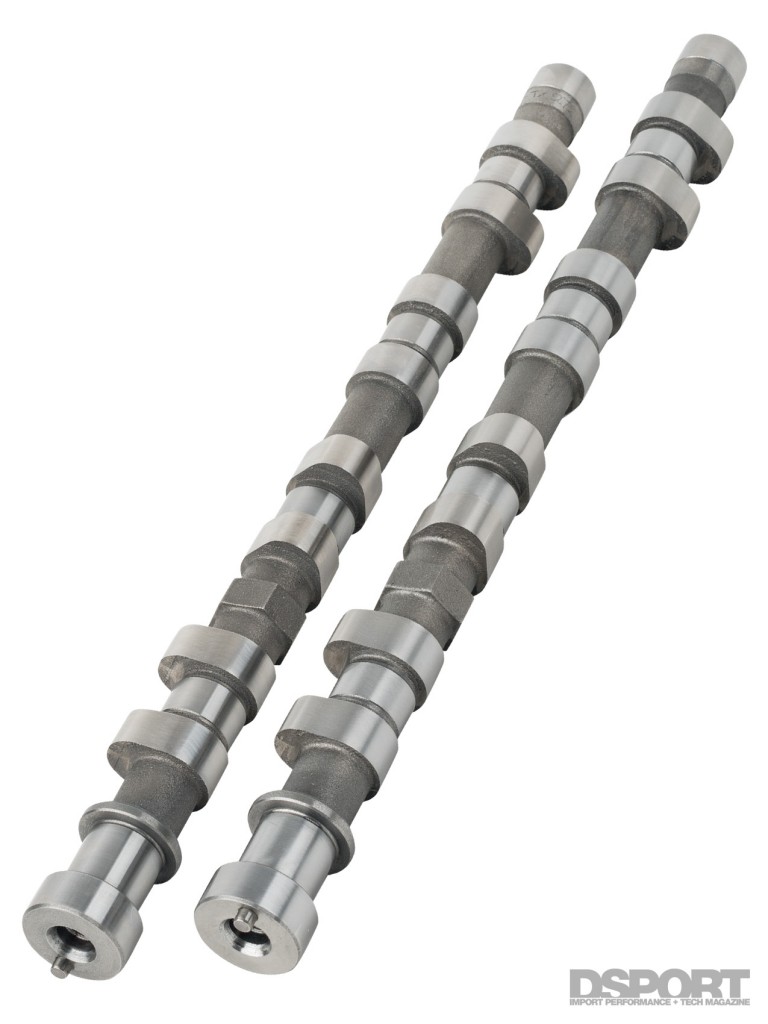 INFO
If you are running an engine management solution that allows for fine tuning of the engine at idle, the Kelford 272s will definitely deliver more power than the 264s, at the expense of a slightly lopey idle. Compared to the stock cams, the Kelford 272s raised peak power output by nearly 25 percent. On our test engine, we picked up almost 110 more horsepower at the wheels from the upgrade to the Kelford 272s. These cams faired better than the 264s below 4,500 RPM on our test engine equipped with the large-runner intake manifold. Normally, the 264s would outperform the 272s up to the 4,500 RPM range.
---
RUNDOWN
560.6 WHP @ 8,300 RPM
411.3 LB-FT @ 6,000 RPM
Peak power checked in at 8,300 RPM while the power curve stays virtually flat from 7,800 RPM until 8,500 RPM. Peak boost was reached at about 4,600 RPM. A flat torque band from 5,000 to 7,800 RPM delivers over 375 lb-ft of torque. Peak torque came in at 6,000 RPM. Highest VE values were recorded at 8,000 RPM. VE figures superior to the stock camshafts at all engine speeds from 3,500 RPM and beyond.
HORSEPOWER

RPM/WHP
FACTORY
KELFORD 272
GAIN/(LOSS)
2500
49.66
50.47
0.81
3000
82.45
64.62
(17.83)
3500
112.31
96.75
(15.56)
4000
166.27
142.72
(23.55)
4500
281.42
291.52
10.10
5000
323.28
355.84
32.56
5500
371.95
418.82
46.87
6000
399.03
459.58
60.55
6500
415.72
492.16
76.44
7000
451.50
527.37
75.87
7500
N/A
545.08
N/A
8000
N/A
553.33
N/A
8500
N/A
553.83
N/A
VOLUMETRIC EFFICIENCY

RPM/%
FACTORY VE
KELFORD 272
2500
80.5
89.3
3000
88.2
95.3
3500
98.6
96.4
4000
85.9
97.0
4500
85.0
97.1
5000
89.1
96.8
5500
92.1
97.8
6000
88.7
99.0
6500
88.8
100.0
7000
84.9
96.6
7500
N/A
92.2
8000
N/A
89.8
8500
N/A
83.9