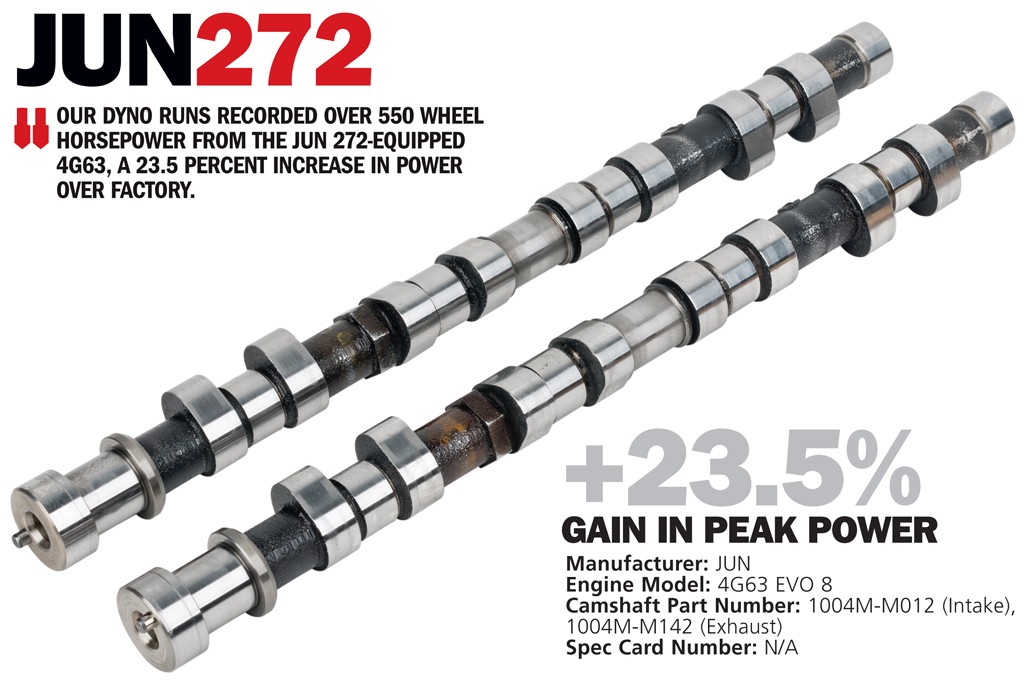 MANUFACTURER: JUN
ENGINE MODEL: 4G63 EVO 8
CAMSHAFT PN# (INTAKE): 1004M-M012
CAMSHAFT PN# (EXHAUST): 1004M-M142
SPEC CARD# : N/A
INTAKE
EXHAUST
CAM TIMING EVENTS
Centerline
110°
110°
Valve Opening @ 1.0mm
7.3° ATDC
38.9° BBDC
Valve Opening @ 0.050″
10.6° ATDC
35.6° BBDC
Valve Closing @ 1.0mm
39.4° ABDC
7.3° BTDC
Valve Closing @ 0.050″
35.8° ABDC
10.9° BTDC
DURATION
Actual Duration @ 1.0mm
212.1°
211.6°
Actual Duration @ 0.050″
205.1°
204.7°
Claimed Duration @ 1.0mm
214.0°
214.0°
PEAK LIFT
Peak Valve Lift
10.8mm (0.425″)
10.2mm (0.401″)
Peak Cam Lift
6.2mm (0.245″)
5.9mm (0.232″)

Manufacturer's Pitch

When developing a high lift camshaft at JUN, the detailed data for each type of a car is taken, suitable valve springs and retainers are engineered and the optimal profile is determined. The advanced camshaft series, with very high lift, is designed for use only on high power engines. Reinforced valve springs are required.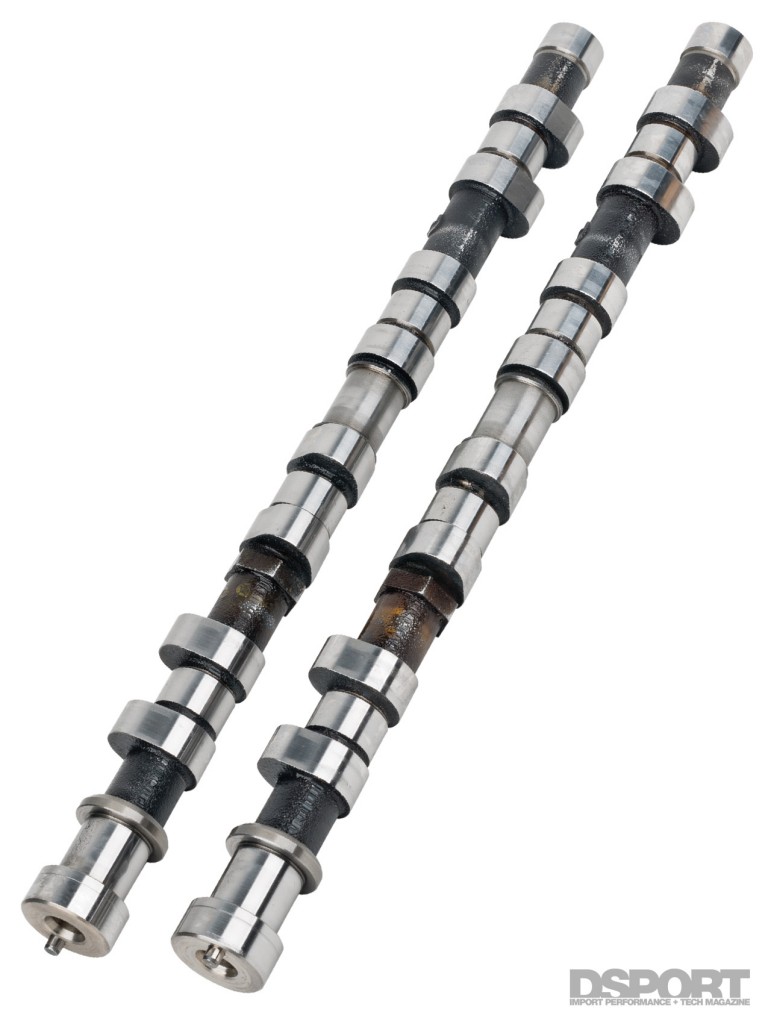 INFO
Ahtough we could only get our hands on one of the JUN camshaft offerings for the 4G63 EVO 8, this camshaft set proved to deliver loads of power paired with the requisite lumpy idle. This pair of camshafts provided some of the highest VE numbers across our camshaft test group. Unlike most of the camshafts, the JUN 272s only began to deliver an increase in power production from 5,000 RPM up to 8,500 RPM. Our dyno runs recorded over 550 wheel horsepower from the JUN 272-equipped 4G63, a 23.5 percent increase in power over factory.
---
RUNDOWN
557.56 WHP @ 8,500 RPM
404.96 LB-FT @ 6,200 RPM
Peak power checked in at 8,500 RPM, as the power curve flattened out from 7,000 to 8,500 RPM. Peak boost was reached at 4,600 RPM. The torque curve remained flat from 5,500 to 7,500 RPM and tapers off higher slightly in the power band. Maximum torque of nearly 405 lb-ft was reached at 6,000 RPM. VE values of 99.0 or higher were recorded from 5,000 to 7,000 RPM. Superior VE figures superior to the factory camshafts were recorded from 4,000 to 8,500 RPM.
HORSEPOWER

RPM/WHP
FACTORY
JUN 272
GAIN/(LOSS)
2500
49.66
47.64
(2.02)
3000
82.45
62.22
(20.23)
3500
112.31
91.03
(21.28)
4000
166.27
128.85
(37.42)
4500
281.42
255.26
(26.16)
5000
323.28
351.58
28.30
5500
371.95
414.73
42.78
6000
399.03
457.29
58.26
6500
415.72
481.20
65.48
7000
451.50
513.16
61.66
7500
N/A
539.58
N/A
8000
N/A
546.77
N/A
8500
N/A
557.56
N/A
VOLUMETRIC EFFICIENCY

RPM/%
FACTORY VE
JUN 272
2500
80.5
88.7
3000
88.2
92.9
3500
98.6
96.7
4000
85.9
96.6
4500
85.0
98.5
5000
89.1
100.0
5500
92.1
99.0
6000
88.7
101.5
6500
88.8
101.0
7000
84.9
99.0
7500
N/A
93.2
8000
N/A
88.9
8500
N/A
82.3