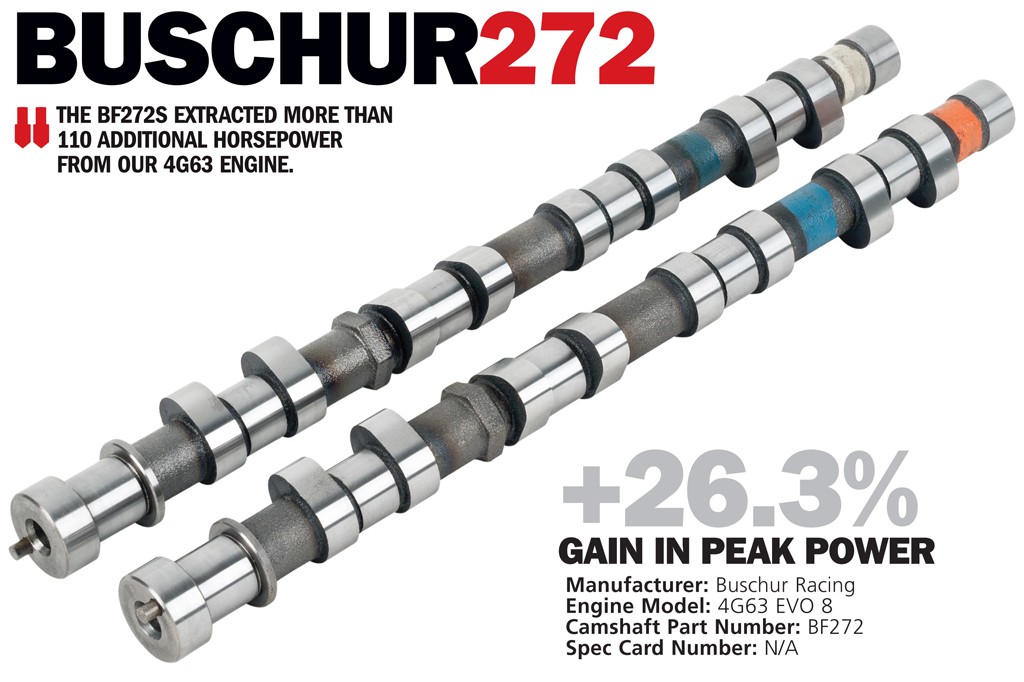 MANUFACTURER: Buschur Racing
ENGINE MODEL: 4G63 EVO 8
CAMSHAFT PN# (INTAKE): BF272
SPEC CARD# (INTAKE): N/A
INTAKE
EXHAUST
CAM TIMING EVENTS
Centerline
N/A
N/A
Valve Opening @ 1.0mm
0.2° ATDC
52.2° BBDC
Valve Opening @ 0.050″
3.3° ATDC
48.5° BBDC
Valve Closing @ 1.0mm
46.3° ABDC
4.8° BTDC
Valve Closing @ 0.050″
42.8° ABDC
8.3° BTDC
DURATION
Actual Duration @ 1.0mm
226.6°
214.5°
Actual Duration @ 0.050″
227.5°
220.2°
Claimed Duration @ 1.0mm
N/A
N/A
PEAK LIFT
Peak Valve Lift
11.2mm (0.442″)
11.3mm (0.443″)
Peak Cam Lift
6.5mm (0.256″)
6.5mm (0.256″)

Manufacturer's Pitch

The ultimate in EVO camshafts. This new custom grind from Buschur Racing has proven itself to make the most power of any camshaft we have tested to date in the EVO. We've had these cams custom ground and are glad we can offer them at a reasonable price to our customers. These camshafts are recommend for use with FP RED, GT30 series or larger turbo and will require our spring and retainer kit to support them.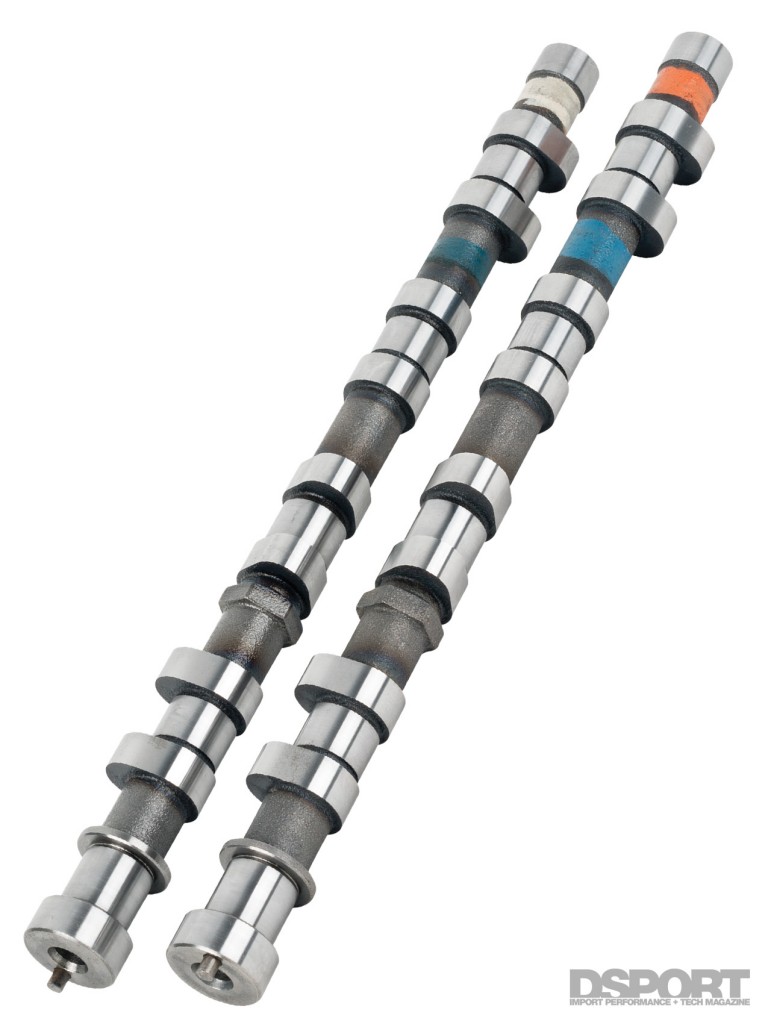 INFO
Designed for use with a FP RED or GT30 size turbo or larger, the Buschur Racing BF272 camshaft set delivers power without any significant idling issues. Compared to the factory camshafts, the BF272s extracted more than 110 additional horsepower from our 4G63 engine. With the BF272s, the peak power shifts from 7,000 to 8,400 RPM. These camshafts also require the installation of aftermarket valve springs. Although the power drops noticeably from 3,000 to 4,500 RPM, this loss of power may be attributed to the large runners of the aftermarket intake manifold on our test vehicle.
---
RUNDOWN
570.19 WHP @ 8,400 RPM
410.11 LB-FT @ 6,400 RPM
Peak power checked in at 8,400 RPM, although the power curve flattened out from 7,500 RPM to 8,500 RPM. Peak boost was reached at about 4,900 RPM. A flat torque band from 5,500 RPM to 6,750 RPM peaked at just over 400 lb-ft at 6,400 RPM. The highest VE values were recorded at 6,500 RPM, reaching the 100.0 mark. From 4,000 RPM to redline, the Buschur 272 cams delivered a significant increase in VE over the factory units.
HORSEPOWER

RPM/WHP
FACTORY
BUSCHUR 272
GAIN/(LOSS)
2500
49.66
50.56
0.90
3000
82.45
63.80
(18.65)
3500
112.31
96.53
(15.78)
4000
166.27
136.09
(30.81)
4500
281.42
270.30
(11.12)
5000
323.28
358.84
35.56
5500
371.95
421.12
49.17
6000
399.03
461.26
62.23
6500
415.72
497.60
81.88
7000
451.50
528.18
76.68
7500
N/A
551.90
N/A
8000
N/A
562.05
N/A
8500
N/A
569.49
N/A
VOLUMETRIC EFFICIENCY

RPM/%
FACTORY VE
BUSCHUR 272
2500
80.5
89.2
3000
88.2
95.2
3500
98.6
96.6
4000
85.9
96.7
4500
85.0
97.3
5000
89.1
96.8
5500
92.1
97.8
6000
88.7
99.0
6500
88.8
100.0
7000
84.9
97.0
7500
N/A
92.1
8000
N/A
90.0
8500
N/A
84.1