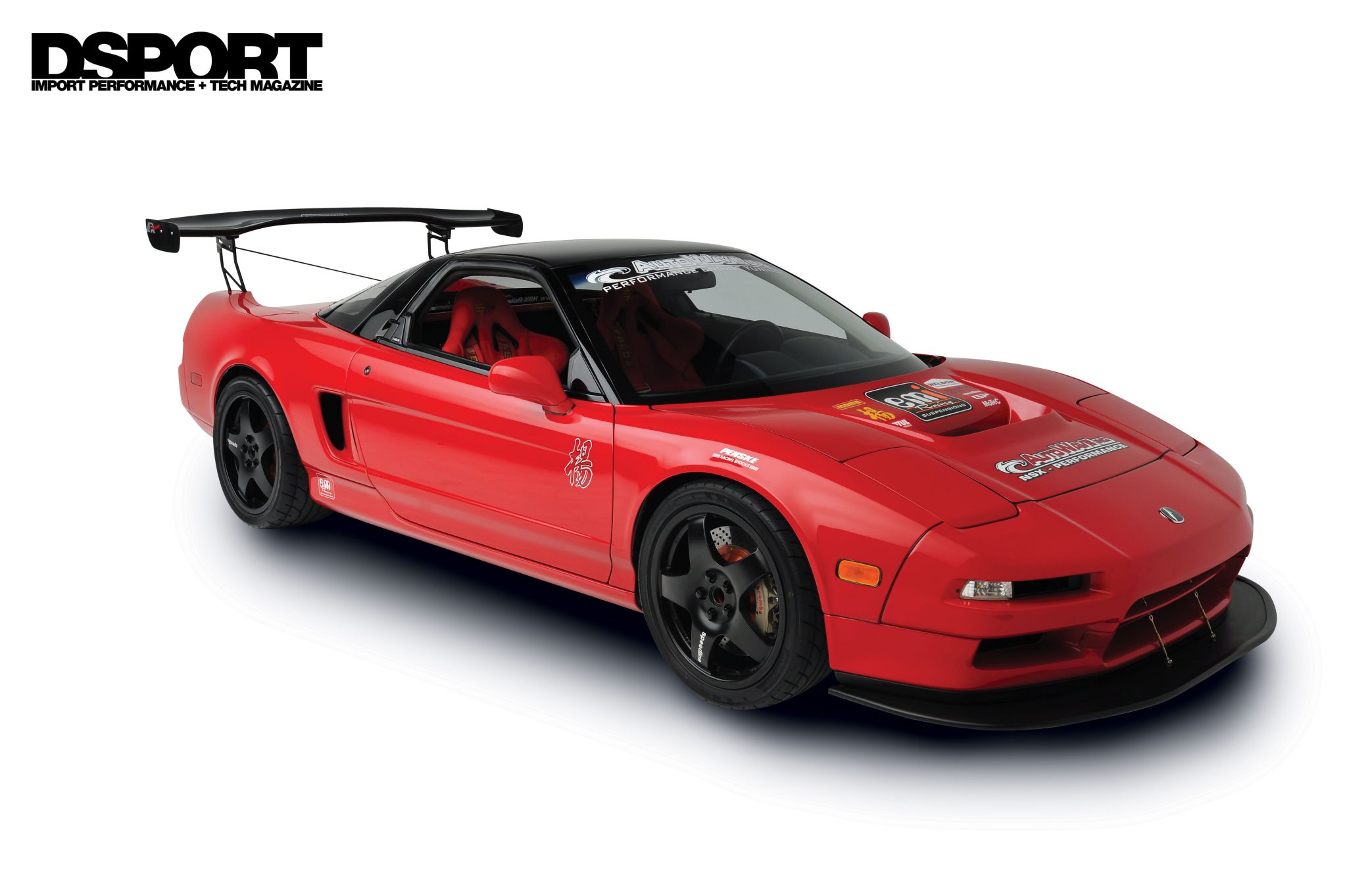 Does anyone really need 1,000 WHP to run street class in time attack? Using a flamethrower to start a barbeque, a fire hose to water a house plant or a chainsaw to cut a piece of paper would be overkill. Then again, building a 1,000-horsepower twin-turbo NSX to compete in the Street Class of time-attack events is not much different. In his quest to build the ultimate street car, Danny Young of Las Vegas has taken his 1992 Acura NSX from a well-balanced production sports car to an ass-kicking, take-no-prisoners, apex-slicing monster. While this NSX currently seems to have the right parts, proper tuning and a well-thought game plan, this wasn't always the case. Like some other unfortunate enthusiasts, Danny first picked the wrong shop. Fortunately, Danny's passion never ran out and he persevered to put his NSX in a class by itself.
Text and Photos by Michael Ferrara
---
Wrong Side of the Tracks
Danny purchased this NSX in 1992 and he enjoyed its factory performance for the next seven years. Once the factor warrantee expired, Danny's plan was to find the right shop to build a twin-turbo engine that could generate 600 horsepower. The year was 1999 and turbo Hondas were tearing up the drag strips from coast to coast. Danny dropped off his car at one of these Honda specialists with plans of picking it up a few months later. The shop was to build the engine, design a twin-turbo system and install and tune an engine management system. Over the course of the next six years, the shop owner managed to make hundreds of excuses while building a system and engine that never hit the mark. In addition to wasting time and money, the car also had parts scavenged from it while in the shop's possession.
Riding the Wave
In 2004, Danny's well of patience found a bottom. The car was picked up and delivered to Autowave in Huntington Beach, California. Over the course of the next two years, Autowave was able to get things right. At the 2006 Sport Compact Car Magazine Ultimate Street Car Challenge, this NSX took top honors as it outclassed the competition on the road course by a three-second margin. This NSX's combination of exceptional power, precise handling and capable braking make it a hard act to follow on any street.
Power Foundation
"We never set a goal of 1,000 horsepower. We sized the turbochargers for response. Hitting 1,000 horsepower was just an unforeseen bonus," says Danny. Due to the customary 15-percent driveline power loss, 1,000 horsepower at the wheels equals roughly 1,175 horsepower at the engine's flywheel. So what's the recipe for making nearly 1,200 horsepower from the C30A 3.0-liter Honda V6? Autowave started with a Benson's Auto machined short block. Dan Benson fitted the block with billet-steel main caps and ductile iron sleeves. The sleeves are made from a better material than stock and are much thicker so they do not crack at the extreme cylinder pressures of the high-horsepower levels. The billet-steel main caps ensure that the crank stays put. The stock steel crankshaft is now driven by 9.2:1 CP forged pistons hung on Oliver billet-titanium connecting rods. This rod and piston combination delivers the strength necessary to survive high-horsepower/high-boost operation. Once the shortblock was assembled, attention turned to the cylinder heads. Autowave ported the factory heads to optimize them for the larger intake and exhaust valves. Autowave seated Supertech stainless-steel intake valves and Inconel exhaust valves into the head. Matched dual valve springs and titanium retainers now keep the valves in place while a set of custom Web camshafts orchestrate the valve events. Through porting the cylinder head, increasing the valve sizes and selecting camshafts with higher lifts and longer durations, the C30A engine is able to breathe easier on the way to its 8,800 RPM redline. Breathing easier translates into more power and torque for a given boost level and engine speed. That's extremely important on a road-racing vehicle that needs to be productive at a wide range of engine speeds and boost levels.