Fuel, Air & Spark
The purpose of any internal-combustion engine is to take the chemical energy stored in the fuel and transform it into kinetic energy at the engine's flywheel through combustion. To ensure that there's enough fuel to meet the power demands, an external electric Weldon 2345-A fuel pump was chosen to deliver the VP Racing C16 to the six RC Engineering 1,200 cc/min injectors. To provide the air for the power equation, a pair of Turbonetics T04E/T3-hybrid turbochargers take center stage. Each turbo is mounted on a custom Hytech stainless-steel turbo manifold that incorporates a Burns Stainless 3-to-1 merge collector. When the turbos push enough air to pressurize the intake manifold to its desired boost level of 32 psi, a pair of TiAL Sport 38mm wastegates divert exhaust gasses from the turbines to the custom Hytech exhaust system that features Burns Stainless mufflers. With massive amounts of fuel and air being crammed into the cylinders, the resulting high cylinder pressures make it more difficult to fire off a proper spark. Fortunately, a MoTeC CDI-8 ignition system feeding a half-dozen Mercury Marine coils has little trouble generating a spark at the NGK Racing Plugs. This spark is perfectly timed thanks to the engine management handled by the MoTeC M48 Pro.
Keeping it Cool
Mid-engine configurations offer challenges for proper cooling, especially at high horsepower levels. Understanding this challenge, Danny invested in every engine cooling system on the vehicle. The engine's coolant is now pushed by a Meziere electric pump that feeds a Fluidyne 3-row aluminum radiator. Boosted charge air is chilled by a pair of Laminova 4-row intercoolers that are part of the liquid-to-air system. As for the engine oil cooling, dual Mocal 25-row coolers work with a Mocal Oilstat to ensure that oil temps are fast to reach operating temps. Adding an extra degree of safety, a 3-quart Accusump provides oil pressure whenever the hard cornering sloshes the engine oil away from the pickup in the pan.
Fancy Footwork
Having the punch of 1,000 horsepower is great, but it won't get you far on a road course without a capable suspension. A complete Penske 3-way adjustable coil-over system is in charge of keeping the tires in contact with the pavement. To optimize the contact angles, a regiment of Comptech suspension links were employed along with Comptech sway bars. Up front, 225/40ZR18 Yokohama Advan Neova AD07s provide the contact patch for steering while 295/30ZR18s provide the driving patch in the rear. The tires attach to the vehicle by way of 18-inch Speedline Ferrari Challenge Magnesium rims. The staggered configuration uses 8-inch wide rims up front with 10-inch wide rims at the rear. Since the wheels are manufactured from magnesium, they weigh about 30-percent less than aluminum wheels.
Stopping & Chopping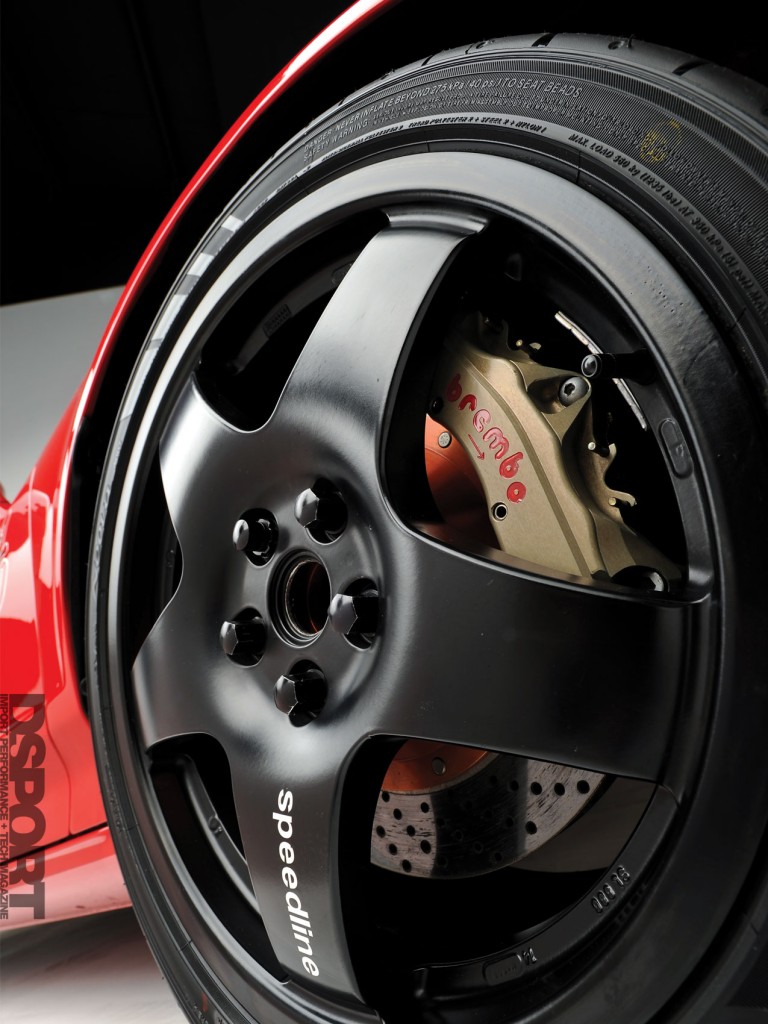 Being able to stop later than the competition is a key to quicker lap times on the track. Stopping quicker requires a capable braking system with massive amounts of brake pad area. Up front, a set of 8-piston Brembo GTR Monoblock calipers put the squeeze on the Brembo pads. These pads scrub on Cooltech MMC brake rotors to turn speed into heat. MMC or Metal-Matrix-Composite rotors provide a substantial weight savings over conventional rotors. This weight savings comes in the unsprung weight and rotational-mass departments. The same departments addressed by lighter wheels are tires. By reducing unsprung weight and rotational inertia, steering input and turn-in is improved while braking also benefits. As for chopping the air, this NSX employs an aluminum-honeycomb splitter in the front and an aluminum-honeycomb diffuser in the rear. An APR Performance GTC-500 carbon-fiber GT wing allows for tuning of the high speed downforce at the rear.
Rise from Adversity
Becoming involved with a crooked tuner that hold a car hostage is enough for most people to give up on owning a "built" vehicle. Fortunately, this setback wasn't enough to quell Danny's desire to own a killer street NSX. In fact, this initial bad experience may be part of the reason that Danny decided to go overkill from that point forward. After all, we should consider that this NSX would only be putting out 60 percent of its current power had the first tuner done his job. Perseverance and persistence, along with finding the right parts and tuning shop led to success. While it's real easy to call it quits when things don't go right, this NSX is proof that sometimes it pays to never give up.