Long before PayPal and Google wallet, or currency at all for that matter, people used to barter goods and services to get what they needed. It wasn't uncommon to trade animals for labor or textiles for lumber. In today's economy, however, there are a lot less opportunities to trade commodities since the norm is making purchases using cold hard cash. Even though bartering may not be the norm, it's not to say that a mutually beneficial exchange of goods doesn't happen from time to time.
Text by Sami Sharaf // Photos by Aaron Eusebi
---
Snail for a Snail
Back in 2009, Justin Mangnall of Brighton, Colorado was the content owner of a modified 2005 Subaru WRX STi. Mangnall's STi made decent power with the factory IHI VF39 turbocharger and bolt-on components. But one day, he had the opportunity to make an interesting trade. A friend was looking to convert his STi back to stock and was on the hunt for factory parts. Luckily, Mangnall had kept all the factory parts from his project so he jumped at the opportunity. In return for his factory components, Mangnall took possession of a Perrin Performance GT3582R rotated turbo kit. After Scott Molitor of MoFab completed the installation, the EJ257 engine pumped out an impressive 500 whp.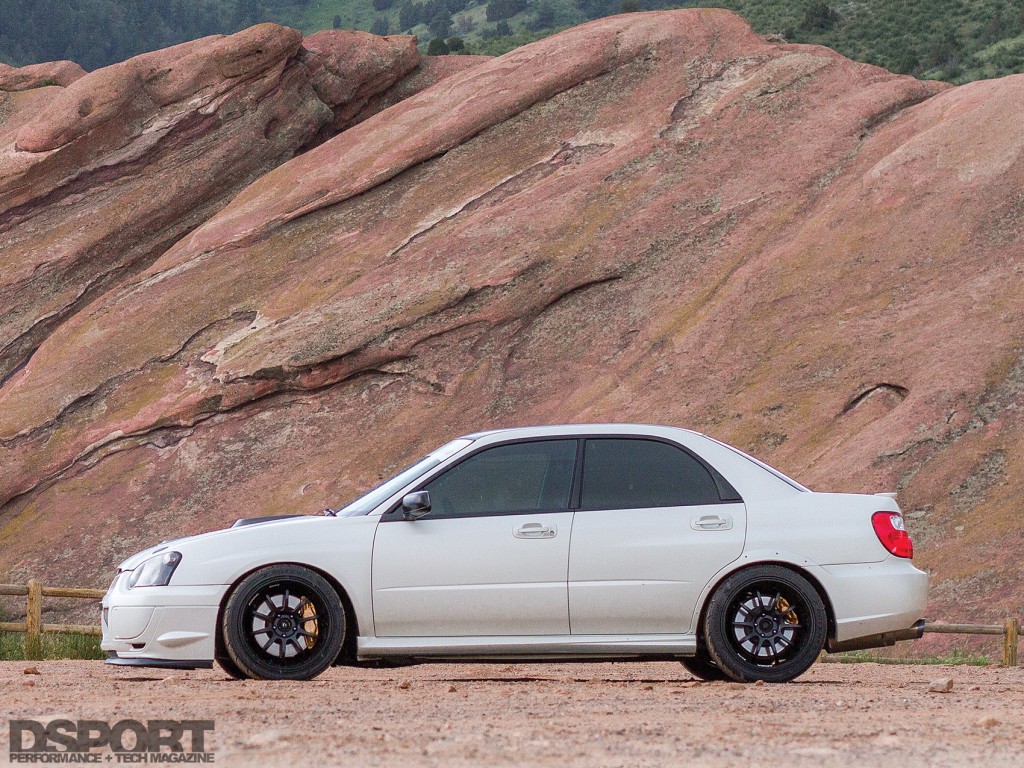 Gone Wrong
At the 500-horsepower mark, the factory STi engine lasted a year and half. Mangnall joked, "that was a year longer than it should have." Under increased boost pressure, the cast factory aluminum alloy pistons face much greater structural demands. Eventually, the increase in cylinder pressures on Mangnall's project led to a cracked skirt on one of the EJ257 pistons. As Mangnall contemplated the fate of his project, the Subaru sat untouched for six months.
New Proposition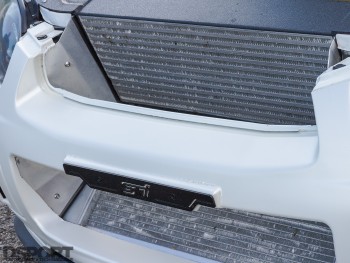 The downtime allowed Mangnall to draw inspiration from various motorsports. Studying the Subarus raced in the World Rally Championship presented several ideas that could be integrated into the STi build. WRC race teams incorporate top-level engineering into everything from suspension configuration to electronic components. The WRC feature that most prominently stood out to Mangnall was the v-mount intercooler setup. V-mount intercooler setups are capable of increasing the cooling efficiency of both the intercooler and radiator due to increases in the forward-facing surface area. The increases to intercooler and radiator surface area allow more direct airflow to the heat exchangers which leads to improve efficiency. According to some tuners, there are also enhancements to engine response due to shorter intercooler ducting. Moving forward with a custom v-mount system for his STi, Mangnall consulted Molitor.