Distributing Boost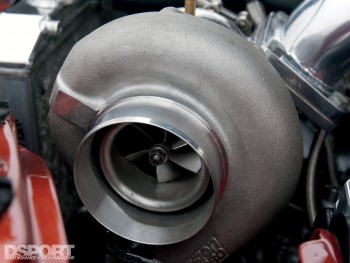 With the turbocharger mounted at the front of the engine bay, a short length of pipe was all that was needed to connect the compressor outlet to the intercooler. The intercooler then makes the connection to the engine. For an engine to work efficiently, each cylinder must perform the same amount of work as the next. Distributing air equally to each of the cylinders starts at the intake manifold. Once the incoming air flows through the Accufab 90mm throttle body, the Arizona Forced Induction aluminum intake manifold's broad, symmetrical plenum distributes the air charge to the intake ports.
As the air charge nears each intake port, Injector Dynamics ID2000 injectors spray VP Racing C16 race fuel into the airstream. Regulation of the fuel delivery and ignition timing falls on the shoulders of A Hondata KPRO. In the hands of Slowmotion's Corey Parrish, the tables were refined and the boost dialed up. At 29 psi boost pressure, the K20 delivered 786 horsepower and 504 lb-ft of torque to the hubs of a Dynapack dynamometer. By comparison, the original K20 swap with an intake, header, exhaust and Hondata KPRO tune produced 232 horsepower on the Dynapack, indicating a 239 percent gain over the initial swap.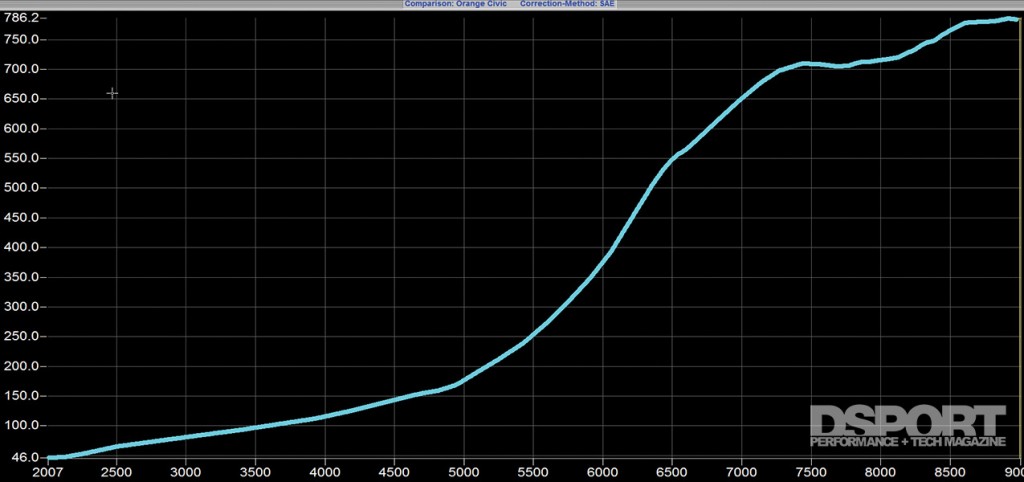 Weak Links
As power increased, weak links began to manifest themselves in other areas. The driveline clearly needed help, as the clutch could not hold the more than 400 lb-ft of torque being generated. A Competition Clutch Twin-plate clutch took its place on the crankshaft to transfer power from the engine to the driveline. The factory gearbox was replaced with a Frana Racing unit. The new 4-speed transmission featured straight-cut gears and dog engagement for strength and durability.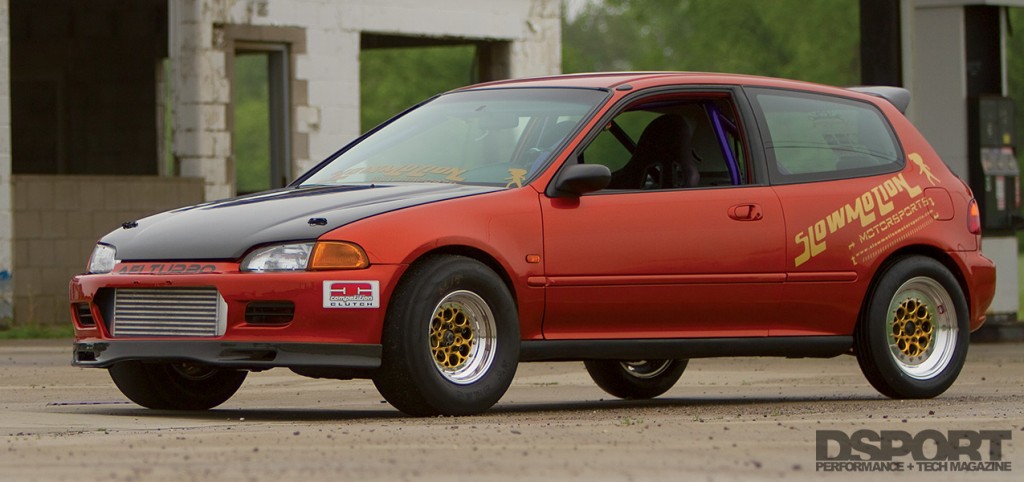 Diffusion Confusion: Why diffuse?
RED LINE: Air moves freely through with diffuser (YELLOW) installed. BLUE LINE: Air gets trapped with stock bumper.
Racing Into 2011
Paul has accumulated a number of accolades in the five years of owning his EG. It has been an evolution of making power, breaking parts, fixing the problem, making more power and then repeating the cycle again. The Civic captured first place at the 2008 Buschur Sport Compact Shootout and second place at the 2009 Buschur Sport Compact Shootout. He also garnered victories at several local Import Face Off events throughout the years. Paul comments, "We wanted this build to be a little different while still reaching our objective. In the end, it looked great, made big power fairly easy and spooled up nicely for a bigger turbocharger. The new goal for 2011 is to click off low 9-second passes or even break eights after making even more power." Resolved in his quest, Paul is zeroed in on a goal. With the right equipment and determination, the elusive single digits should be right around the corner.