What is it like to start from the bottom? Unlike Drake, starting from the bottom doesn't always equate to going from poor to rich. In the automotive world, you always get to choose the platform you want to build. The model, condition, and end-goal set the floor for the entire journey. In a Toyota Supra, starting from the bottom means finding an automatic Supra that is sporting a naturally-aspirated 2JZ all while being in a poor condition. This is exactly what Shalene Bisconer did. To make matters harder, this was Shay's introduction to working on cars. If Drake started from the bottom, then Shay started from a deep hole in the ground. Here's how she was able to give this Supra a life without a solid foundation or any knowledge for that matter.
Text by Bassem Girgis // Photos by Dominick Olson (PNW_Speed)
DSPORT Issue #235
---

Tough Start
It's no secret enthusiasts are always attracted to the Toyota Supra. "Those body lines, the way she whispers in my ears, and the sheer fact of how easy it is to get four-digit power out of them," said Shay. The Supra has picked up a legendary status throughout the years, which made it an extremely valuable and expensive vehicle. However, automatic transmission and naturally-aspirated engines are less sought after. Shay picked up this automatic NA Supra with no real plans in place. In addition to the less desired transmission and naturally-aspirated engine, the Supra was in an unacceptable condition. "The respray was terrible, all corners out of alignment, speakers were repaired with masking tape, and the dash was all scratched up," said Shay. With all of its flaws, Shay still loved the car, from its name to the empty Japanese squash air freshener that she couldn't read. "I had finally bought my dream car, now I know how Barbie feels when she has to smile 24/7."
Change of Plans
"At first I was happy to have a Supra, until I went to my first Supra event," said Shay. While owning a Supra was a dream come true for Shay, when she saw the capabilities within the platform, her imagination expanded. "I went full Google for months." Shay was torn in regards to what she should tackle first. Between the poor aesthetics and the naturally-aspirated and automatic transmission, the work list was long. In the beginning, she chose to address the unpleasant exterior. "It went from a show car to I have to get this thing boosted and manual swapped." Having high horsepower wasn't something she aspired to do. After driving a few friends' high horsepower Supra, Shay knew she wanted to be around the 500whp zone. "I didn't want to pucker up trying to show off to a passenger."

Ups and Downs
On the road to a complete car, Shay faced a lot of ups and downs. None was worse than the sound of the horrific knocking coming from inside the engine. "When I ripped the engine out, it was a spun rod bearing," said Shay. "The only thing that was keeping my head up at this point was the fact that I was getting a bonus in four months." This was the point of no return for Shay. Funds weren't enough to get the engine professionally built, but she wanted nothing more than to drive the car. Shay bought the repair book, went on all of the forums, and surfed YouTube then went into building the engine herself. She then replaced the stock automatic transmission with a 6-speed from a 350Z. She knew she will be taking the Supra to the track and figured it's best to break an easy-to-find transmission than a Supra one. "Four years later, I don't understand how it's still running."

Making the Power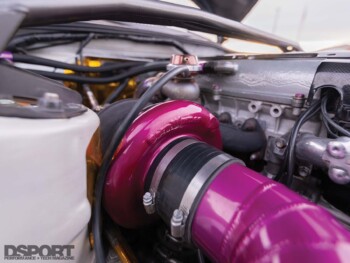 After spinning the bearings, Shay replaced most of the internals with quality aftermarket parts. A Borg Warner S366 turbocharger was introduced to the mix, and a Hellcat 525 fuel pump replaced the stock one to match the increase in charged air. The pump feeds Fuel Injector Clinic 1,000cc injectors with 91-octane or E85 ethanol/gasoline mixture (flex fuel). On the dyno, Shay's Supra put down 609.68whp at 5,500 RPM and 627.36 lb-ft of torque at 4,000 RPM when running at 18 psi of boost. While the car exceeded Shay's original expectation, additional power will be desired soon. In the near future, Shay plans on going with bigger injectors and start getting into road course racing more, then modify the Supra as needed to get better and quicker.

The instrument cluster was kept stock to maintain the classic looks, but STU Hagen custom gauges were added to display data.
Painting the Canvas
"I really love the sound of the Borg Warner turbocharger with the OCD T51R mod," said Shay. While the turbocharger sounds amazing, the T51R mod exaggerates how good it is. Shay had to face a lot of obstacles in the tuning department. When the pandemic hit, the entire project had to be put on hold. Since all of the tuning shops were closed, Shay needed to do something to get her car on the road again. That's when the Link ECU came into play. "I had to learn another thing to do myself, remote tuning." While remote tuning isn't always successful since tuners need to use all of their senses while tuning cars, the process worked for Shay. "Sure it takes more time, but you get to be a part of the tuning process and not just sit behind a window hearing your car roar and drive it after," she explained. The process of working back and forth with tuners allowed Shay to learn a lot about troubleshooting and how critical all of her sensors are.
"My car is not just a car for me, it's my outlet, therapy, and artistic and creative canvas to express myself," said Shay. If she would do it again, Shay believes a much better option would've been to purchase a factory turbo 6-speed Supra from the start, even if it meant waiting and saving more money. However, the amount of lessons she learned today, and the fact that she can take the engine and transmission out on her own shows that she absolutely did the right thing. "Although this car has brought me stone cold tears, it was all worth it. I never thought my longest relationship would be with a car," Shay concluded. What a relationship this was, and if this isn't loyalty, we don't know what is, so let's all raise our glasses and make a toast to the sound of the rumbling 2JZGTE.