POUNDING THE PAVEMENT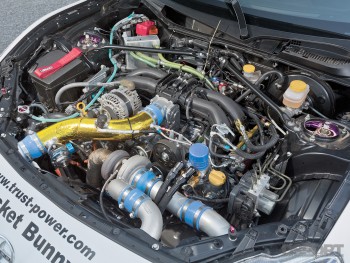 Since few tuners have pushed the FA20 to these output levels, the threshold for failure beyond the crankshaft remains somewhat uncharted territory. Preempting a driveline failure was a must, so the TRUST Racing Team turned to the specialists at OS Giken for a solution. OS Giken supplied a twinplate clutch to transfer power from the crankshaft to the input shaft of the reinforced factory transmission. While TRUST would not specify what was done to the transmission, if proven effective, it could pave the way to future 86/FR-S/BRZ transmission solutions. With the stock propeller shaft joining the transmission and the rear end, an OS Giken Super Lock LSD replaced the stock unit in the differential carrier to split the power evenly between the drive wheels.
BALANCING THE ZN6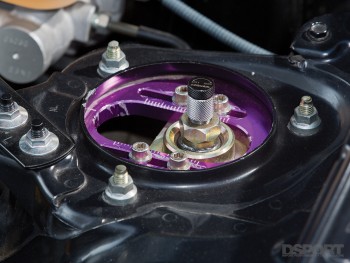 Making more than twice the output of a stock engine with a turbocharger and nitrous injection proved an effective engineering exercise, but breaking the oneminute barrier at Tsukuba requires more than just horsepower. The team now shifted its focus to improving the handling and keeping the chassis planted to the tarmac. To that end, the FR-S received a set of GReddy Type-S performance dampers with 14 kgf/mm springs at all four corners. This setup keeps the Yokohama Advan A050- wrapped Volk Racing G25 wheels pressed to the pavement down the straights and through the turns. On the aerodynamics front, TRUST went with the broadly popular Rocket Bunny aero kit, providing wider fenders, a splitter, a wing and a custom diffuser for additional downforce over the tires.
BREAKING BARRIERS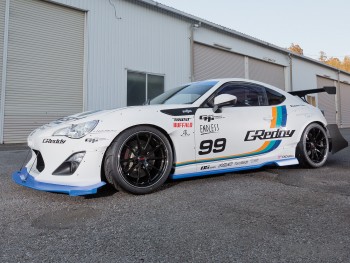 Having addressed the variables that concerned the TRUST Racing Team, it was time to put the FR-S to the test and to see if the team's efforts would bear fruit. At Tsukuba Circuit on December 6, 2013, the FR-S rolled off the trailer and was readied for driving veteran Tarzan Yamada. Yamada got settled, dialed in and made his laps. He locked in a quickest lap of 58.740 seconds, achieving the TRUST Racing Team's goal of a sub-minute lap time. Kawashima concluded, "We were very happy to have achieved our goal of less than one minute at Tsukuba Circuit, which validated the efforts of the team and engineers. If we were not constrained by budget, we would like to have used an even stronger transmission to really test the potential of the FRS. As more engine internals are developed and become available, we plan to rebuild the engine again and return to Tsukuba to see how much we can improve. Hopefully, an aftermarket camshaft solution will become available by then." With more FA20 development on the horizon, the TRUST Racing Team can take aim at quicker times at the legendary Tsukuba Circuit.
---