Where one is good, wouldn't two be better? This is sometimes true, and for Takayuki Maezuka, operator of a tuning shop in Chiba, Japan, called Car Making Revyou, it was an option to explore. Maezuka got his start in the industry, working at JUN AUTO for two years and at Top Secret for one year, before venturing off to start Car Making Revyou 15 years ago. His shop is a member of the RH9 Tuned Pro Shop group, which includes famed tuners like Top Secret, JUN Auto, Top Fuel and Phoenix Power. When just about every tuning shop jumped on the GT-R bandwagon, Maezuka realized early on that the competition would be fierce. Avoiding the crowd, he decided to go with a different platform: Nissan's perennial sportscar, the rear-wheel drive Fairlady Z. In his eyes, the Z is the definitive Nissan Sportscar with a broad audience and tremendous potential.
GRASS ROOTS GARAGE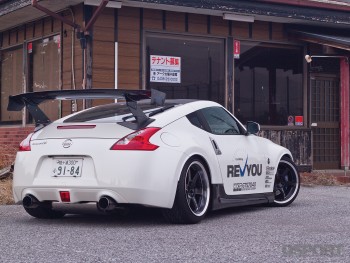 With a focus on high-performance street machines and time attack, Maezuka developed the Z33 for street and circuit, extracting more power from the VQ35DE engine with a supercharger. He began running this supercharged Z33 at time-attack events, which furthered his development program for the chassis. Later, he upgraded to this 2010 Z34 chassis and began a new development program for the VQ37VHR engine.
NEW Z, SAME SCENE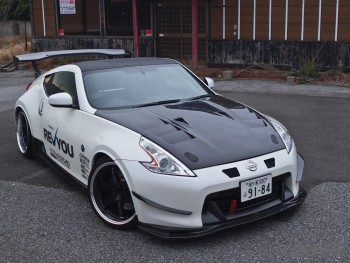 Maintaining his development focus, the new Z retained its street appeal with the requisite aesthetic upgrades, which included a complement of lightweight carbon-fiber hood, lip spoiler, side skirts and wing from Top Secret. The chassis was dropped by way of a set of HKS Hipermax III adjustable dampers with Swift springs, while the rolling stock was upgraded with a set of 19-inch Volk Racing TE37 Tokyo Time Attack wheels.