The Wheel Deal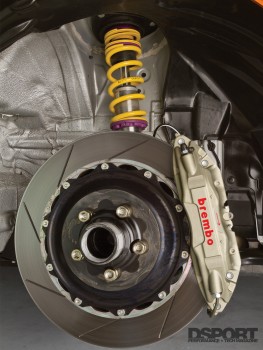 The next most obvious change to the exterior would be the rolling stock. While a true center lock type conversion adapted from a Porsche GT3 would have been a crazy conversion, it simply was not cost effective or practical. Instead, RJ turned to Forgeline for a solution. Forgeline's center lock conversion adapters with special lug nuts bolt to the factory hubs. This conversion transforms the factory lugs into drive pins that set into the 19-inch Forgeline conversion specific GA1-R wheels mounted with Pirelli's P-Zero Corse tire system. The Corse system features tires with tread patterns designated specifically for the front and rear, optimizing traction and handling. In the spirit of European exotics, the factory stoppers inside the wheels were replaced with a set of Brembo's new Club Racing calipers and rotors up front, with matching powdercoated Brembo GT calipers at the back. Equipped with massive floating discs, the Brembo brakes add heat capacity and fill the barrels of the 19-inch wheels appropriately. Finally, to close the wheel well gap, KW Suspension Variant 3 coilovers drop the ride height of the FR-S, improving the stance and completing the exterior improvements.
Have It Your Way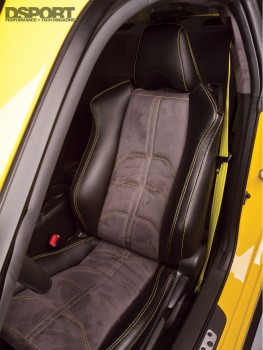 At a glance, the interior didn't seem all that different from stock. There weren't any aftermarket racing seats, racing harnesses or even gauges on the dash. The factory dash, front and rear seats, door panels and floor mats all looked about the same. But upon closer inspection, the interior had actually received a complete makeover, with the dash covered in grey alcantara leather with yellow stitching. The custom yellow stitching had found its way throughout the entire cabin, with nearly every surface covered in grey alcantara and black leather. RJ explained, "The upholstery is a simulation of a custom option that exotic car makers offer when ordering a vehicle. This represents what I would imagine that Scion would offer, if it had custom order options. The yellow theme accents the entire cabin in the same way that an exotic would be equipped." For in car entertainment, Newport Autosound installed a Kenwood navigation head unit to replace the factory system, while Phoenix Gold speakers and a subwoofer in a custom
enclosure deliver clean, crisp sound to the occupants.


Phoenix Gold speakers, amplifier and subwoofer in a custom enclosure deliver sonic excellence.
Supercharging Performance
While aesthetic appeal catches the eye of the enthusiast, power under the right foot captures the performance spirit of the driver. Although the FR-S offers a respectable amount of power from the factory, RJ felt that it could use a few extra ponies to really deliver the exhilaration worthy of the build. Of the limited power adding solutions available, Vortech's supercharger kit for the 4U-GSE engine offered the ideal balance of power delivery and simplicity. Based on a V-3 supercharger, this blower was sized specifically for the 2-liter boxer engine to ensure responsive boost delivery and volume. A CNC-machined aluminum compressor wheel matched with a 3.6:1 step up transmission combine to provide boost pressure. Acquired just in time for the SEMA Show, the NuR Concept FR-S received one of the first five prototype tuner kits to be produced by Vortech. The tuner kits did not include the essential ancillary components, necessitating some fabrication in order to work. After receiving a conservative tune by Vortech utilizing EcuTek engine management software, the fuel and ignition tables were optimized for 91- octane pump gas. As the first featured vehicle in DSPORT to be tested on DSPORT's new Dynojet 424xLC2 dynamometer, the FR-S was strapped in and began to spin the rollers. At an average of 5.5 psi boost pressure, the FR-S registered 215.76 horsepower and 170.29 lb-ft torque to the wheels. Vortech has since conducted additional testing with the 4U-GSE engine, uncovering greater potential. The production FR-S/BRZ supercharger kits include all the necessary components for installation with a compressor wheel redesigned for greater efficiency. According to Vortech, the boost pressure now holds steady at 8 psi and produces approximately 240 horsepower at the wheels. [pullquote]BASED ON A V-3 SUPERCHARGER, THIS BLOWER WAS SIZED SPECIFICALLY FOR THE 2-LITER BOXER ENGINE…[/pullquote]

 
215.76 WHP & 170.29 lb-ft
Sin City Debut
With the project completed on time, the NuR Concept FR-S displayed at the 2012 SEMA Show in Las Vegas. From rendering to completion, RJ beams proudly about his latest creation. "The components we chose work together to give this car a different feel. Nothing overdone yet it has a swagger that sets it apart from the other FR-S builds at the show. It wasn't meant to be a circuit maestro or a total show car. It was meant to be the car you could drive daily and then take to the canyons to carve the roads on the weekends, yet classy enough to take out on a date and have parked outside of a high-end steakhouse. We wanted the best that everyone had to offer because that tied into our company philosophy at Meguiar's. We wanted to embody that philosophy into the project and I think we accomplished our objective." With the first of many appearances completed, watch for the NuR Concept as it tours the US of A in 2013. [pullquote]…CLASSY ENOUGH TO TAKE OUT ON A DATE AND HAVE PARKED OUTSIDE OF A HIGH-END STEAKHOUSE. -RJ DE VERA[/pullquote]