THE CREATORS OF THE HIT TV SERIES GLEE MADE IT THEIR DUTY TO repeatedly put two good songs together to make a bad one. This music mashup phase of mixing music into a clashing listening experience had burned out as quickly as it blew up. Somehow it was decided that a perfectly good song on its own wasn't enough, it needed the flavor of a completely different tune to make it better. This fad produced a few listenable tracks that appeared amongst a flood of nonsense, setting the example that two good things combined don't always equate to something great.
Text by Cameron Parsons // Images by Larry Chen
---
Racecars are built with the pure focus of going faster, compromising nothing to make the ride more comfortable or for the car to be easier to drive. The last four-door car I drove on a race track was a stripped out, fully-caged 300 horsepower VW Jetta GLI touring car. It was fast, it was powerful, but a bumpy road in that car would almost certainly be spine shattering. Cars built for racing are hot, loud, headache inducing, and drive so rough that you can't see straight. Trying to drive one in the traffic of city streets would be a nightmare.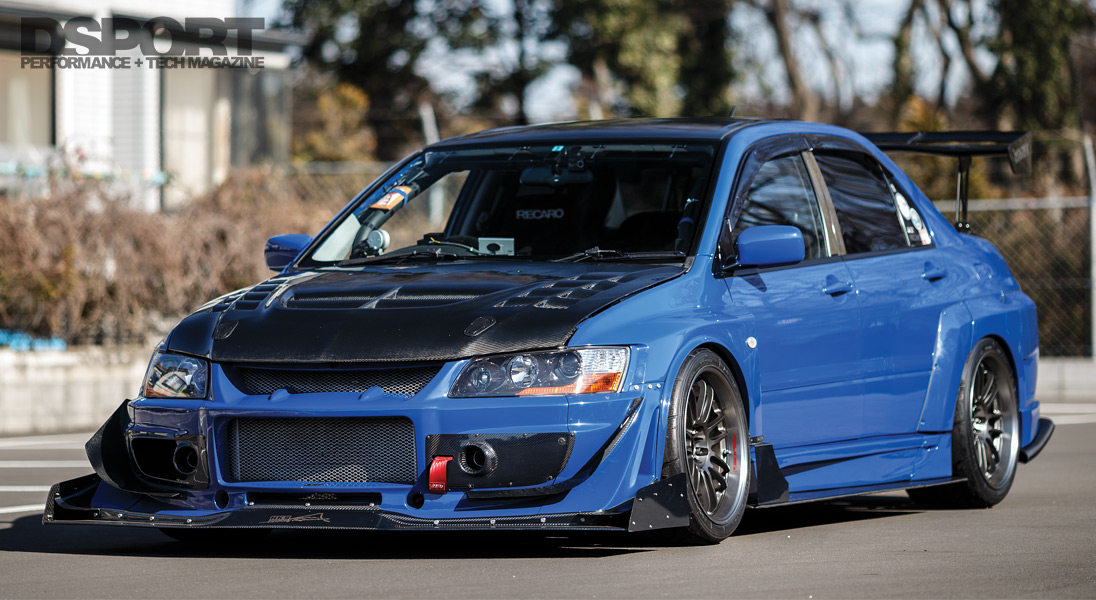 Most vehicles serve a single purpose, and with every improvement made in one category, there is usually a compromise in another. For many cars on the road, it's all about finding that sweet spot in the middle, the perfect balance of performance, reliability and comfort, because you can't have it all. Ishii-san of Chiba, Japan, challenged this concept with the intent to build one car to serve two very distinct purposes: achieving fast lap times at the track, while maintaining the comfort and utility to drive the family around town.
Getting the Ball Rolling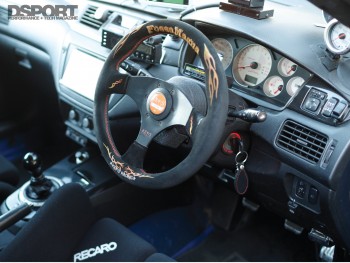 The project started with a 2001 Mitsubishi Lancer Evolution VII GSR. While a racecar build usually begins with gutting the interior, Ishii-san didn't want to sacrifice amenities like a bass-booming stereo, air conditioning and rear seats. Instead, he focused on only upgrading the interior to meet the safety requirements of the track. This resulted in a cockpit consisting of Recaro SP-GT2 buckets with HPI six-point harnesses and a bolt-in Cusco six-point roll cage. Although the cage stiffens the chassis and offers some degree of protection in the event of an accident, it doesn't interfere with space for passengers or visibility. With safety equipment installed and the interior and amenities remaining, this EVO VII would weigh in heavier than most of the competition at the track, leaving performance to be made up for in other ways.
(L) Atop the column, an Integral knock monitor reports engine knock to the driver. (M) Recaro SP-GT2 seats with HPI harnesses keep the driver secured behind the wheel. (R) An HKS EVC electronic boost controller sits alongside a time attack lap counter to the left of the gauge cluster for easy viewing.
Evos' Go-to Garage
With a craving for more power and better handling, Ishii-san turned to RH9 tuner Garage G-Force for additional help. Known for major projects like a twin-charged EVO X, a 193- plus mph EVO wagon and more, this Kanagawa prefecture-based shop comes highly regarded among EVO builders in Japan. Once the performance and safety requirements were laid out on paper, sights were set on preparing the EVO VII for the FISCO Special Stage Trial time attack series at Fuji Speedway.

Starting from Scratch
While much of the EVO VII's interior is preserved, what sits underneath the hood is a different story. Garage G-Force tore the 4G63 power plant down to the bare block, creating a blank slate. The first step toward making more power was to increase displacement. A TOMEI Powered 94mm stroker crankshaft bumped the displacement up from its original 1,997cc to 2,184cc, an increase of 9% over stock. A longer stroke crankshaft not only increases the displacement, it also improves the low-end torque. A ported and polished head improves airflow into the cylinders, as longer duration TOMEI Powered 280 degree Procams lift the valves.