On February 25th, the 2017 time-attack season officially kicked off in Japan at the Attack Maximum Challenge. Held at Japan's most famous time-attack venue, Tsukuba Circuit, the event attracted over 80 entries in four hotly-contested classes. Garage G-Force, ESCORT Racing, AutoBahn, RE Amemiya and Sakamoto Engineering were among the 40-plus shops supporting entries. Great weather and good track conditions allowed many car-and-driver combinations to set personal bests.
Staff Report // Photos by Gavin Oliva
---

The Classes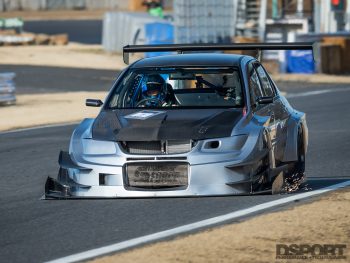 Nearly 30 entries filled the turbo class which requires that all entries be able to run a 59.500-second lap or quicker. This class featured a number of EVOs (8s & 9s), GT-Rs (R32/33/34) and RX-7 turbos. Roughly 20 entries made up the NA class which is made up of Hondas, Porsches, BMWs and even some NA rotaries. The radial class had a wide variety of entries all sporting DOT radial tires. Finally, a new "second" class was added to allow privateers and small shops the opportunity to get their combinations up to pro-spec.

The Results
Taniguchi and the Garage G-Force EVO 9 set the quickest lap time turning in a 52.617-second effort. Fire Ando and the ESCORT Racing Service EVO 9 was just over a second slower while Kunihiko Bando and the AutoBahn Soarer was just under a second slower than Ando. No less than six entries managed 55-second laps while the cutoff for the top 25 quickest was 58.599 seconds. With some of the newer builds not ready for the start of the season, we expect to see the best of Japan's time-attack cars to continue to raise the performance bar. The question is can anyone better 51.0 seconds in the 2017 season? Stay tuned.