Living the Digital Age
For the FR-S/BRZ application, OEM Audio Plus started with a 360-watt, eight-channel amplifier with a built-in Cirrus Logic 32-Bit Digital Signal Processor (DSP). Unlike the power amplifiers found on the amp racks of show cars and sound off vehicles, this compact and programmable amplifier converts analog signals into digital signals by way of four analog- to-digital (A/D) converters. It accepts speaker level signals, enhances them digitally and then amplifies sound as an analog signal to the speakers again. Lirag states that the D/A converters and DSP will maintain signal integrity and precision adjustment not possible with an analog signal. As with every platform that OEM Audio Plus designs a system for, Lirag employs a sophisticated array of microphones to represent an average of driver profiles. With this information, he tunes the DSP to optimize the signal being produced and amplified. Because of the programmable DSP, clean, clear and crisp sounds can be achieved without requiring a massive power amplifier.
The 130-watt subwoofer amplifier has three setting that can be flashed to suit the user's taste. Both the 8-channel and subwoofer amps mount to the enclosure, out of sight.
One More Use for Carbon Fiber
Now that an enhanced signal is in place, the next limitation can be addressed, the speakers. Speaker cones have traditionally been manufactured from paper, which is still regarded as the best material for sound reproduction.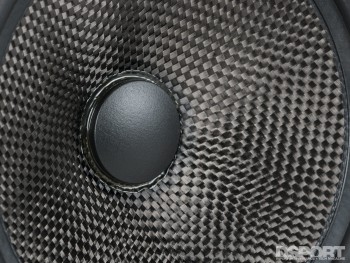 However, paper has a shorter lifespan and is susceptible to moisture and UV damage. To develop a superior speaker, Lirag focused his efforts on designing a neutral sounding speaker, one that would perform well in a less than ideal sound environment, the vehicle cabin. He looked to technology to offer an industry first, speakers with true, dry carbon fiber cones. For each OEM Audio Plus application, the speakers are designed as a direct OEM replacement. Thus, fitment is spot on, with speaker baskets that fit the OEM speaker position without any modification. Each speaker basket has been engineered to be more rigid than stock and has a more robust overall design than stock. Successfully implementing dry carbon fiber material into the speaker design lends to durability, sound quality and UV resistance (for speakers exposed to direct sunlight.)
Big Sound In A Small Package
Improved sound processing and speaker design takes sound quality to another level, but to add another dimension, another speaker was essential. OEM Audio Plus engineers every subwoofer enclosure to seamlessly incorporate into the trunk or cargo area of a vehicle with the least amount of intrusion on cargo space. Each enclosure displaces 14-liters and houses an OEM Audio Plus 8-inch, dual voice coil subwoofer. This subwoofer shares the same carbon fiber cone technology and speaker design as the rest of the OEM Audio Plus lineup. A separate 130-watt subwoofer amplifier mounts to the back of the enclosure. The Quick-Sync wiring harness that joins the 8-channel amplifier to the OEM harness also connects to the subwoofer amplifier to provide signal and power.
(Left) Engineering a 1-inch dome tweeter to replace the factory unit proved a challenge but worth the effort.
(Right) The factory polypropylene cone material is more durable than paper, but not as good as dry carbon fiber.