The Bottom Line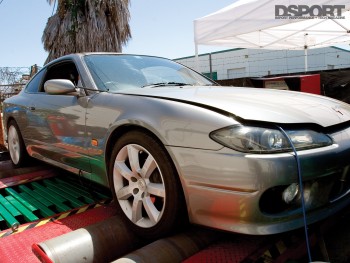 We took the Silvia back to MD Automotive to make final pulls on the Dynojet. Once strapped onto the Dynojet, the Silvia made 230.34 horsepower and 230.35 lb-ft of torque. Although horsepower figures were expected to be higher, closer examination of the baseline boost curve showed boost-creep that actually took the stock boost levels from 9psi up to 12psi. This 3psi difference made the baseline horsepower figures a little higher than they probably should have been. Gains were significant, as increases of 30-to-40 horsepower were realized between 3,500 and 4,000 RPM, and up to 47 horsepower through redline. Torque figures improved dramatically as well, showing the greatest improvements of 40-55 lb-ft of torque between 3,500 and 4,500 RPM. Peak torque improved by up to 40 lb-ft at redline.
HP Level
HP Increase
% Increase
Total
BASELINE
200.0
–
–
–
TEST 1 PFC, PUMP, INJECTORS
211.1
+11.1
3.0%
–
TEST 2 TANABE EXHAUST
216.2
+5.1
2.4%
+16.2
TEST 3 TANABE DOWNPIPE
232.6
+16.4
7.6%
+16.4
* * * * *
FINAL POWER
232.6
–
16%
32.6
–
Parts List
A'PEXI Power FC (D-JETRO)
$980.00
A'PEXI R33 N1 Fuel Pump
$499.00
A'PEXI Intake Air Temp Harness
$75.00
Mazda Intake Air Temp Sensor
$84.26
Power Enterprise 850cc Injectors
$560.00
Tanabe Concept G Turbo-Back Exhaust
$980.00
MSRP Total
$3,567.26
DSPORT Street Price:
$2,925-$3,140
–
Coming Attractions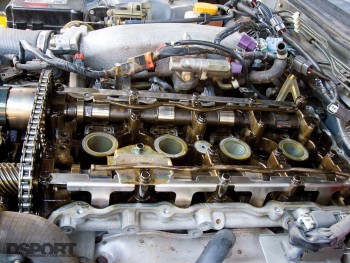 This first segment with the Silvia S15 yielded tremendous gains, showing the value of fuel tuning and the benefit of uncorking the exhaust system of turbocharged applications. The SR20DET generated an additional 11.6-percent improvement in horsepower and 20.4-percent increase in torque at redline. This sets the stage for the next round of upgrades. We will further open up the exhaust with a cat- delete pipe, amplify the spark energy with an ignition system upgrade and drop the intake air charge temperatures with a front mount intercooler. Stay tuned.