The Dyno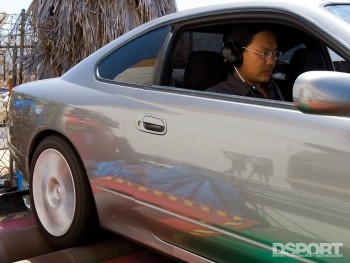 Tuning is paramount when it comes to making power. This Test and Tune series will feature fuel tuning with each additional part added, in order to show the true power potential that each component is capable of. Koji Arai, one of XS Engineering's tuning experts, will tune the Power FC. Dyno figures at XS Engineering will be measured on their DTS AWD dynamometer.
The S15 was baselined at MD Automotive, in Westminster, CA. Strapped to the Dynojet 248C, the S15 generated 206.47 wheel horsepower and 191.78 lb-ft torque. The Dynojet 248C, considered a benchmark for horsepower measurement, will be revisited throughout this series to provide horsepower figures at the end of each segment.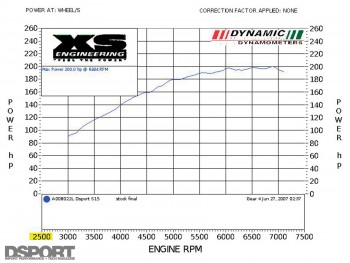 200.0 WHP
189.4 LB-FT TQ
---
Test 1: A'PEXi PFC, 850cc Injectors, Tuning
The Power FC comes from the factory preloaded with base fuel and ignition maps for the stock engine setup. This makes tuning a quicker process since the maps need not be built from scratch; they only need to be refined. Since the base maps were originally designed around Japan's premium unleaded instead of California's 91-octane unleaded, Koji tuned the S15 at stock boost levels 9psi (0.65bar) first. Baseline power was measured at 200whp. After increasing the boost to 12psi (0.85bar), gains were realized across the entire RPM range, with peak horsepower registering in at 211.8whp.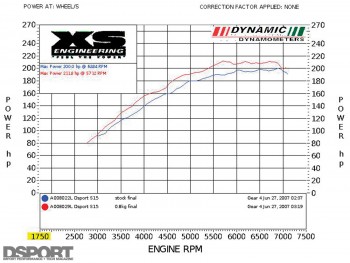 211.8 WHP
205.2 LB-FT TQ
---
Test 2: Tanabe Concept G Blue Exhaust
With peak power figures recorded, we installed the cat-back section of the Tanabe Medalion Concept G Blue exhaust. The stock exhaust piping was incredibly small, and we expected noticeable gains with this upgrade. This exhaust features 80mm piping and spot-on fitment, with every hollow exhaust hanger lining up with precision. What is unique about the included b-pipe is the lack of a pre-silencer. Tanabe designed this exhaust for pure performance, eliminating any potential restriction. Back on the dyno, the exhaust helped to increase horsepower to 216.2. Gains were recorded throughout the RPM range, with particularly noticeable gains of five-to-nine horsepower between 3,500-4,500 RPM and eight-to-10 horsepower between 5,000-7,000 RPM.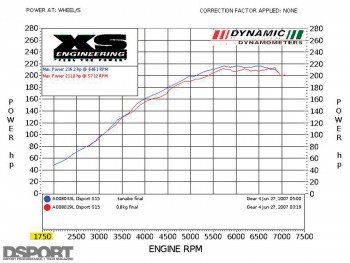 216.2 WHP
210.7 LB-FT TQ
---
Test 3: Tanabe Concept G Blue Downpipe
Next we installed the Concept G Blue downpipe. Also constructed from 80mm piping, the downpipe installed without a hitch. Uncorking the exhaust system made a noticeable difference, as we recorded improvements of five- to-10 horsepower between 4,500- 5,500 RPM and up to 16 horsepower at the peak. Peak horsepower was reported at 232.6, which brings the total gains to 32.6 on the DTS Dynamometer.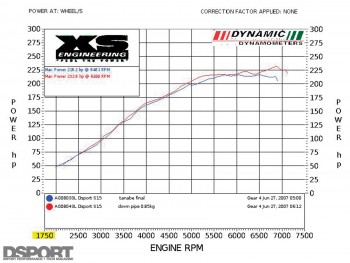 232.6 WHP
215.7 LB-FT TQ