CONCEPT GT3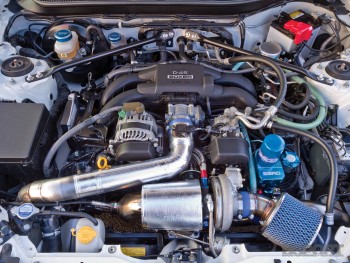 Finishing the fabrication work under the hood shifted the team's attention to the exterior. Although the eye-catching SARD GT1 performance aero kit stood out among the many new aerodynamics components released for the 86/FR-S/BRZ, making a statement and standing out at Tokyo Auto Salon would require even more. Thus, SARD's aero designers penned wide front fenders and rear fender flares to broaden the ZN6's profile while complementing the GT1's aggressive appearance. The kit's designers named their wide-body creation "GT3 Concept," as they wanted the kit to reflect SARD's GT3 heritage while being streetworthy in appearance. Kondou added, "The GT1 kit took three months to design, whereas the GT3 wide body components took around six months to complete. It was difficult to produce the panels to match with the body lines and thus took a bit longer to develop."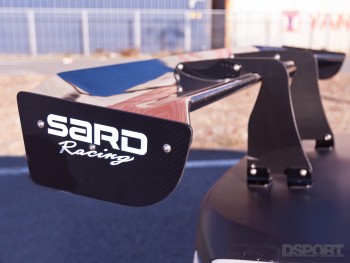 To complete the aerodynamics treatment, SARD mounted its prototype GT Wing 020 to the trunk lid. Derived from the Denso SARD SC430 racecar, this Super GT-inspired wing features "swan neck" wing stays that mount to the top of the wing plane rather than from below. According to Kondou, the wing was also difficult to produce, as several design adjustments were necessary in order to stiffen the wing and reduce flex.
FOOTWORK FIESTA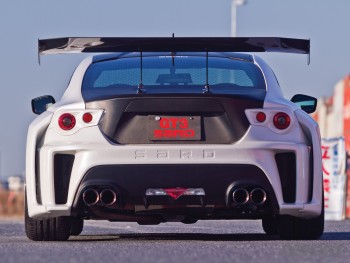 The wide-body aero kit created deeper wheel wells that begged to be filled with wide and aggressive wheels. Thus, SARD chose a set of 19×10.5-inch Volk Racing G27 wheels mounted with Bridgestone Potenza S001 tires. A pair of 15 mm spacers up front and 35mm spacers at the back ensures a flush fitment to the edges of the fenders. To keep the tires pressed to the pavement, SARD installed a set of its own Advanced Suspension Dampers. This suspension setup gave the GT3 a much more aggressive stance. SARD's new adjustable sway bars permit additional adjustment of the suspension to help keep the chassis planted in the turns. Behind the spokes of the G27s, SARD upgraded the factory stoppers with a bigbrake kit developed by Alcon, featuring forged monoblock, four-piston calipers and larger rotors.
AUTO SALON DEBUT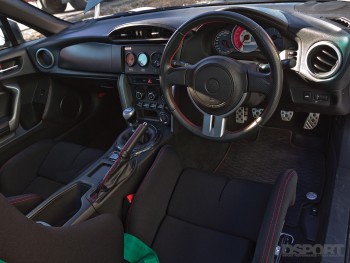 When the GT3 Concept rolled into the 86 & BRZ World's booth at the Makuhari Messe Convention Center, it stood out from all of the other 86s at the show. Despite its eye-catching appearance and EFR turbocharger, SARD still isn't completely finished with the GT3 Concept's development. Kondou commented, "For engine management, SARD decided to develop a plug-and-play stock ECU replacement. At the time of the Auto Salon, hardware development was approximately 90-percent complete. We hope to have a fully functional prototype completed by Spring 2014. We're also developing a SARD super limited slip differential prototype for the 86 that we hope to complete and test shortly." As SARD's GT3 development progresses, it should only be a short time before this Concept becomes a reality.
---