Mustang MD-AWD-500
Dynamometer Specifications

Location: COBB Tuning So Cal
Dynamometer Operator: Jon Hebbeln
Driveline Capability: AWD, 2WD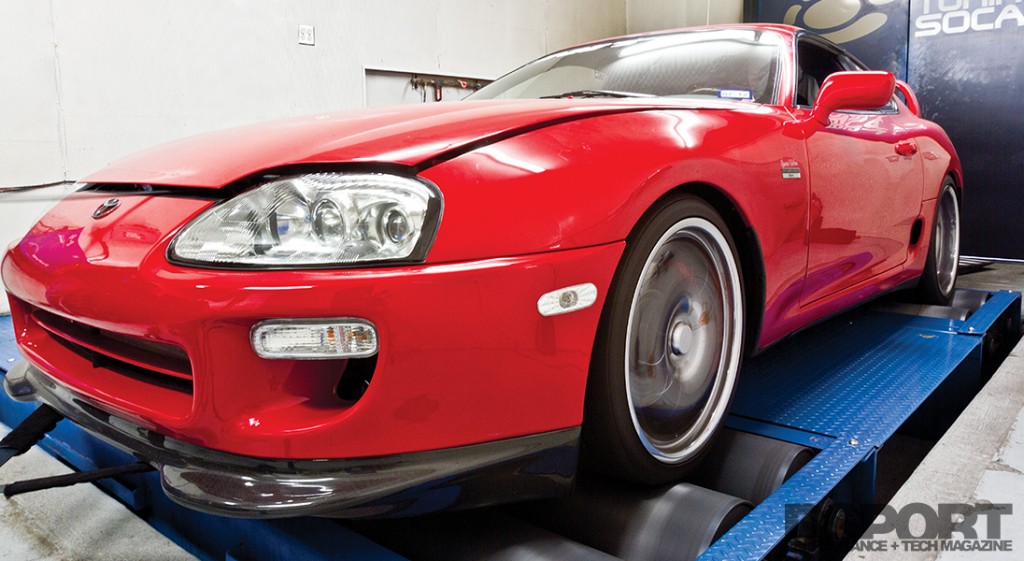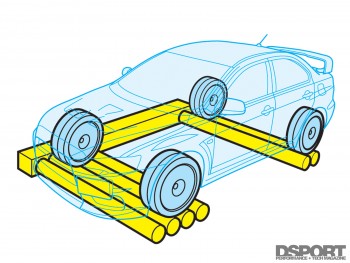 Dynamometer: Mustang MD-AWD-500
Dynamometer Type: Roller Type, Linked, In ground
Horsepower Capacity: 3,000 whp
Load Type: Eddy Current Absorber
Fan(s), Volume: 2x fans, Constant, 40,000 CFM each
Service Intervals: Calibrations Performed Monthly
Log Capabilities: A/F, RPM, Boost
Weather Station: Ambient Temp, Humidity, Barometric Pressure
Setup takes 15-20 minutes with sensors.
Breakdown takes 10 minutes.
+ ADVANTAGES

• Inertia measurement mode
• Eddy current load cell for tuning
• No roller adjustments needed
• 88-to-118" Wheelbase OK, Track up to 80"
• Linked rollers can be unlinked electronically

– DISADVANTAGES

• Separate calibrations required for AWD and 2WD
• Dyno owners have access to recalibrate to make dyno read too high or too low
• Standard Mustang dyno calibration shows "low" numbers compared to average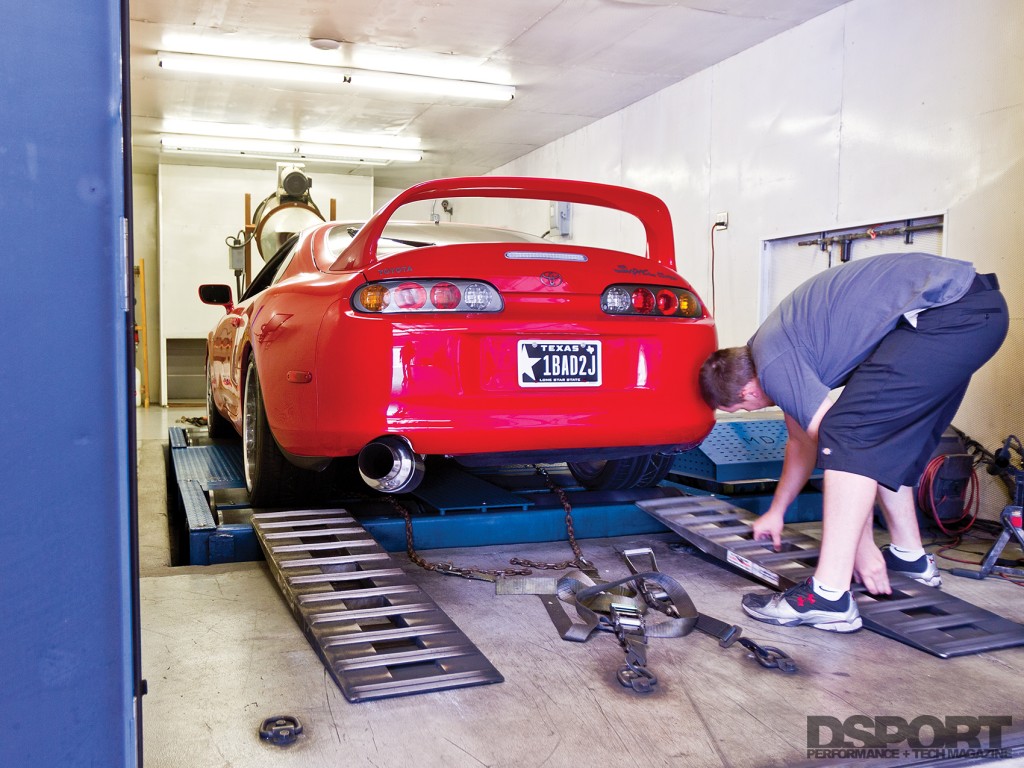 The Mustang MD-AWD-500 dynamometer features a non-adjustable frame design with dual rollers in the back and triple rollers up front to accommodate vehicles with wheelbases up to 118-inches. The linked roller system ensures compatibility with today's all-wheel drive platforms. An air- cooled eddy current power absorber with a strain-gauge type dynamic load cell enables tuning with road-like conditions. When testing two-wheel drive vehicles, the MD-AWD-500 can electronically disconnect the rollers or can be run in all-wheel drive mode for modern applications that require the non- drive wheels to be spinning to avoid activating traction control. A parasitics calibration compensates for the rollers of the non-drive wheels. In the case of Cobb Tuning SoCal's Dyno cell, the well-ventilated and sound insulated chamber offered one of the most consistent environments for tuning.
SINGLE-TURBO 3.0L SUPRA E85 (Boost Set: LOW 16psi / HIGH 28psi)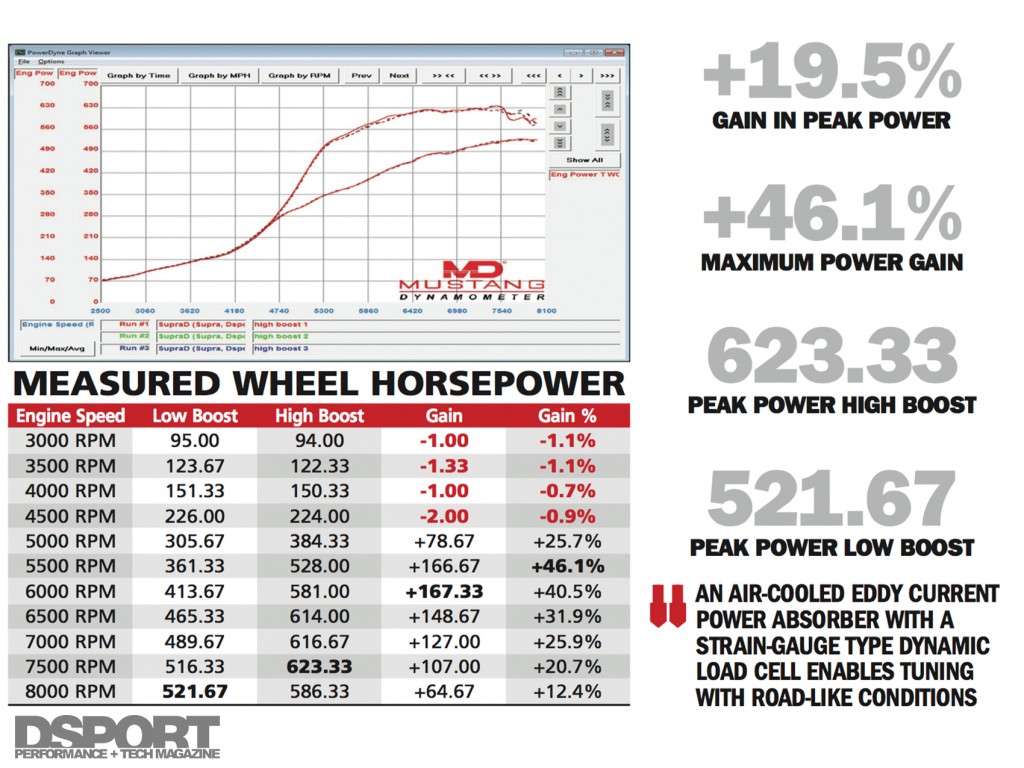 2.0L EVO ATP3071R TURBO E85 (Boost Set: LOW 15psi / HIGH 28psi)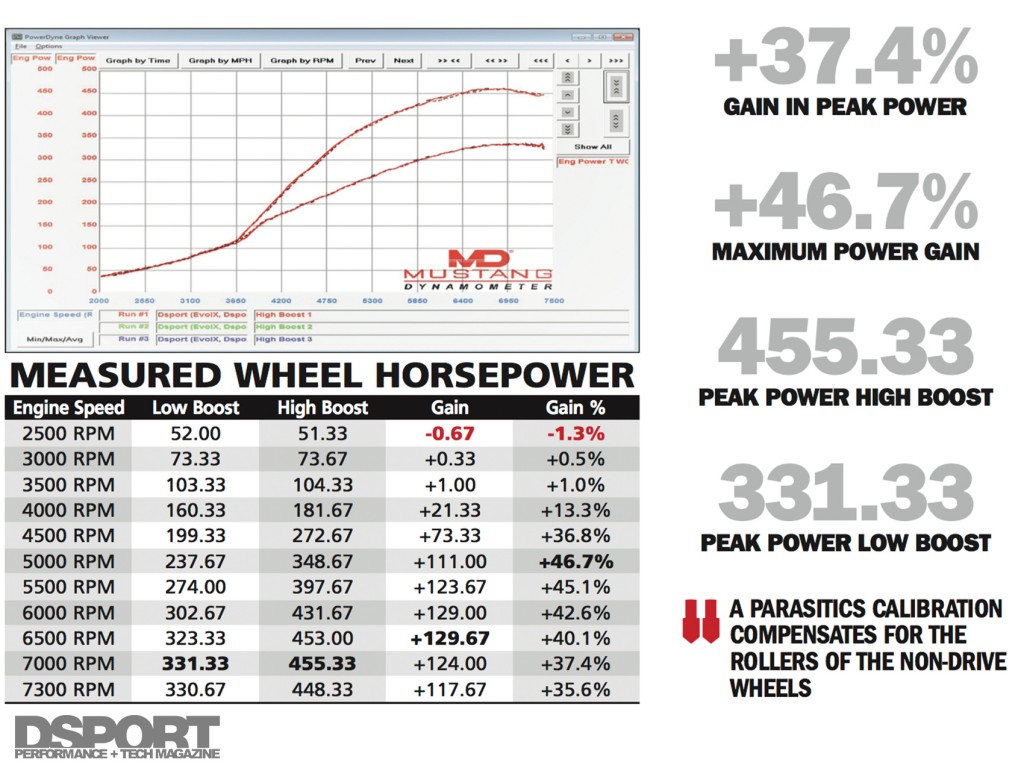 ---
Dyno Tech Guide Part One: Choosing the Right Dyno
Dyno Tech Guide Part Two: The Test Cars
-1997 Toyota Supra
-2006 Mitsubishi EVO IX
Dyno Tech Guide Part Three: The Verdict + Dyno Showcase
-Dynojet 424xLC2
-Dynapack DP6000
-Mustang MD-AWD-500
-Rototest HUBDYNO® 1005
-Superflow AutoDynTM 30 AWD