Superflow AutoDynTM 30 AWD
Dynamometer Specifications

Location: RS-R USA
Dynamometer Operator: Ben Chong
Driveline Capability: AWD, 2WD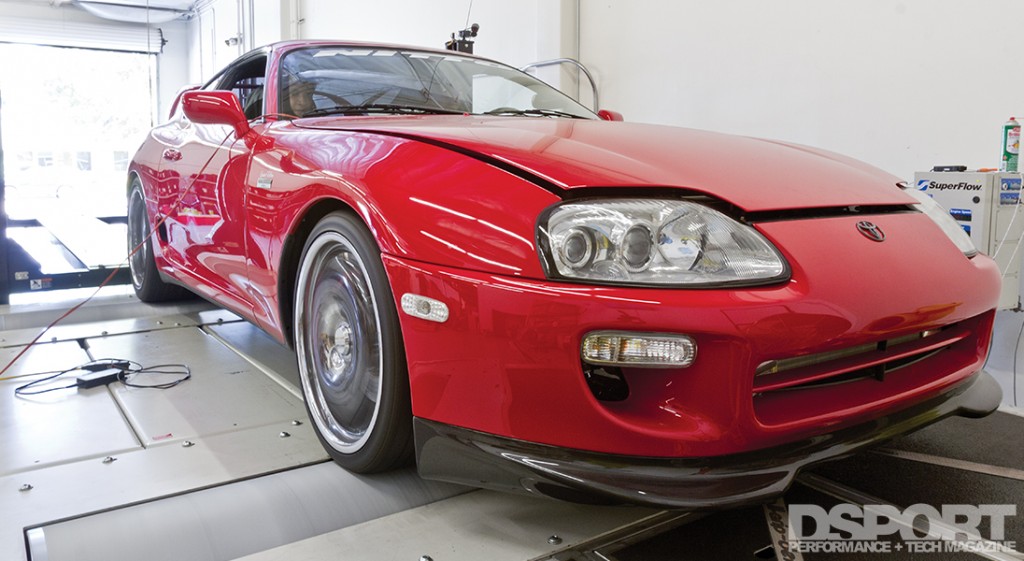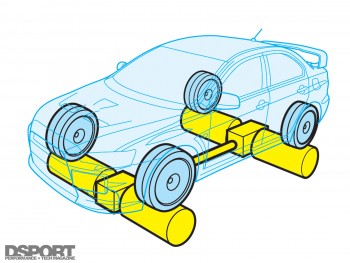 Dynamometer: Superflow AutoDynTM 30 AWD
Dynamometer Type: Roller Type , Linked, Above Ground
Horsepower Capacity: 2,500 whpLoad Type: Eddy Current
Fan(s), Volume: 3x fans, Variable speed, 1@15,000 CFM, 2@4,000 CFM Service Intervals: Calibrated every 15-20 vehicles tested
Log Capabilities: A/F, RPM, Boost (Expandable by way of OBDII port)
Weather Station: Ambient Temp, Humidity, Barometric Pressure (expandable)
Typical setup with sensors takes 30-45 minutes.
Break down is accomplished in 10 minutes.
+ ADVANTAGES

• Inertial measurement mode
• Eddy current load cells for tuning
• Linked rollers safely test all-wheel drive platforms • Adjustable wheelbase up to 130-inches

– DISADVANTAGES

• Above ground install requires a 4-post lift
• Above ground setup lacks ideal rear strap anchor points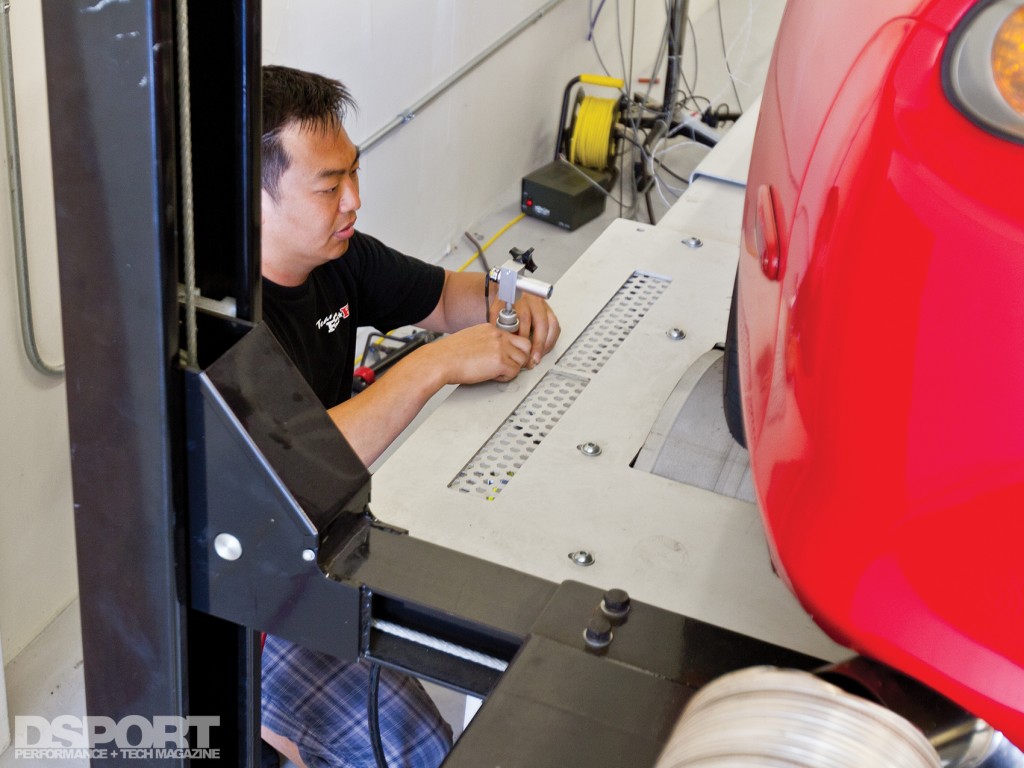 The Superflow AutoDynTM 30 AWD dynamometer features 30-inch rollers that rely on eddy current load cells for both the front and rear rollers. This dynamometer can be mounted in ground or above ground (as this example shows.) Of the roller type dynamometers tested, the Superflow is the only one to feature a driveshaft that links the front and rear rollers. This also means that both front and rear rollers turn regardless of the driveline being tested (AWD, RWD, FWD). Engine speed can be calculated using an inductive pickup or Superflow's optical wheel tachometer. The Superflow's Sensor Box can log up to 139 channels and samples at 1,000 hertz. The AutoDynTM 30 AWD real-time weather station monitors barometric pressure, air temperature and humidity.
SINGLE-TURBO 3.0L SUPRA E85 (Boost Set: LOW 16psi / HIGH 28psi)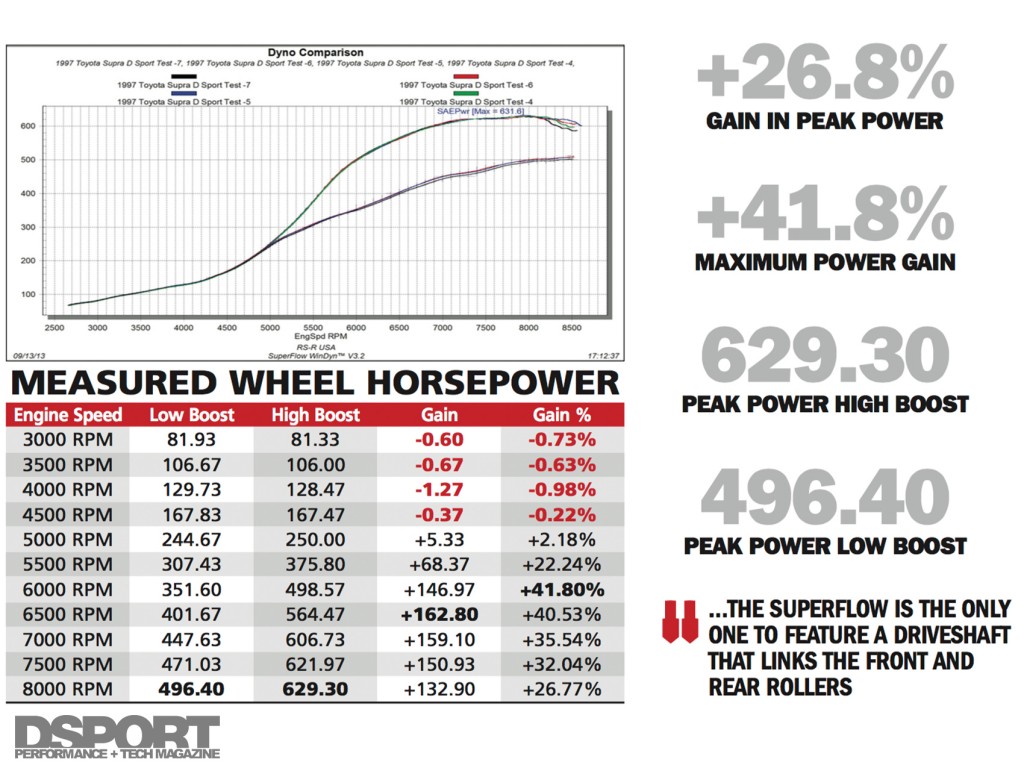 2.0L EVO ATP3071R TURBO E85 (Boost Set: LOW 15psi / HIGH 28psi)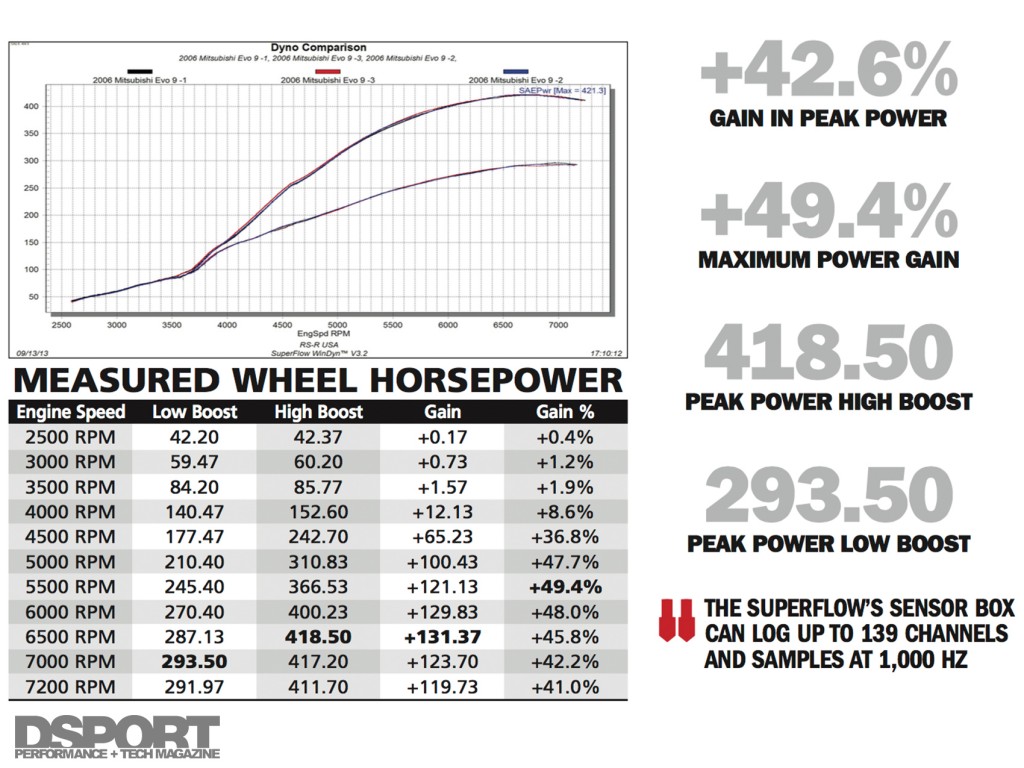 ---
Dyno Tech Guide Part One: Choosing the Right Dyno
Dyno Tech Guide Part Two: The Test Cars
-1997 Toyota Supra
-2006 Mitsubishi EVO IX
Dyno Tech Guide Part Three: The Verdict + Dyno Showcase
-Dynojet 424xLC2
-Dynapack DP6000
-Mustang MD-AWD-500
-Rototest HUBDYNO® 1005
-Superflow AutoDynTM 30 AWD