Dynapack DP6000
Dynamometer Specifications

Location: Road Race Engineering
Dynamometer Operator: Mike Welch, Rick Barcena
Driveline Capability: AWD, 2WD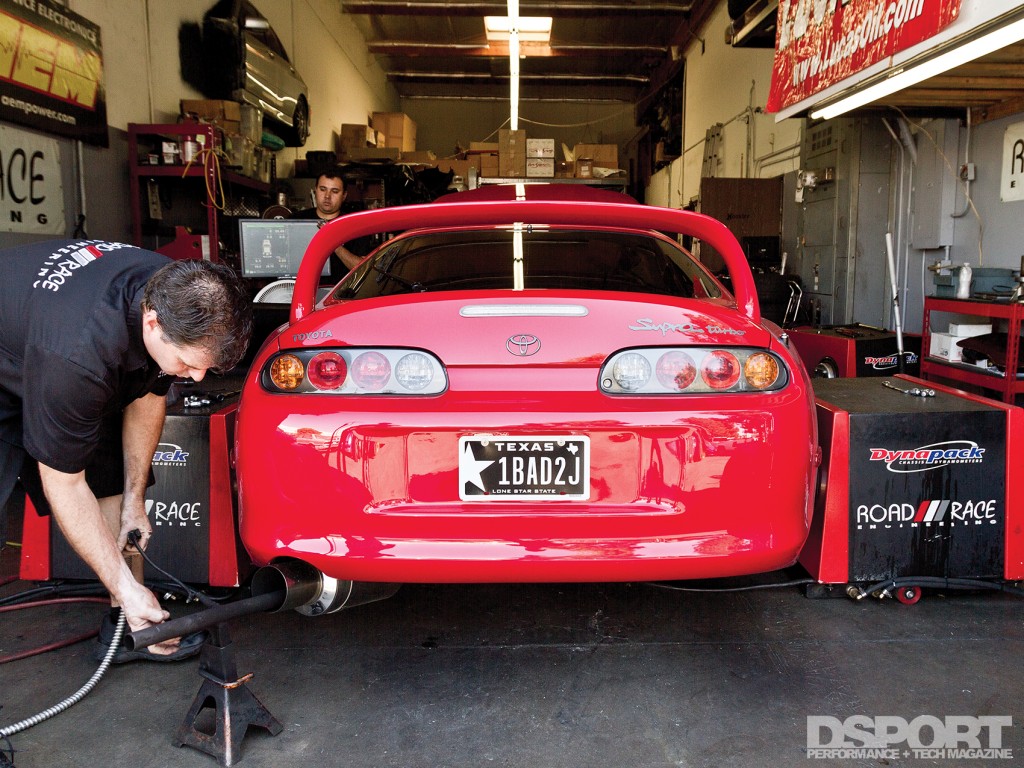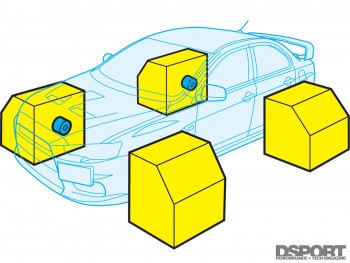 Dynamometer: Dynapack DP6000
Dynamometer Type: Hub Dyno, on ground
Horsepower Capacity: 1,600 bhp
Load Type: Hydraulic
Fan(s), Volume: 2x turbo fan, constant, 4,000 CFM each (not included)
Service Intervals: No calibration required
Log Capabilities: A/F, RPM, Boost, Oil Temp, Intake Air Temp
Weather Station: Ambient Temp, Humidity, Barometric Pressure
Expect to wait 25-40 mins for setup on the dyno pods, including sensors.
Break down takes 10-25 mins.
+ ADVANTAGES

• No possibility of tire slip or tire pressure fluxuation
• Controlled loaded sweeps
• Smart Control software permits torque split for improved compatibility on most AWD vehicles
• Requires minimum floor space when not in use
• Portable

– DISADVANTAGES

• Not a linked system which can be problematic for some AWD vehicles
• Requires water supply for cooling
• Longer setup time than roller dynos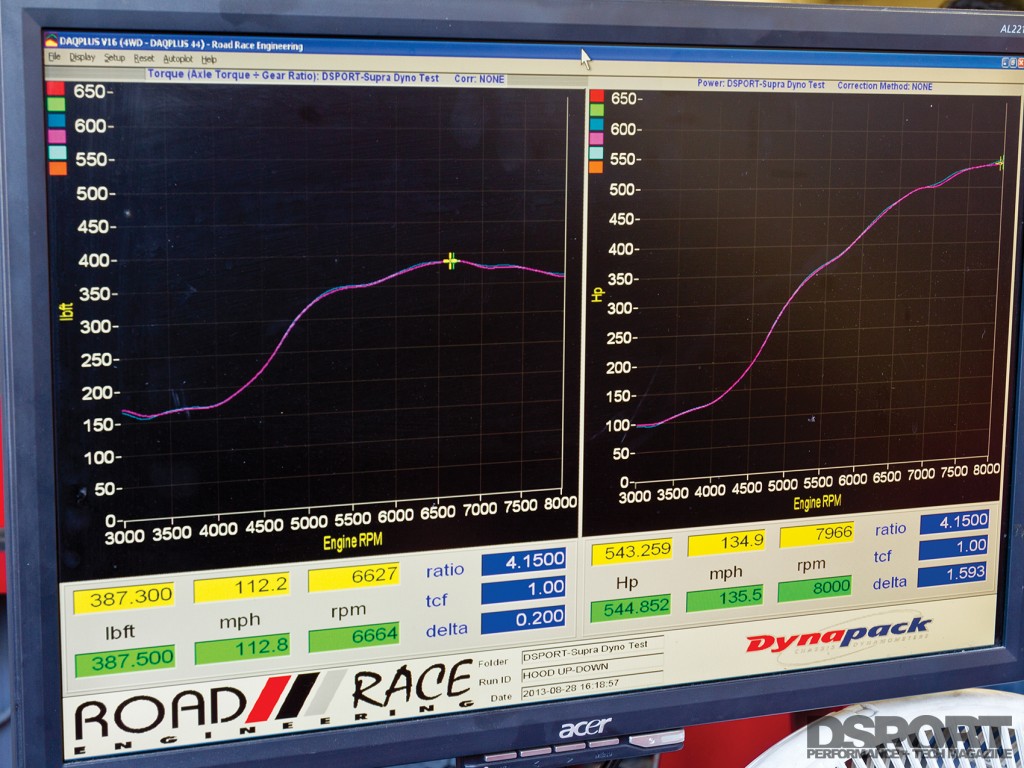 The Dynapack dynamometer can be used as either a two-wheel drive or an all-wheel drive dynamometer by simply mounting a pod to each of the drive hubs. The Dynapack DP6000 Dynamometer has a horsepower capacity of 1,600 horsepower and can be used to incrementally tune at specific engine speeds throughout the RPM range. Horsepower measurement can be captured on a timed basis or a sweep through an RPM range. Since this dynamometer is not linked, some users have encountered issues collecting proper horsepower readings or have encountered complications with center differentials or traction control systems. However, Dynapack's latest "Smart Control" software package enables 4WD torque proportioning along with a host of new features that the manufacturer states will improve resolution and should address the lack of a physical link from the front hubs to the rear hubs.
SINGLE-TURBO 3.0L SUPRA E85 (Boost Set: LOW 16psi / HIGH 28psi)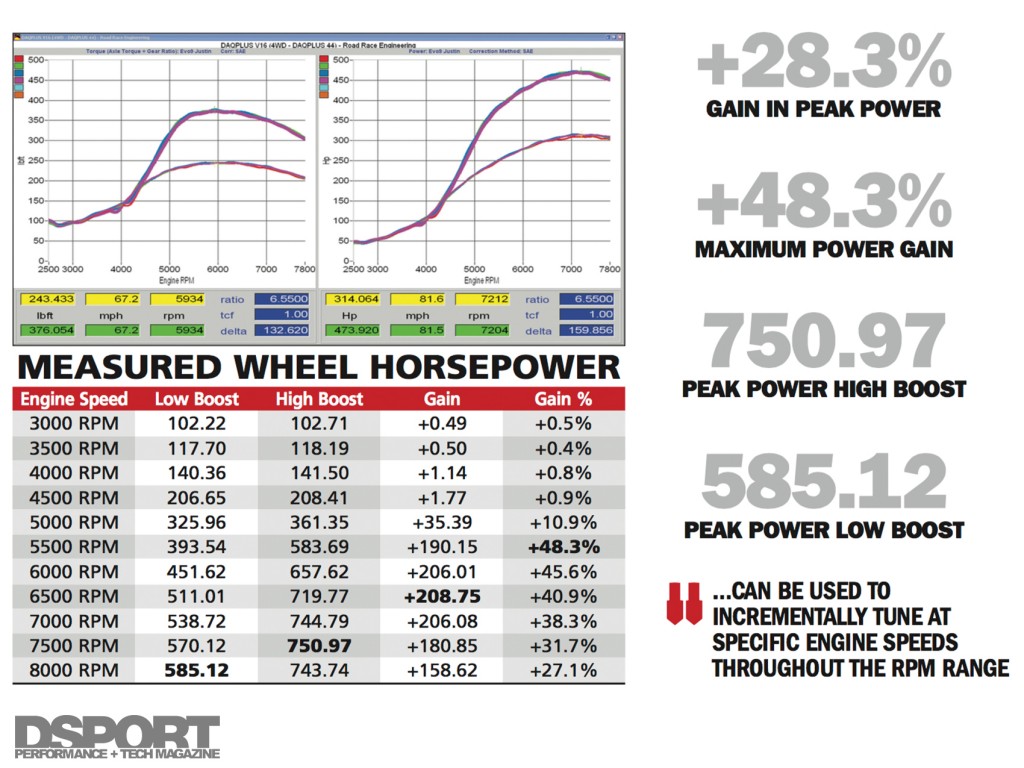 2.0L EVO ATP3071R TURBO E85 (Boost Set: LOW 15psi / HIGH 28psi)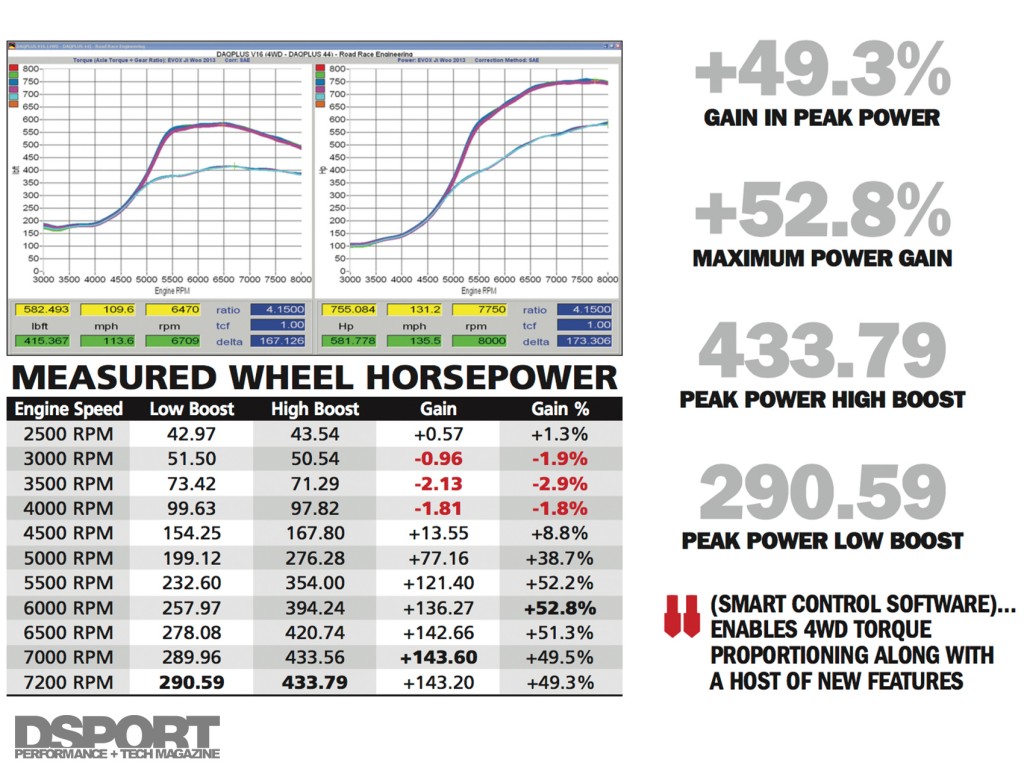 ---
Dyno Tech Guide Part One: Choosing the Right Dyno
Dyno Tech Guide Part Two: The Test Cars
-1997 Toyota Supra
-2006 Mitsubishi EVO IX
Dyno Tech Guide Part Three: The Verdict + Dyno Showcase
-Dynojet 424xLC2
-Dynapack DP6000
-Mustang MD-AWD-500
-Rototest HUBDYNO® 1005
-Superflow AutoDynTM 30 AWD