The Dyno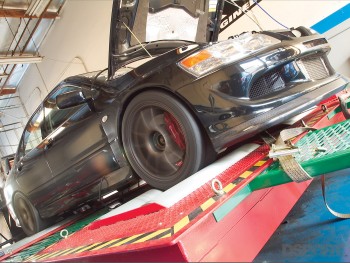 Baseline
Strapped to a Dynamic Test Systems 4-wheel dynamometer, the stock EVO-VIII generated 242 horsepower at the wheels. We have the advantage of having access to a four-wheel drive dyno, so that's why we used it for our evaluations.
242.3 WHP @ 18.2 PSI (1.26 KPa) BOOST
---
Test 1 – HKS EVC at stock boost level
The power curve and boost pressure curve both show that the EVC has a superior control strategy over the factory ECU and solenoid. Full boost came in about 200rpm earlier and boost didn't fall off as quickly on the top end. Although we didn't expect a power increase (since we hadn't turned the boost up yet), we saw a solid 8.4 horsepower increase in peak output along with gains of up to 15 horsepower at certain points in the graph.
251.7 WHP @ 18.2 PSI (1.26 KPa) BOOST
---
Test 2 – HKS Racing Suction Intake Kit
This time power was improved from start to finish with the exception of losing a couple horsepower from 6,300 to 6,600 RPM. With optimization of the fuel and ignition curves, we believe much more would be realized.
250.4 WHP @ 18.2 PSI (1.26 KPa) BOOST
---
Test 3 – HKS Hi-Power Exhaust System
The dynamometer showed that the exhaust made power from 5,800 RPM on up. These potential gains from the exhaust system were not fully realized as the factory downpipe and catalytic converter are primary exhaust restrictions.
255.4 WHP @ 18.2 PSI (1.26 KPa) BOOST
---
Test 4 – HKS FCON-V Pro
With control over the fuel and ignition, XS Engineering was able to tune the HKS FCON-V Pro to deliver an additional eight peak horsepower with the target A/F ratio set at 10.4-to-1.
261.1 WHP @ 18.2 PSI (1.26 KPa) BOOST
---
Test 5 – HKS EVC at increased boost levels
With the fuel curve sorted out, we went back to see how much boost could be added while avoiding knock and maintaining our 10.5-to-1 air/fuel ratio. From the start, the boost had been set to 18.2 psi (1.26 KPa). By datalogging the air/fuel ratio and injector duty cycle. the boost was safely raised to 21,8 psi (1.5 KPa). At this point, the factory injectors are maxed out. Additional power was seen throughout the curve.
274.7 WHP @ 21.8 PSI (1.50 KPa) BOOST