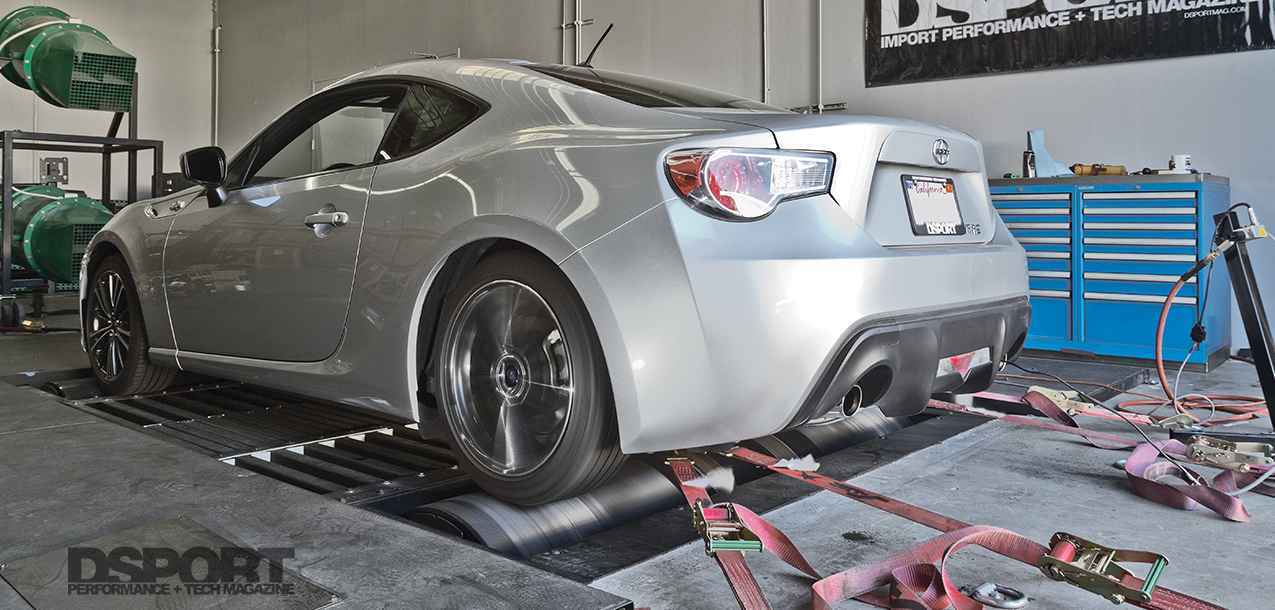 HKS Premium Suction
QUICK FACTS

Positive + Responds exceptionally well to ECU reflash + Nearly a 10-percent gain in 4000-4500 RPM range + Retains factory airbox Negatives – Not a peak performer in any RPM range
[pullquote] 177.31 WHP w/ EcuTek 168.85 WHP w/ Stock ECU 170.89 WHP Baseline [/pullquote]
Overview:
We were a bit underwhelmed with the performance of this system, even when compared to the stock intake system. With tuning, the intake really woke up and performed more on par with the other intake systems tested. The HKS intake improved torque production at very low RPM while maintaining positive gains in the mid range and across the top of the RPM band. Tuning also helped to minimize the midrange power dip.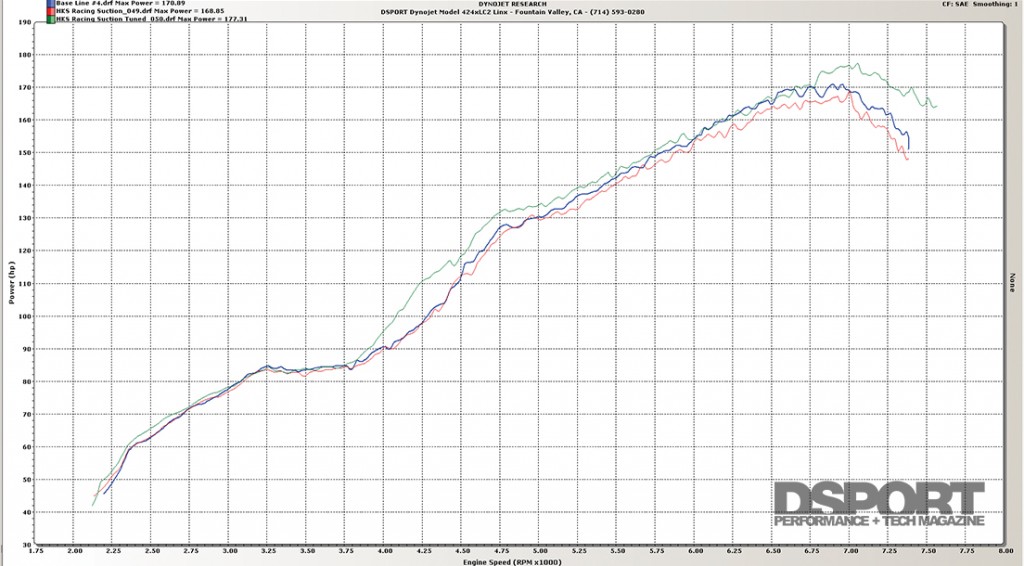 Peak Results- HP: +8.46 @ 7100 RPM TQ: +7.04 @ 4750 RPM
Max Gains- HP: +15.49 @ 7300 RPM TQ: +15.45 @ 4200 RPM
Tech Notes:
Power production with the HKS Premium Suction intake kit was less than stock on the stock ECU tune. With the help of the EcuTek we were able to coax more power out of the mid range and again at the top.
---
Scion FR-S/BRZ Intake Test: Pt 1 (Stock ECU)
• Part One Intro
• Intake Showcase (Part One)
AEM ETI INTAKE SYSTEM
,
BLITZ ADVANCED POWER AIR
,
HKS PREMIUM SUCTION
,
INJEN SP SERIES
,
K&N 69-SERIES TYPHOON
,
TAKEDA MOMENTUM
,
TRD PERFORMANCE AIR INTAKE
,
WEAPON-R SECRET WEAPON
,
APEXI POWER INTAKE FILTER
,
AVO TURBO WORLD SILICONE INLET COMBO PIPE
,
BLITZ SUS POWER FILTER LM
,
K&N REPLACEMENT AIR FILTER
• Part One Conclusion
Ecutek FR-S | Reprogramming the Power-Limiting Factory ECU
Scion FR-S/BRZ Intake Test: Pt 2 (EcuTek ECU)
• Part Two Intro
• Intake Showcase (Part Two)
AEM ETI INTAKE SYSTEM
,
BLITZ ADVANCED POWER AIR
,
HKS PREMIUM SUCTION
,
INJEN SP SERIES
,
K&N 69-SERIES TYPHOON
,
TAKEDA MOMENTUM
,
TRD PERFORMANCE AIR INTAKE
,
WEAPON-R SECRET WEAPON
• Part Two Conclusion