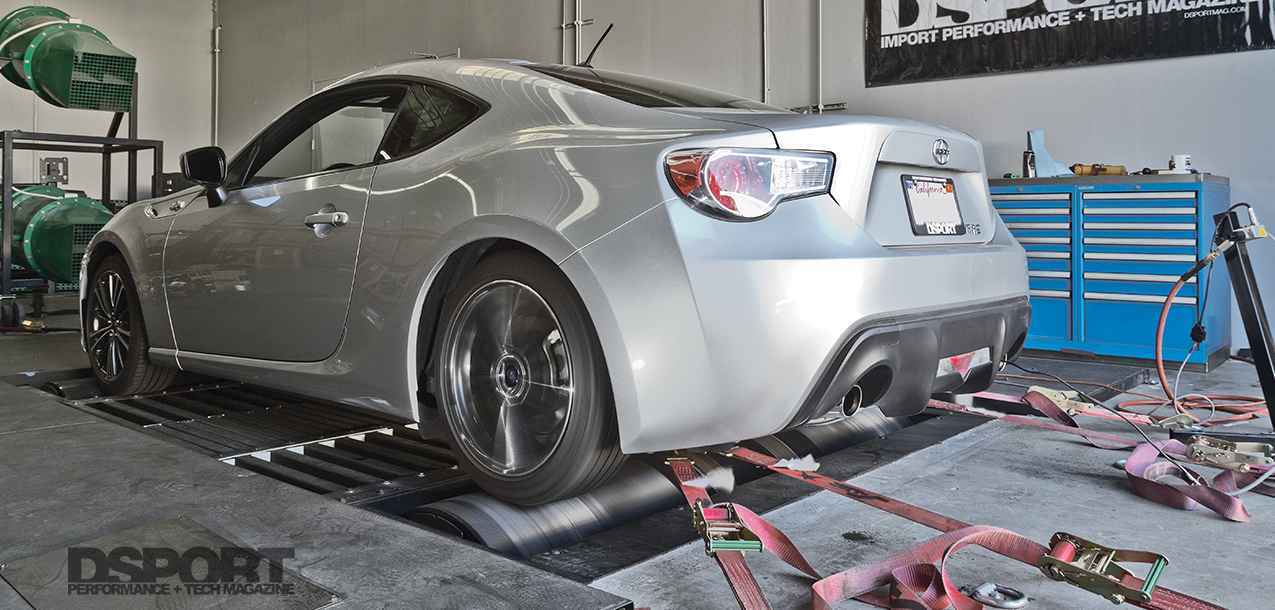 WEAPON-R
Secret Weapon Intake System
QUICK FACTS

Positive + Responds well to EcuTek tuning + Best gains in the 3000 to 5000 RPM range Negatives – ECU reflash is a must to get peak performance from the intake system – Second lowest area under curve 4.5-7.2K RPM
[pullquote] 177.02 WHP w/ EcuTek 170.61 WHP w/ Stock ECU 170.89 WHP Baseline [/pullquote]
Overview:
The Secret Weapon Intake from Weapon R utilizes a tube-in-tube design intended to optimize airflow characteristics at multiple intake air velocities. It performed best in the mid range with the stock ecu tune, but really did not carry its weight at the top end. The problem was rich A/F ratios at the end of the RPM range. Tuning on the dyno made it easy to rectify this deficiency and brought the top end performance back within the range of the other intakes tested.

Peak Results- HP: +7.21 @ 7100 RPM TQ: +1.78 @ 4800 RPM
Max Gains- HP: +16.6 @7200 RPM TQ: +12.11 @ 7200 RPM
Tech Notes:
WEAPON R's Secret Weapon Intake System performed better than many of the other intakes from 4,750 RPM to 6,500 RPM but struggled at the top. When tuned with the EcuTek software, the power production began earlier at around 3,750 RPM.
---
Scion FR-S/BRZ Intake Test: Pt 1 (Stock ECU)
• Part One Intro
• Intake Showcase (Part One)
AEM ETI INTAKE SYSTEM
,
BLITZ ADVANCED POWER AIR
,
HKS PREMIUM SUCTION
,
INJEN SP SERIES
,
K&N 69-SERIES TYPHOON
,
TAKEDA MOMENTUM
,
TRD PERFORMANCE AIR INTAKE
,
WEAPON-R SECRET WEAPON
,
APEXI POWER INTAKE FILTER
,
AVO TURBO WORLD SILICONE INLET COMBO PIPE
,
BLITZ SUS POWER FILTER LM
,
K&N REPLACEMENT AIR FILTER
• Part One Conclusion
Ecutek FR-S | Reprogramming the Power-Limiting Factory ECU
Scion FR-S/BRZ Intake Test: Pt 2 (EcuTek ECU)
• Part Two Intro
• Intake Showcase (Part Two)
AEM ETI INTAKE SYSTEM
,
BLITZ ADVANCED POWER AIR
,
HKS PREMIUM SUCTION
,
INJEN SP SERIES
,
K&N 69-SERIES TYPHOON
,
TAKEDA MOMENTUM
,
TRD PERFORMANCE AIR INTAKE
,
WEAPON-R SECRET WEAPON
• Part Two Conclusion