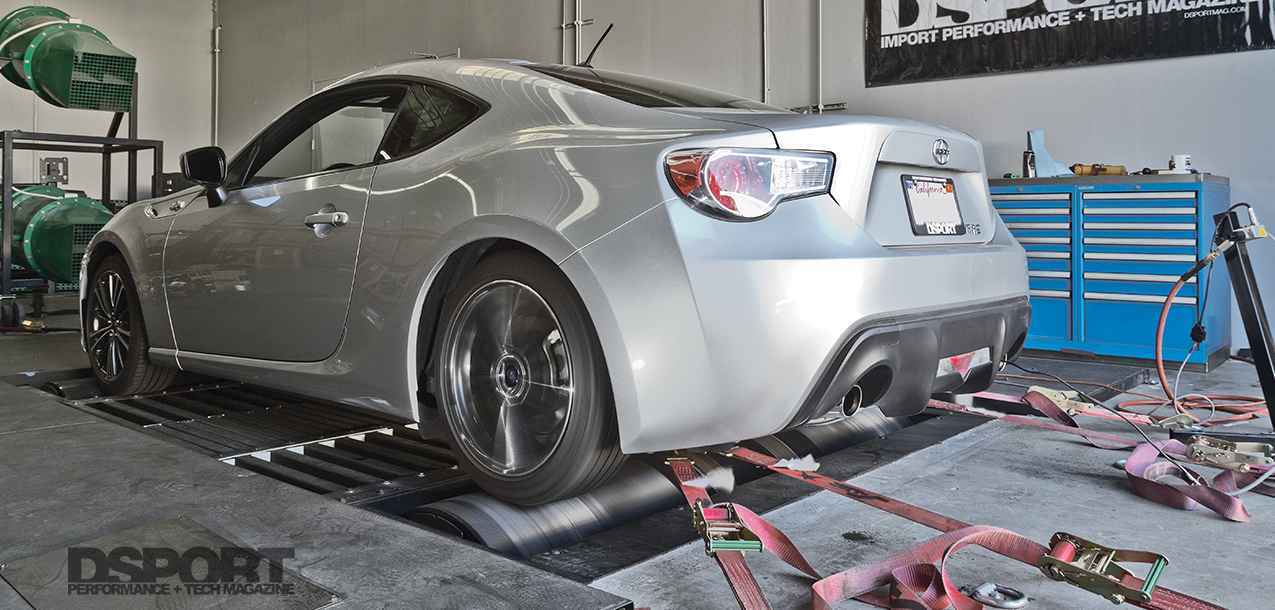 AEM Induction Systems Electronically Tuned Intake System

Quick Facts

Positive + Best performer at 3,900 RPM and 4,800 RPM + Third Best Average Power in 4500-5000 RPM Range + Third Best Average Power in 6000-6500 RPM Range + Big gains with ECU reflash from 4000-5000 RPM Negatives – Benefit of electronically tuned intake system makes little difference if a reflash is to be performed.
[pullquote] 181.59 WHP w/ EcuTek 179.11 WHP w/ Stock ECU 170.89 WHP Baseline [/pullquote]
Overview:
This intake includes a signal modifier for the stock MAF sensor. As witnessed in the initial round of testing, it yielded a positive result and works well with the stock mapping. When it came to tuning with the EcuTek we found that the signal became jittery in the high RPM range, causing the A/F and ignition advance to jump around a bit. The end result is that the signal modifier is good for cars relying on the stock tune, but can be omitted for cars that are professionally tuned. The EcuTek was primarily utilized to modify the low end cam controls, which helped correct the mid range power dip.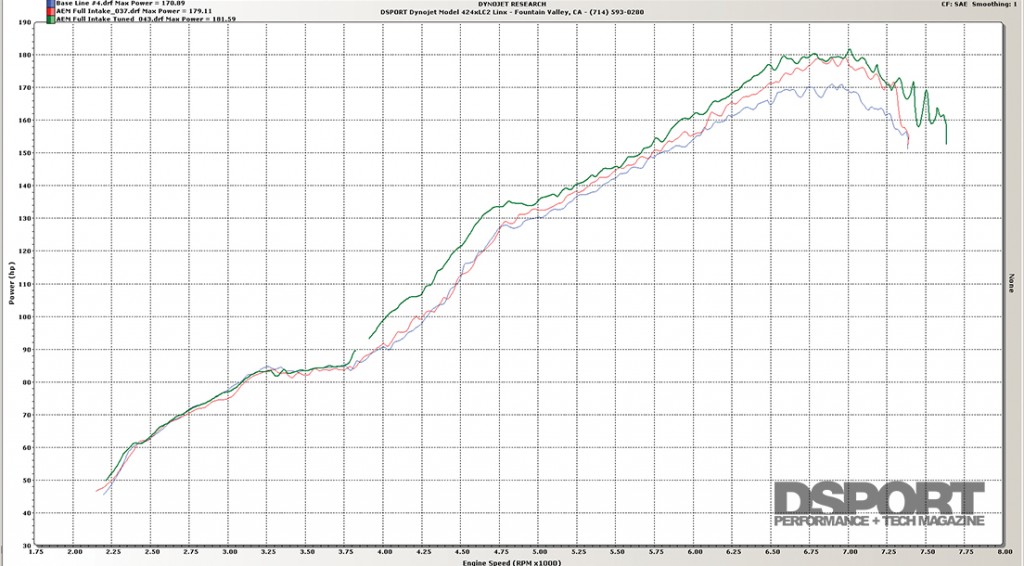 Peak Results- HP: +2.48 @ 7000 RPM TQ: +7.04 @ 4700 RPM
Max Gains- HP: +10.05 @ 4400RPM TQ: +12.22 @ 4600RPM
Tech Notes:
The dyno graph of the AEM Electronically Tuned Intake System illustrates the significant power gains at the top of the RPM range produced by the intake system alone. Utilizing the capabilities of the EcuTek really woke up the midrange from 3,800 to 4,800 RPM and provided consistent gains throughout the curve.
---
Scion FR-S/BRZ Intake Test: Pt 1 (Stock ECU)
• Part One Intro
• Intake Showcase (Part One)
AEM ETI INTAKE SYSTEM
,
BLITZ ADVANCED POWER AIR
,
HKS PREMIUM SUCTION
,
INJEN SP SERIES
,
K&N 69-SERIES TYPHOON
,
TAKEDA MOMENTUM
,
TRD PERFORMANCE AIR INTAKE
,
WEAPON-R SECRET WEAPON
,
APEXI POWER INTAKE FILTER
,
AVO TURBO WORLD SILICONE INLET COMBO PIPE
,
BLITZ SUS POWER FILTER LM
,
K&N REPLACEMENT AIR FILTER
• Part One Conclusion
Ecutek FR-S | Reprogramming the Power-Limiting Factory ECU
Scion FR-S/BRZ Intake Test: Pt 2 (EcuTek ECU)
• Part Two Intro
• Intake Showcase (Part Two)
AEM ETI INTAKE SYSTEM
,
BLITZ ADVANCED POWER AIR
,
HKS PREMIUM SUCTION
,
INJEN SP SERIES
,
K&N 69-SERIES TYPHOON
,
TAKEDA MOMENTUM
,
TRD PERFORMANCE AIR INTAKE
,
WEAPON-R SECRET WEAPON
• Part Two Conclusion