TRD
Performance Air Intake
QUICK FACTS

Positive

+ Best fitting intake of all tested
+ OEM Quality
+ A/F Ratios mimic stock intake system
+ Second Highest Horsepower 3,000-3,500 RPM

Negatives

– Stock A/F ratios limit power production

Overview: The highest production quality of any of the units reviewed. The TRD Performance Air Intake delivers a factory fit and finish. A/F ratios are not manipulated.
Analysis: Power gains are limited due to a lack of manipulation of the air- fuel ratio. The true potential of this intake will only be realized with a reflash of the factory ECU.
(Left) Filter access is quick and easy. (Right) TRD Logo is embossed in the air box.
(Left) Here is the mounting location for the MAF sensor. (Right) Cotton-gauze filter element with steel mesh.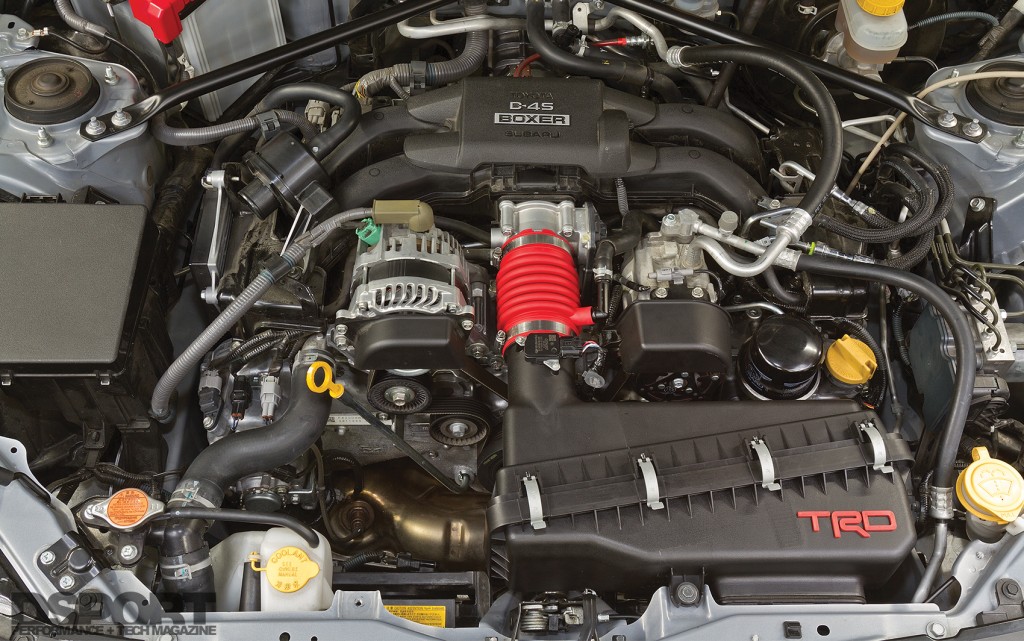 Average Horsepower + Average Air Fuel Ratio
---
Scion FR-S/BRZ Intake Test: Pt 1 (Stock ECU)
• Intake Showcase (Part One)
AEM ETI INTAKE SYSTEM, BLITZ ADVANCED POWER AIR, HKS PREMIUM SUCTION, INJEN SP SERIES, K&N 69-SERIES TYPHOON, TAKEDA MOMENTUM, TRD PERFORMANCE AIR INTAKE, WEAPON-R SECRET WEAPON, APEXI POWER INTAKE FILTER, AVO TURBO WORLD SILICONE INLET COMBO PIPE, BLITZ SUS POWER FILTER LM, K&N REPLACEMENT AIR FILTER
Ecutek FR-S | Reprogramming the Power-Limiting Factory ECU
Scion FR-S/BRZ Intake Test: Pt 2 (EcuTek ECU)
• Intake Showcase (Part Two)
AEM ETI INTAKE SYSTEM, BLITZ ADVANCED POWER AIR, HKS PREMIUM SUCTION, INJEN SP SERIES, K&N 69-SERIES TYPHOON, TAKEDA MOMENTUM, TRD PERFORMANCE AIR INTAKE, WEAPON-R SECRET WEAPON