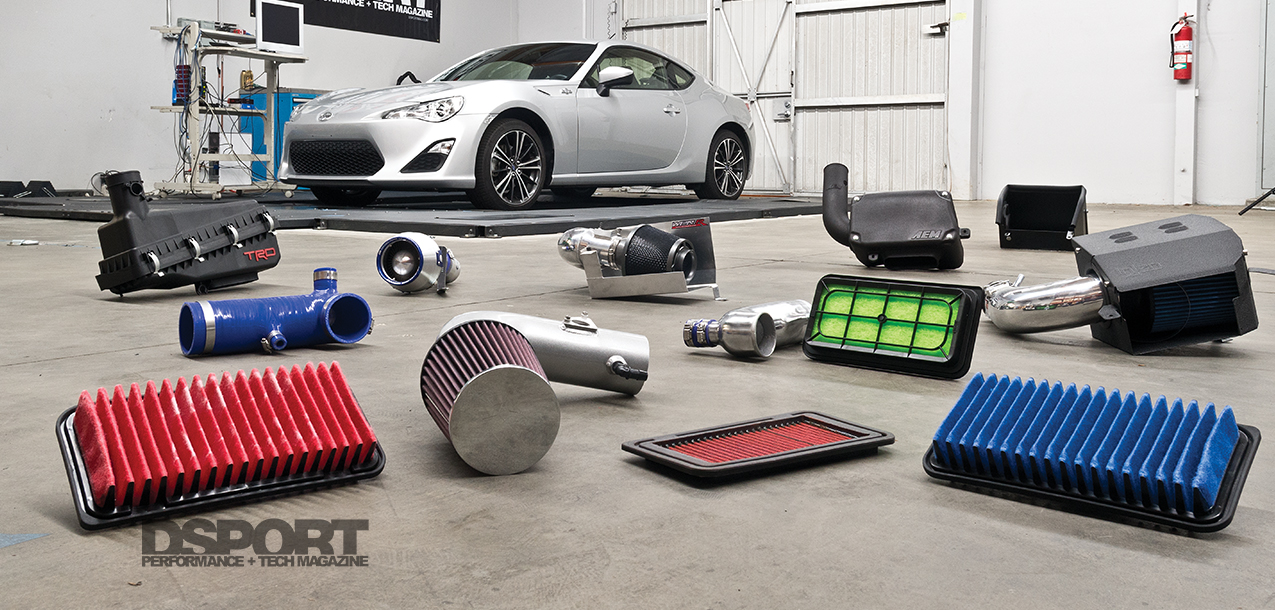 Note: When you can't afford a complete intake system, a high-performance panel filter is a great alternative. They are even great on otherwise completely-stock vehicles.
APEXi Power Intake Filter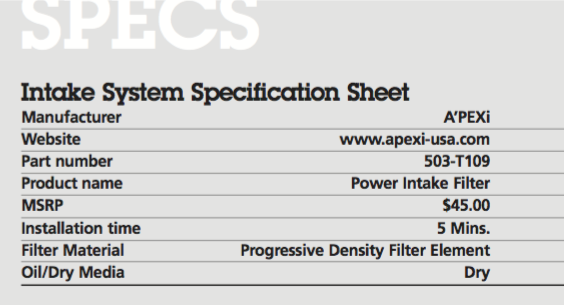 Overview:
Engineered to minimize flow restrictions, the Power Intake Filter does not compromise filtering ability for the sake of additional flow. The unit's dry design delivers trouble free operation without fear of oils contaminating the MAF sensor. Filter life is at least 15,000 miles under normal driving conditions.
Analysis:
Showing performance gains across the entire powerband, the Power Intake Filter delivered a 2.51-percent increase in the area under the power curve between 4,500 and 7,200 RPM. Peak horsepower rose 3.16 percent.
Average Horsepower
---
Scion FR-S/BRZ Intake Test: Pt 1 (Stock ECU)
• Part One Intro
• Intake Showcase (Part One)
AEM ETI INTAKE SYSTEM
,
BLITZ ADVANCED POWER AIR
,
HKS PREMIUM SUCTION
,
INJEN SP SERIES
,
K&N 69-SERIES TYPHOON
,
TAKEDA MOMENTUM
,
TRD PERFORMANCE AIR INTAKE
,
WEAPON-R SECRET WEAPON
,
APEXI POWER INTAKE FILTER
,
AVO TURBO WORLD SILICONE INLET COMBO PIPE
,
BLITZ SUS POWER FILTER LM
,
K&N REPLACEMENT AIR FILTER
• Part One Conclusion
Ecutek FR-S | Reprogramming the Power-Limiting Factory ECU
Scion FR-S/BRZ Intake Test: Pt 2 (EcuTek ECU)
• Part Two Intro
• Intake Showcase (Part Two)
AEM ETI INTAKE SYSTEM
,
BLITZ ADVANCED POWER AIR
,
HKS PREMIUM SUCTION
,
INJEN SP SERIES
,
K&N 69-SERIES TYPHOON
,
TAKEDA MOMENTUM
,
TRD PERFORMANCE AIR INTAKE
,
WEAPON-R SECRET WEAPON
• Part Two Conclusion