TAKEDA
Momentum Intake System
QUICK FACTS

Positive

+ Second Highest Peak Horsepower
+ Highest Horsepower in 3,500-4,000 RPM range
+ Highest Horsepower in 3,000-3,500 RPM range
+ Power Gains Across Entire Powerband
+ Less than 3% difference in average A/F Ratios vs OEM

Negatives

– Must drill boss on tube to run "sound tube"

Overview: The Takeda BRZ/FR-S Intake System features a built in one-piece air scoop that captures cold air from the front of the vehicle to provide for the greatest gains in efficiency and performance. The rounded nose filter top is aerodynamic to reduce resistance and direct airflow smoothly into the intake tract. This filter features five-layers of progressively finer mesh for unrestricted airflow while keeping the engine safe.
Analysis: Solid performance gains in an affordable system. A/F ratios are very close to OEM, yet additional performance is realized.
(Left) Takeda is the aFe Power arm dedicated to import performance. (Right) The composite inlet pipe uses a composite mount for the MAF sensor.
(Left) A five-layer synthetic, oiled media is used on the cone-shaped filter. (Right) This is a view of the filter through the airbox inlet.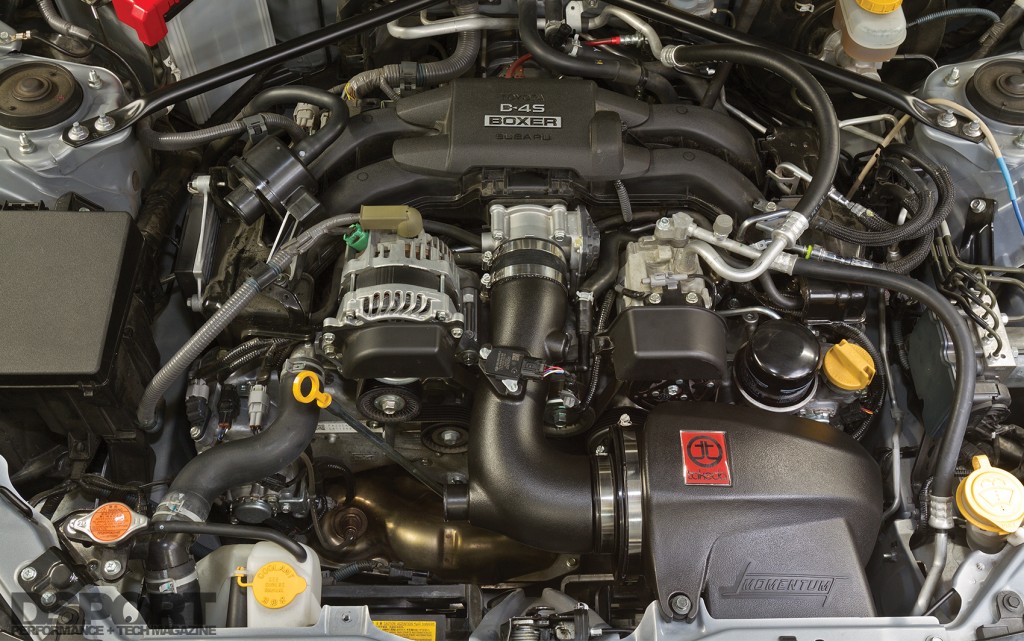 Average Horsepower + Average Air Fuel Ratio
---
Scion FR-S/BRZ Intake Test: Pt 1 (Stock ECU)
• Intake Showcase (Part One)
AEM ETI INTAKE SYSTEM, BLITZ ADVANCED POWER AIR, HKS PREMIUM SUCTION, INJEN SP SERIES, K&N 69-SERIES TYPHOON, TAKEDA MOMENTUM, TRD PERFORMANCE AIR INTAKE, WEAPON-R SECRET WEAPON, APEXI POWER INTAKE FILTER, AVO TURBO WORLD SILICONE INLET COMBO PIPE, BLITZ SUS POWER FILTER LM, K&N REPLACEMENT AIR FILTER
Ecutek FR-S | Reprogramming the Power-Limiting Factory ECU
Scion FR-S/BRZ Intake Test: Pt 2 (EcuTek ECU)
• Intake Showcase (Part Two)
AEM ETI INTAKE SYSTEM, BLITZ ADVANCED POWER AIR, HKS PREMIUM SUCTION, INJEN SP SERIES, K&N 69-SERIES TYPHOON, TAKEDA MOMENTUM, TRD PERFORMANCE AIR INTAKE, WEAPON-R SECRET WEAPON