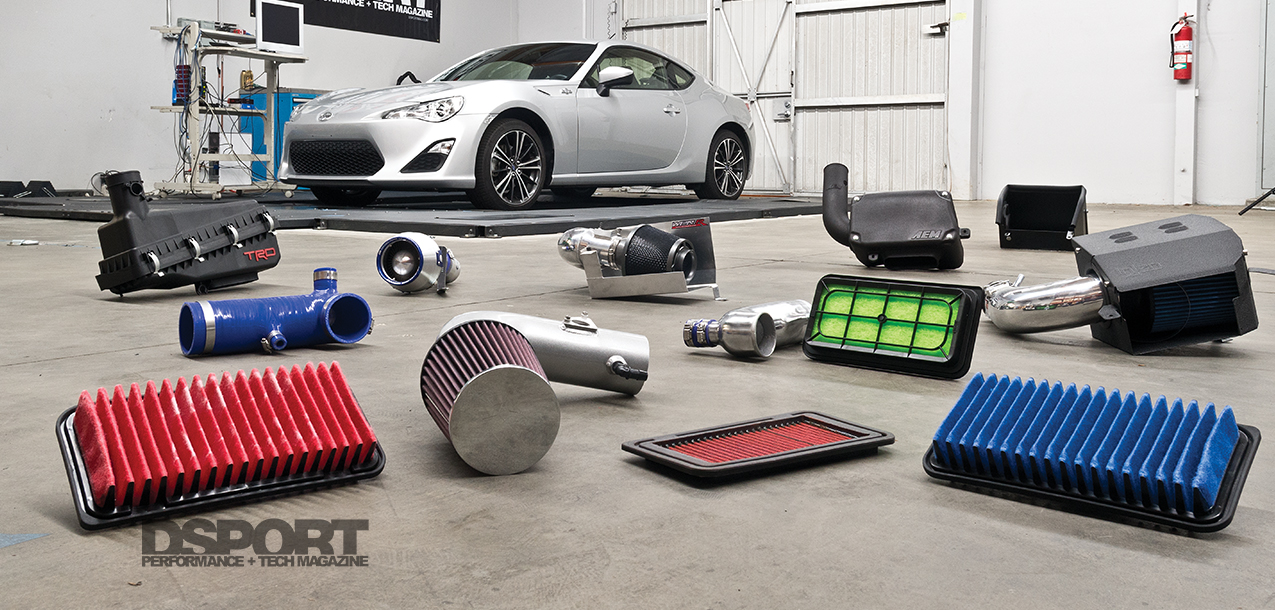 WEAPON-R
Secret Weapon Intake System
QUICK FACTS Positive + Highest Horsepower in 5,500-6,000 RPM range + Second Highest Horsepower in 4,500-5,000 RPM range + Second Highest Horsepower in 4,000-4,500 RPM range + Adds power from 3,500 to 6,500 RPM Negatives – Fitment is challenging – MAF sensor needs spacers – No fixed mount for intake included, rests in airbox – Too Rich A/F ratio at High RPM for Power Loss – Couldn't find a way to use the cold-air tube

Overview:
The Secret Weapon is short ram system with a heat shield. A cold-air feeder hose can attach to the filter. A unique double tube design is used in part of the intake tube.
Analysis:
The Secret Weapon intake showed some promise, but fell a bit short on some of the details. Mid-range performance gains were better than average. Unfortunately, the air-fuel ratio achieved at higher RPMs was too rich. The result was a drop in high-RPM and peak power.
(Left) Our intake needed spacers (not included) to properly mount the sensor. (Right) This top of the filter features a funnel for the cold-air hose feed.
(Left) A poly foam element is supported by a metail mesh outer. (Right) A concentric inner tube is one unique feature of the Secret Weapon.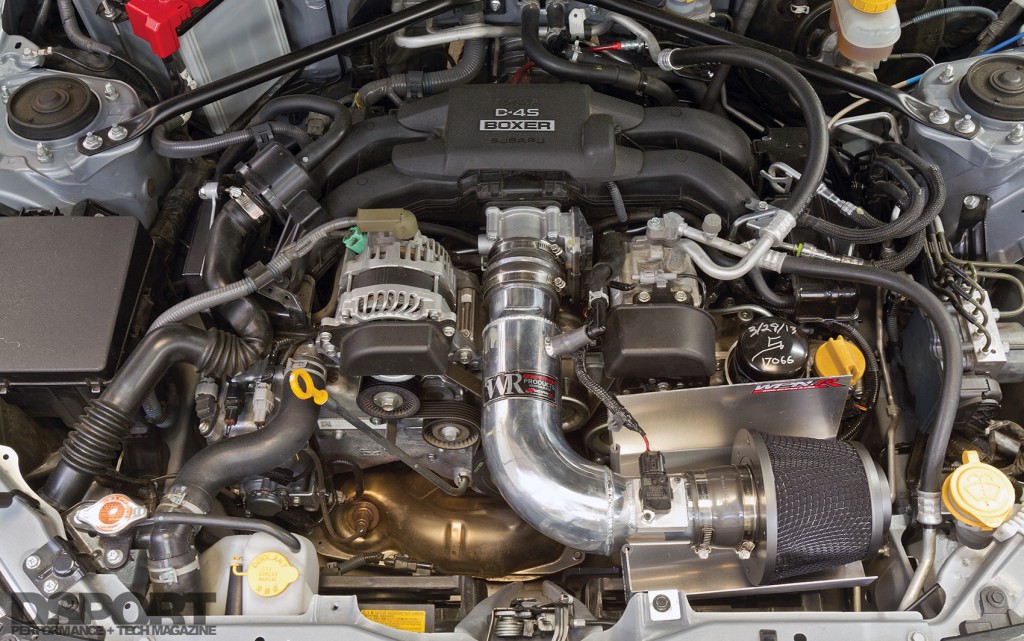 Average Horsepower + Average Air Fuel Ratio
---
Scion FR-S/BRZ Intake Test: Pt 1 (Stock ECU)
• Part One Intro
• Intake Showcase (Part One)
AEM ETI INTAKE SYSTEM
,
BLITZ ADVANCED POWER AIR
,
HKS PREMIUM SUCTION
,
INJEN SP SERIES
,
K&N 69-SERIES TYPHOON
,
TAKEDA MOMENTUM
,
TRD PERFORMANCE AIR INTAKE
,
WEAPON-R SECRET WEAPON
,
APEXI POWER INTAKE FILTER
,
AVO TURBO WORLD SILICONE INLET COMBO PIPE
,
BLITZ SUS POWER FILTER LM
,
K&N REPLACEMENT AIR FILTER
• Part One Conclusion
Ecutek FR-S | Reprogramming the Power-Limiting Factory ECU
Scion FR-S/BRZ Intake Test: Pt 2 (EcuTek ECU)
• Part Two Intro
• Intake Showcase (Part Two)
AEM ETI INTAKE SYSTEM
,
BLITZ ADVANCED POWER AIR
,
HKS PREMIUM SUCTION
,
INJEN SP SERIES
,
K&N 69-SERIES TYPHOON
,
TAKEDA MOMENTUM
,
TRD PERFORMANCE AIR INTAKE
,
WEAPON-R SECRET WEAPON
• Part Two Conclusion