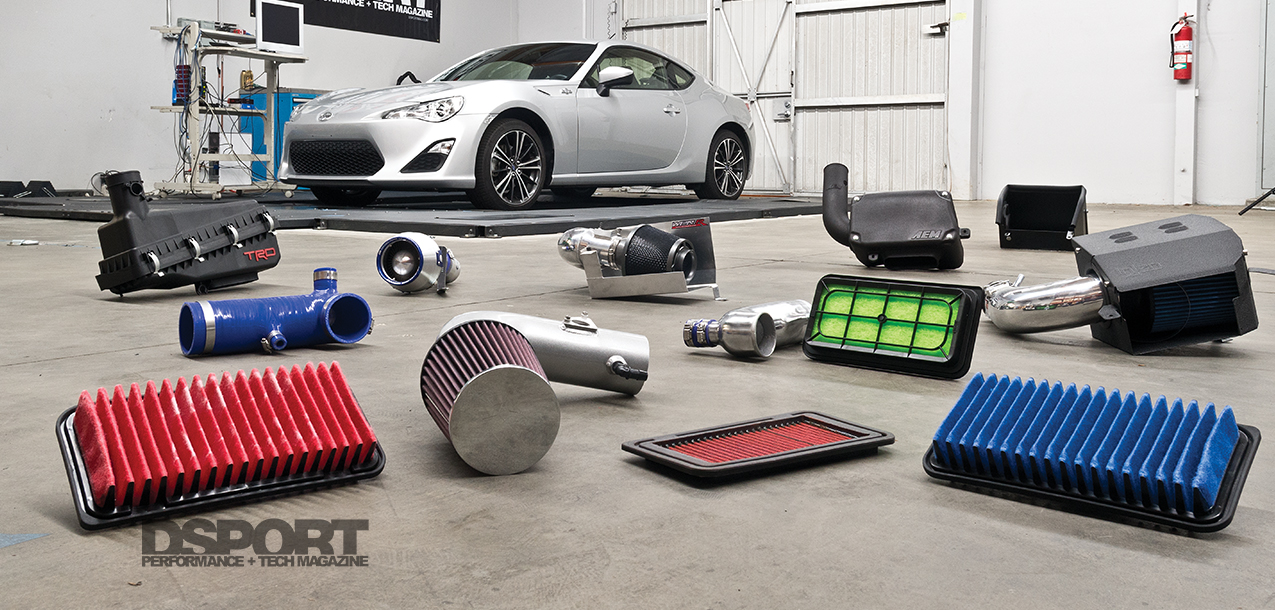 AEM Induction Systems Electronically Tuned Intake (ETI) System
QUICK FACTS Positive + Second Highest Horsepower in 6,500-7,000 RPM range + Second Highest Horsepower in 6,000-6,500 RPM range + Great top-end performance + Very nice A/F curve that follows stock shape + Composite construction resists heat soak + Dryflow media technology + CARB E.O. Negatives – No performance gains below 5,000RPM – Bolts on airbox are cosmetically challenged

Overview:
This AEM Electronically Tuned Intake (ETI) system is designed to use a constant tubing diameter from filter to throttle body. The ETI electronics compensate for the change in MAF signal in the larger tubing. A dry filter requires no oil (and no chance of over oiling) while the composite construction resists heat soak. This is currently the only system that we found with a CARB E.O.
Analysis:
The AEM ETI system was well engineered. Fit was exceptional and the air-fuel curve was one of the smoothest seen. Power gains were best at higher engine speeds.
(Left) This molded inlet allows the AEM ETI to draw in cold air. (Right) Dryflow technology means no oil and no chance of over oiling.
(Left) A stainless-steel screen protects the filter media. (Right) The MAF sensor is placed in a 70mm location. The ETI module corrects the calibration for the larger than stock diameter.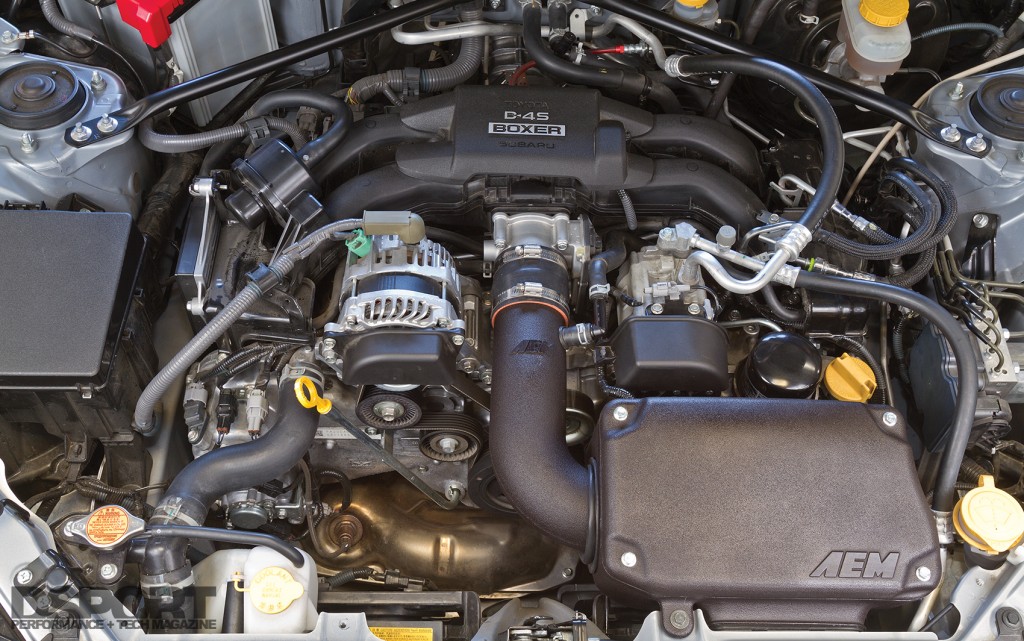 Average Horsepower + Average Air Fuel Ratio
---
Scion FR-S/BRZ Intake Test: Pt 1 (Stock ECU)
• Part One Intro
• Intake Showcase (Part One)
AEM ETI INTAKE SYSTEM
,
BLITZ ADVANCED POWER AIR
,
HKS PREMIUM SUCTION
,
INJEN SP SERIES
,
K&N 69-SERIES TYPHOON
,
TAKEDA MOMENTUM
,
TRD PERFORMANCE AIR INTAKE
,
WEAPON-R SECRET WEAPON
,
APEXI POWER INTAKE FILTER
,
AVO TURBO WORLD SILICONE INLET COMBO PIPE
,
BLITZ SUS POWER FILTER LM
,
K&N REPLACEMENT AIR FILTER
• Part One Conclusion
Ecutek FR-S | Reprogramming the Power-Limiting Factory ECU
Scion FR-S/BRZ Intake Test: Pt 2 (EcuTek ECU)
• Part Two Intro
• Intake Showcase (Part Two)
AEM ETI INTAKE SYSTEM
,
BLITZ ADVANCED POWER AIR
,
HKS PREMIUM SUCTION
,
INJEN SP SERIES
,
K&N 69-SERIES TYPHOON
,
TAKEDA MOMENTUM
,
TRD PERFORMANCE AIR INTAKE
,
WEAPON-R SECRET WEAPON
• Part Two Conclusion